Without a doubt, artificial plastics have greatly expanded technological and consumer goods; we
cannot deny that society throws away too much plastic. For instance, in just 365 days, Americans
throw away 28 billion bottles and jars. While sending recyclables to be processed appropriately is
one way to fight this trend, finding innovative ways to recycle plastic bottles at home can
significantly improve the environment. Since it takes several litres of water to produce just one 1-
litre bottle, reusing plastic we already have is an excellent habit to get into. Whether you are looking
for greener methods to decorate your office and home or just need some low-cost crafts, these
functional and impressive Ways to Reuse Old Plastic Bottles will get anyone excited.
1. A Lotion Bottle Phone Charger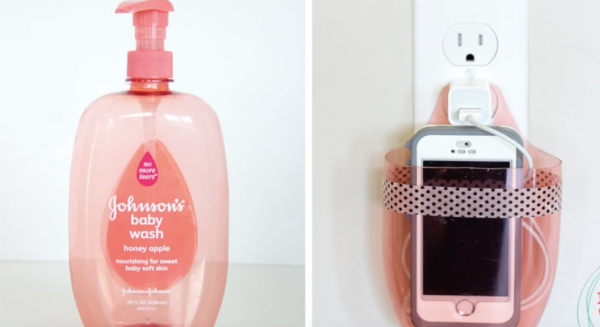 source
Create a phone charger pocket out of an empty lotion bottle. It requires a bit of scissor work and
some decoupage. Check online to get step-by-step tutorials that show you how to cut the bottle so
that it can be hung from an electrical outlet.
2. Wind SpiralsX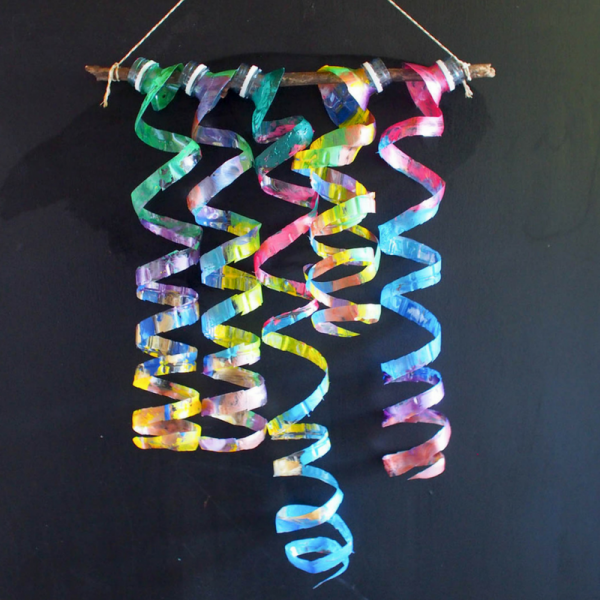 source
These wind spirals are easy to make and a great technique on How to Reuse Plastic Bottles. They'll
look fantastic hanging in your yard. To create a set, remove the labels from a few plastic water
bottles. Then, use permanent markers to color every inch of the bottles and cut them into strips.
3. A Bird Feeder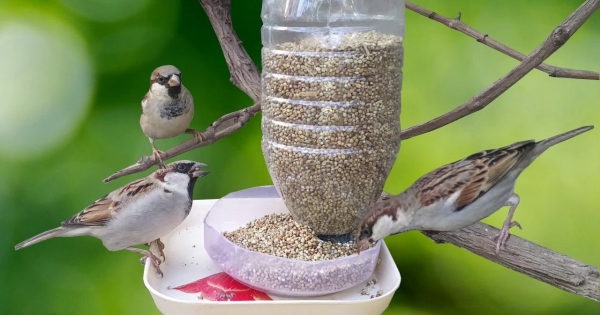 source
Use two wooden spoons and a plastic soda bottle to make a simple bird feeder.
4. Flower Hair Planters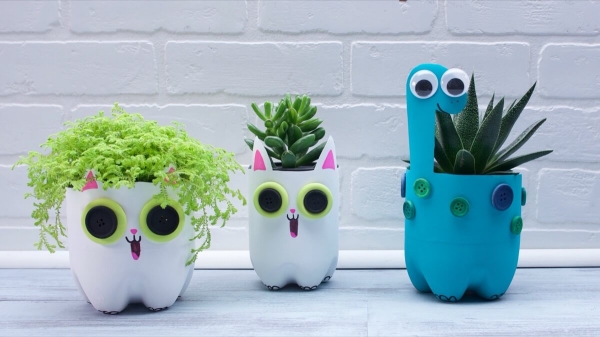 source
Cut some plastic bottles to turn them into planters. Then, use pom-poms and googly eyes to provide
them faces. After you add flowers, your planters will look like they also have hair. Make these with
your kids to get them excited about gardening.
5. A No-Sew Zipper Case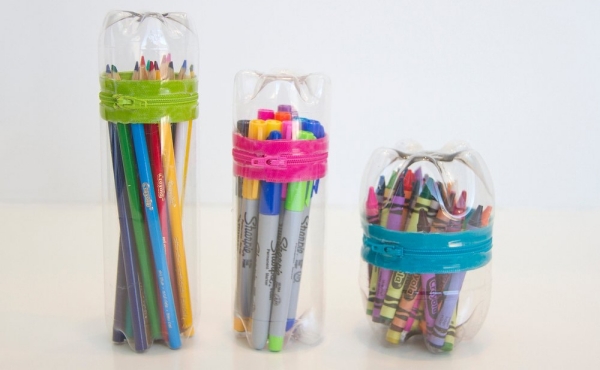 source
One of the innovative Ways to Reuse Old Plastic Bottles is creating a no-sew zipper case. Turn an
empty soda bottle or water bottle into a case to keep coloured pencils, markers, or anything else
you don't currently have a case for! The best part about this project is even though this case has a
zipper, there's absolutely no sewing involved.
6. Floral String Lights
Create an affordable set of string lights by making colorful flowers to fit around the lights. While this
project may look like it requires a high level of skill, it's nothing more than some cutting and spray
painting. All you need is a bunch of plastic bottles and their caps.
7. A Water Bottle Sprinkler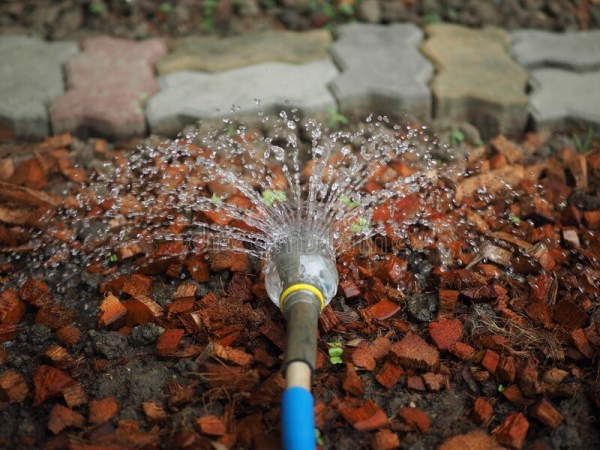 source
Poke some holes in a plastic soda bottle, and you have an instant sprinkler for the kids to run
through. Check online for all hardware details that you will require connecting a sprinkler to your
garden hose.
8. Flower Curtains
Another simple way on How to Reuse Plastic Bottles are to create flower curtains. Cut the bottoms
off of a bunch of clear soda or water bottles, and then string them together to create dramatic
curtains.
9. A Juice Bottle Watering Can
Punch some holes in the cap of a juice bottle, and you can have a great, makeshift watering can.
These cans are great to mix fertilizer for your plants because it's something you can throw away
when you're done.
10. Soda Bottle Easter Baskets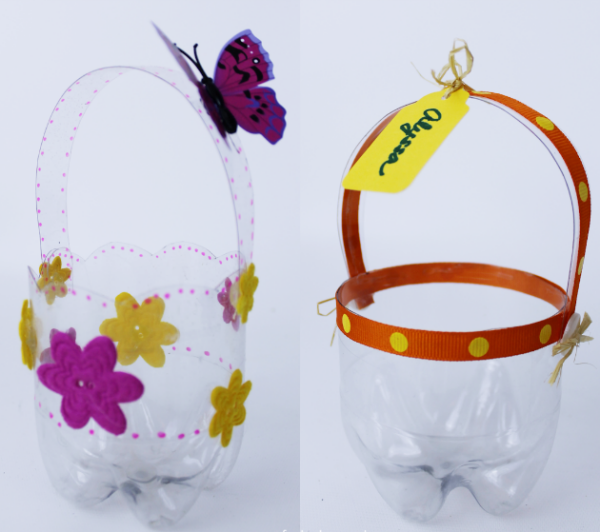 Soda Bottle Easter Baskets are one of the simplest Ways to Reuse Old Plastic Bottles. Transform
some soda bottles into cute Easter baskets. They're the perfect size for a few trinkets and some
candy. Use a piece of ribbon or a pipe cleaner to create the handle. Then, make them attractive by
using permanent marker flourishes, foam stickers, or other seasonal decorative items.
11. Woven Baskets
Here's another fun basket made from plastic bottles, only this one is woven. Just cut slits in the side
of a bottle; then, use plarn (yarn made from plastic bags) to weave a pattern into the sides. For best
results, use brightly-colored bags.
12. Hanging Milk Jug Garden

source
Cut up some milk jugs to create flower pots for your herbs. Use the handles to hang them. Save
enough milk jugs, and you can also create a whole vertical garden wall on your patio or porch.
13. A Terrarium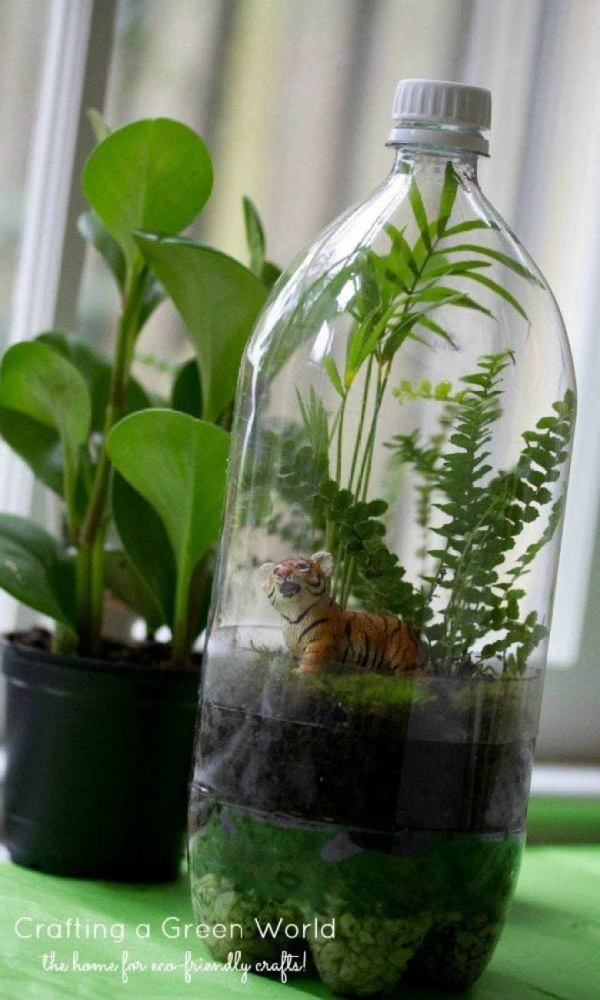 source
Are you looking for ideas on How to Reuse Plastic Bottles? Use an empty soda bottle to make a
terrarium. This is the perfect project to tackle with kids. Since the bottles are plastic, you need not
have to worry about breakage. Moreover, there's a lid that you can screw on when you're done, so
you don't have to worry about soil spills.
14. Hummingbird Feeder
Attract hummingbirds to your yard with a homemade hummingbird feeder made from water
bottles, drinking straws, and a few other odds and ends. Open YouTube for a quick and easy tutorial
to show you how to assemble one. This project would be ideal for a scout or class project.
15. Wind Spinner
Take a utility knife, and turn a soda bottle into a wind spinner. You can even decorate them with
colorful duct tape.
16. Plastic Bag Dispenser
Upcycle a two-litre plastic bottle into a dispenser for your plastic bags. You can hang it on the wall, in
the pantry, or on the inside of a cabinet door. Voila, you just use the innovative Ways to Reuse Old
Plastic Bottles for making a plastic bag dispenser.
17. Fairy House
Make a fairy garden with your kids. These tiny fairy houses are easy to make from soda bottles. Just
grab some paint, fake flowers, and a few other decorative items, and show your creative side.
18. Drip Irrigation System
When you're on vacation, put your plants on autopilot by creating a drip irrigation system out of
empty two-litre bottles. Check online on How to Reuse Plastic Bottles to make a simple drip
irrigation system with empty bottles.
19. Rainbow Snakes
Use an empty water bottle, some bubbles, a sock and a little food color to create a device that's
capable of making cool rainbow snakes. This is the perfect summer boredom buster for kids.
20. A Mobile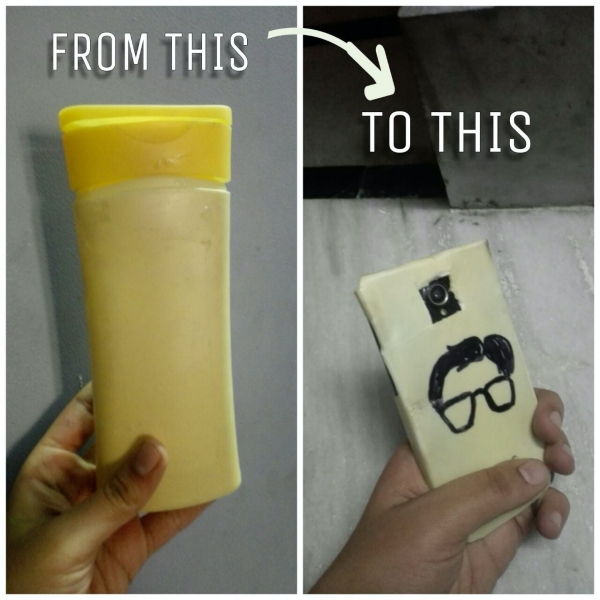 source
Make this dramatic mobile out of plastic bottles. Just cut the tops off a bunch of bottles, fashion
them into flowers, and string them together.