How to Paint Furniture with Metallic Furniture Paint? Painting a piece of furniture with metallic paints is no different from painting it with routine paints. You can try out these Classy Front Porch Decorating Ideas below for great results. Make your home more beautiful from the inside too. It's just that you need to keep a few important considerations in mind, which have been dished out below. Check out-

For a professional finish, clean and prep your furniture adequately.
If it's a light shade, use a base color in the same shade underneath, for greater opacity.
For a sophisticated depth, use the dry brush technique at the time of layering.
Always paint in one direction.
Metallic paints are grainy. So, if you discover that, understand it's not a mixing fault.
For a smoother application, add a clear glaze to your paint.
If you want a subtle look, then add dark wax over your paint.
For proper application, use a good quality synthetic paintbrush. Avoid using your roller at all costs.
Metallic Painted Furniture For A Way To Future Home
7 categories of Metallic-Painted Furniture-
1. Metallic painted furniture with a vintage look-
Taking about Metallic Painted Furniture, how can you not mention the vintage category? So, furniture painted with metallic paints to create that attractive vintage appeal, are outright attractive. They instantly take you back to the age of Victorias and Elizabeths. They ooze out a royal feel, which can transform your interior into a luxurious space to live in. Further, by decorating these vintage furniture pieces with vintage items of decor such as flower vases covered in floral patterns, you simply up your home's style game.
2. Metallic painted furniture with a contemporary appeal-
Although metallic paints have that quintessential vintage look, they don't necessarily make your furniture look outmoded. With the right shades of metallic colors, you can simply bring that charming contemporary appeal to the table. You can go with any color of your choice, without being too doubtful about the outcome. Unless it is an orange or neon green, it won't make your furniture look tacky.
3. Gold metallic painted furniture-
Although there is no dearth of colors for Metallic Painted Furniture, gold occupies a special place. And that is why it can be considered a separate category. There are many reasons why gold metallic paints are so popular. First, they instantly upgrade your furniture from boring to fab. Secondly, with the right shade of metallic gold paint, you can actually make your furniture appear like it is made of real metal. And this is a great relief for people who hate wood. And also those who love metal furniture, but prefer wood for durability reasons. By painting their furniture with a nice gold metallic color, they can reap the benefits of both. Splash some eye-soothing colors on your door that will make you one proud person of your home. Splash some eye-soothing colors on your door that will make you one proud person of your home. Here are Happily Installed Colorful Door Designs that will make you hurry and buy paint right now. apply Installed Colorful Door Designs that will make you hurry and buy paint right now.
4. Silver metallic painted furniture-
Silver-toned furniture is a hit in the world of minimal interior decor. Silver metallic paints are great for two important reasons. First, they are subtle and go easy on the eyes. And hence, they are perfect for people who love metallic paints but also fear going over the top with them. They are also great because they are superbly versatile. You can team your metallic silver painted chairs with a black or white table easily. Silver also complements other shades like blue and pink, which dominate children's room decor.
5. Metallic painted furniture with an ombre effect-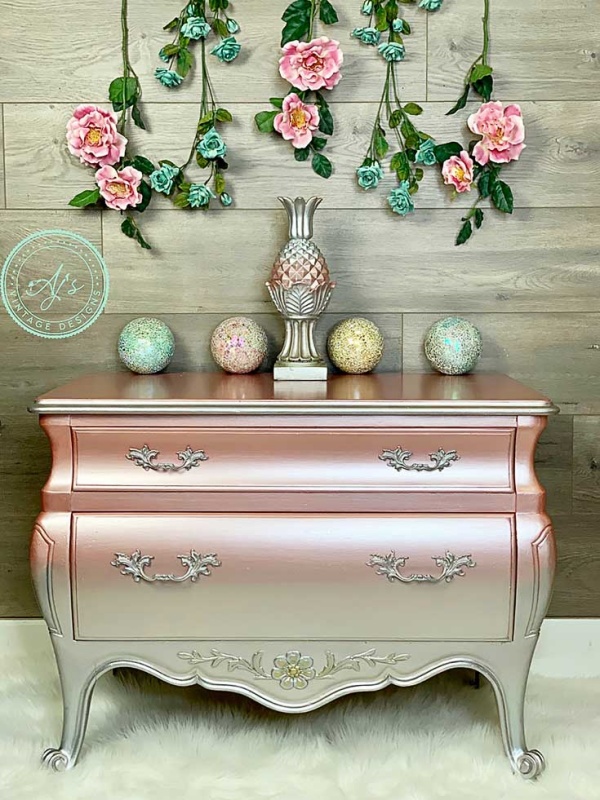 Image Source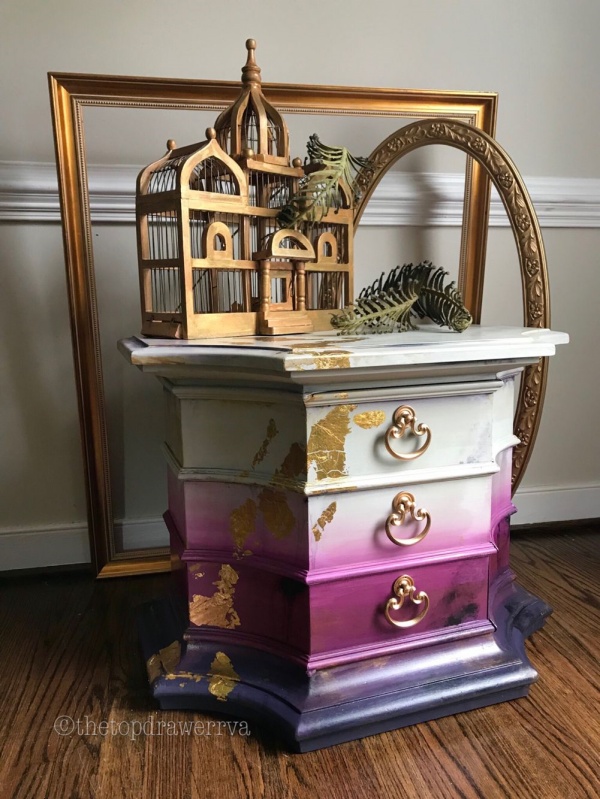 Image Source
This category includes Metallic Painted Furniture with a gradient effect. A lot of people refrain from giving their furniture an ombre character, not because it doesn't look attractive, but because it is hard to create. Whether you choose two metallic shades to create such an effect or more, you will have to make sure that the edges of the portions painted with these colors dissolve into one another perfectly. Also, check out these Cool And Productive Bunk Bed Ideas.
6. Boho Metallic painted furniture-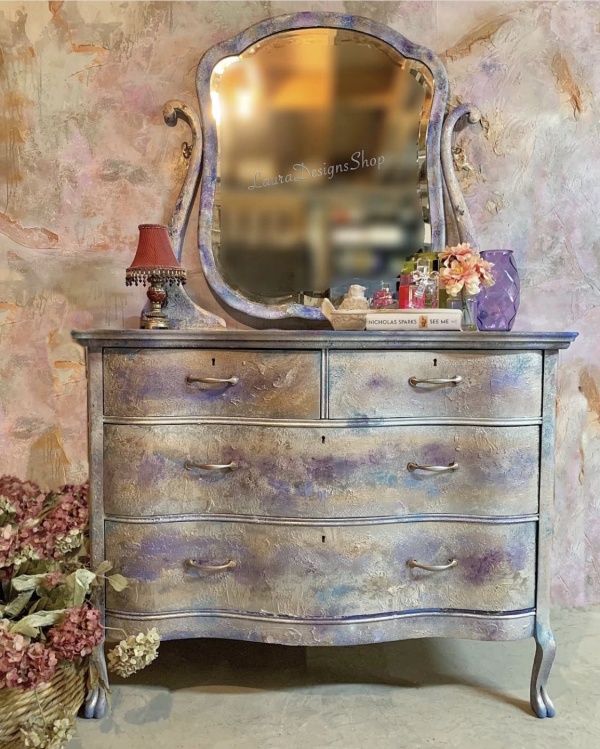 Image Source
Such furniture is ideal for a boho themed interior decor. Bohemian themes are catchy but difficult to pull off. And when it's a piece of furniture that needs to radiate this essence, things simply get more challenging. But with the right choice of shades and the right painting skills, you will definitely be able to make your furniture boho ready. In metallic painted boho furniture items, there need not be any uniformity in the pattern of painting. It's not the orderliness, but the gypsy feels that matters.
7. Multi-toned metallic painted furniture-
Wondering why multi-toned Metallic Painted Furniture? Well, here is the answer- because it's cool and in-trend. But one thing that really makes a difference here is the choice of colors. Metallic paints have a sheen to them, because of which when they are painted alongside other colors, a riot is the color result. But with the right knowledge of color compatibility and aesthetics, you will definitely be able to create wonders.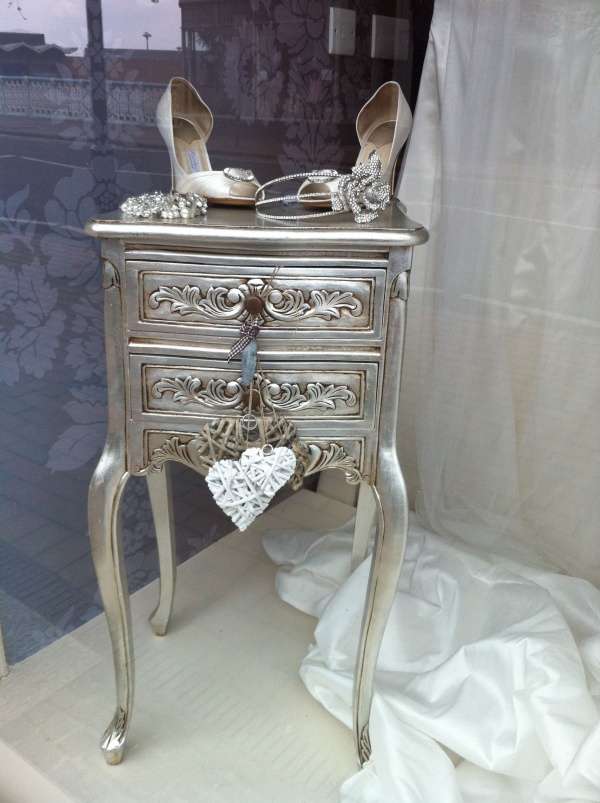 Image Source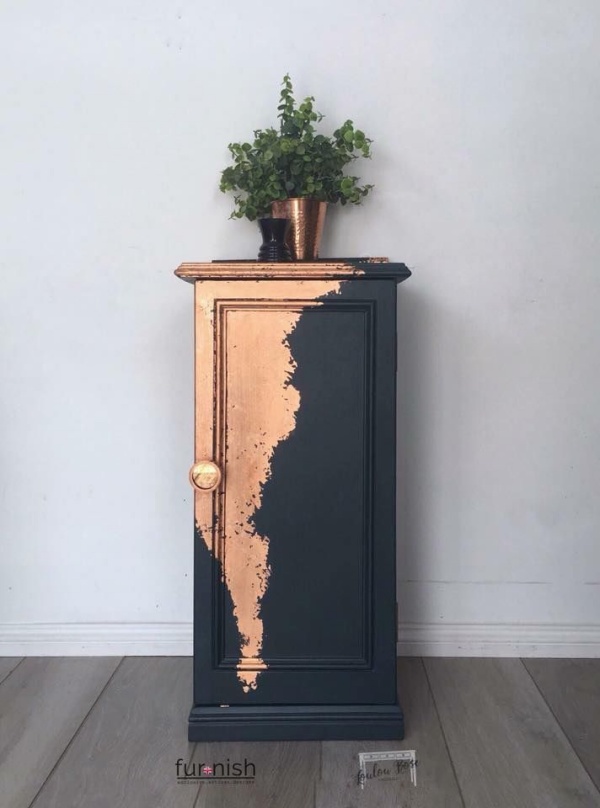 Image Source
Paint your furniture with metallic paints. Trust us, the resulting effect is surreal. Here are some Practical and Convenient Kitchen Rack Ideas you can derive inspiration from. Also, it is definitely a must-try if you want to put an interesting spin on your old boring furniture. Starting from your bedroom to the living room, your metallic painted furniture can enhance the beauty of almost every corner of your house.