Whenever we hear the word "office," an image automatically pops up in our head. A picture of a silent four-walled space (no matter how big or small), with desks and chairs, and laptops on top of the desks. 

Well, times have changed, and long gone are the days of old office ideas. Some people love to work from home on a dedicated virtual server with collaboration tools such as Microsoft 365 business or some people feel comfortable to work in the Office. People no longer like to work in a quiet and secluded place. Not only are employees seeking bright and modern offices, but the employers are also looking forward to creating an incredibly fantastic office space for their people.

So, the gone days of old office design types and an urge among everyone to either own a modern office or work at one has resulted in the rising demand of quirky office spaces.

It is the idea of creativity, liveliness, warm & welcoming feeling, and employee satisfaction on top that has resulted in an increased demand of the quirky offices. In present times, every entrepreneur wishes to have a different and modern workstation. Well, if you are one too, then you do not have to worry about the same anymore.

This article will throw light on some of the fantastic tips which will help you design a quirky and modern office.

So, let's take a sneak peek now.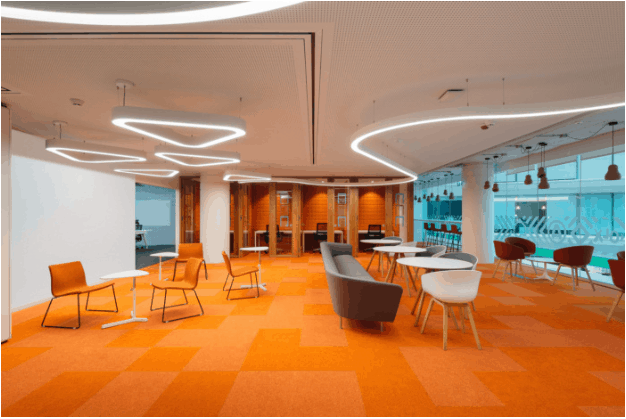 #1. Striking Reception Area
Reception is the first place in the entire office to create an impression on the visitors. It communicates your business and culture to the people and thus should be created in a way that makes an excellent first impression on anyone who walks in.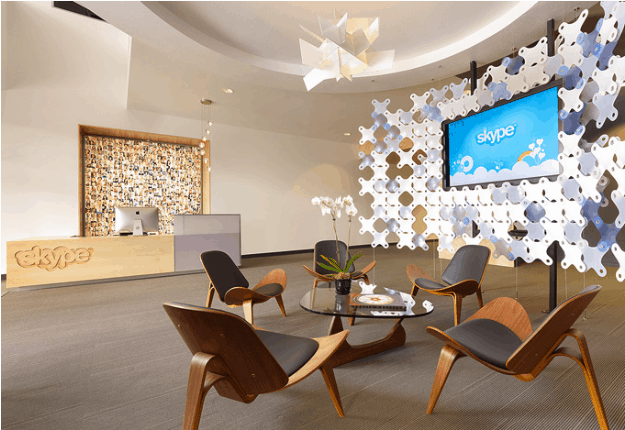 So, your first step towards designing a quirky and modern office is working on the reception area. You may choose to go with the mix and match style between the furniture, wall art, and decor items. Also, try keeping the space bright and attractive by using lively and bold colors.
Prefer Reading: How to design a front office reception area?

#2. Make Art a Part of Your Office
Art has never failed to amaze people, and having an art-filled workspace not only helps in altering the mood of the employees but also their productivity. Having bland workspace will resonate with no drive among the people to work as a whole.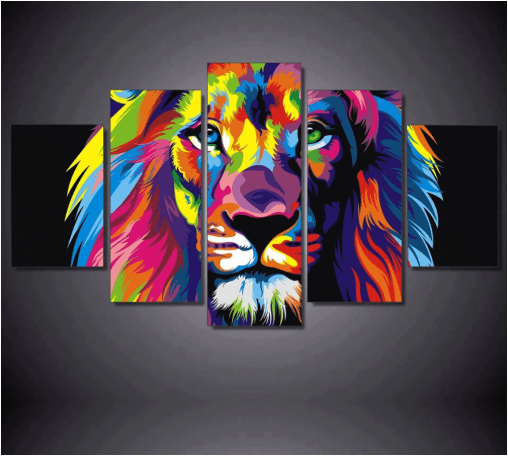 So, to create a quirky and modern office and to get the best out of your employees, make sure that you keep your place artistic.

Now, to make the place look cool, you may use different kinds of art, including paintings, wall art, custom art, and art objects. Not only will incorporating art in your workspace make the place look quirky and modern, but it will also keep the employees pumped up to work with full zest.
#3. Allow the Colors to Paint Life
Colors are a way of life. They not only make a place look alive but also help human beings feel relaxed and expand the horizon of their imagination. So, if you are looking forward to creating a quirky and modern office, do not forget to play with colors.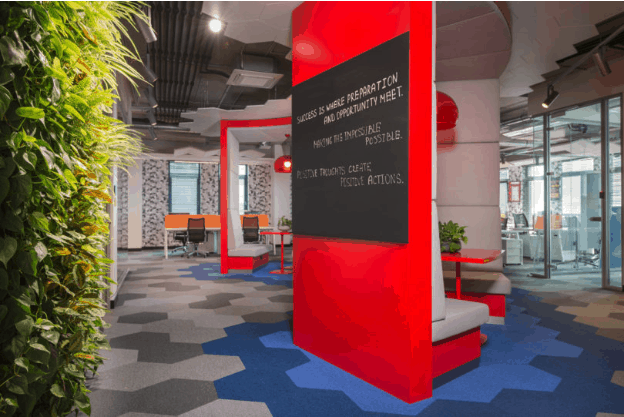 To create a lively look in your office, you may use bold and bright colors. Also, going with color contrast walls is a great idea. To add an extra spark in the whole place, you may choose to go with matching or differently striking decor items.

If you are not someone who likes to go with bold and bright colors, then also it is not that big a problem. You may try and go with light shades, including lemon, light blue, pink, hues of orange, etc. These shades will also help in bringing a place to life while creating a calm and soothing environment.
#4. Create a Place to Escape the Desk
There comes a time when employees start to feel irritated by sitting in one place the whole day, and they need some time away from their desks and laptop. Well, there is no place better than the fun zone to help your employees take the much-needed break and feel fresh.

Fun zone not only helps the employees enjoy their break but also relieve stress. So, make sure you create a specific place for your employees to escape their desks and enjoy the break.

You may incorporate a pool table, an Xbox, or a cafeteria where they can relax. This will eventually result in increasing their productivity. Also, create a fun space in a way that makes the employees feel energetic.

You may also go through these cool office break rooms to get an idea about creating one in your office.
#5. Incorporate Quirky Furniture
The boring concept of standard desks and chairs is long gone. People now tend to incorporate colorful and unusual pieces of furniture in their offices. From bean bags to comfortable couches, everything is falling under the list of desirable office furniture.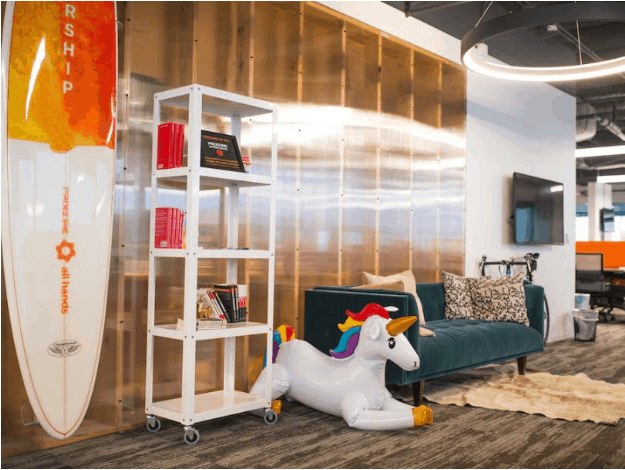 Thus, to make your office look quirky and modern, you must consider using stylish furniture. Well, besides looking for the color and shape of the furniture, you must consider comfort too, because eventually, it is the comfort that matters the most.

Also, you may go through these office decoration ideas to get more in-depth insight and create an excellent place to work.

Well, if you are a bit tight on budget and do not feel like investing much in buying new furniture, then do not worry. With everything advancing at a high pace, there is a perfect solution to this problem too.

The emerging online rental startups in India have made it easy for people residing in metro cities to rent furniture and use the same till the time they want. So if you are living in any of the metro cities like Bangalore, Delhi, Mumbai, etc.then you may search for rent furniture online Bangalore, online furniture Delhi, and likewise to look for the required pieces of furniture in your locality.

The best part about renting over buying is that you get the furniture of your choice without breaking your bank, and free transport facilities with hassle-free return come as a perk.

#6. Bring Nature Inside
Nature connects us all, and there is no denying the fact that we all love it. Having a natural view around not only makes people feel relaxed but also purifies the air around. It creates an environment of liveliness and keeps the surroundings fresh.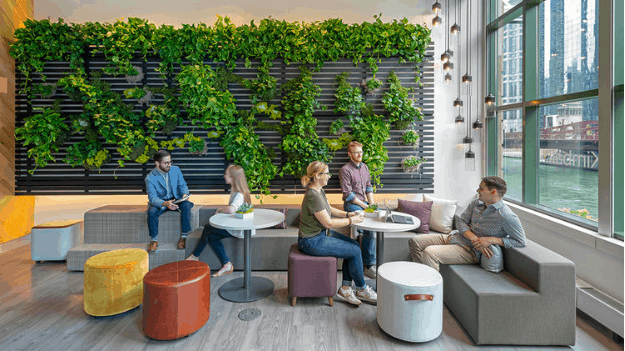 So, to create an office where people look forward to coming every day, make sure you place some indoor plants.
Wrapping it Up
Designing an office space is not an easy task, but it is also not as tough as it seems. All you need is a clear thought about how you want your office to look, and the rest comes easy.

Creating a well-designed reception area, incorporating quirky arts, furniture, and fun zone along with bright and bold colors helps to design a quirky and modern office efficiently.

So what are you waiting for?

If you have been looking forward to designing an incredibly unusual and quirky office with modern looks, then follow these tips and get your office ready in no time.

Also, if you know any other tips that might help people with designing an engaging office, feel free to drop your thoughts in the comment box below.