The concept of going to office and working though still alive has been modified with many of us choosing to telecommute and working from home. Which means in this article, when we talk about simple and sober office decoration ideas, we are referring to ideas that cover both office outside the home as well as those office spaces that we create within our home. Which is why you have concepts like scribble art to make your home and office look awesome to ensure that you have an interesting space to work out of. And some of us who have really involved jobs tend to have office spaces at both our home as well as our place of work at the office and for people like that too it is good to have some ideas on how to make this space look good but also serve the purpose of enabling you to be productive.
Want to decorate your home office? It is best you find out how from our simple and sober office decoration ideas. The thing is office decoration needs to be more subtle because when you are work, you don't want to fiddle around too much with the care of your décor. You may also want to consider intelligent furniture to make your life smarter.
Simple And Sober Office Decoration Ideas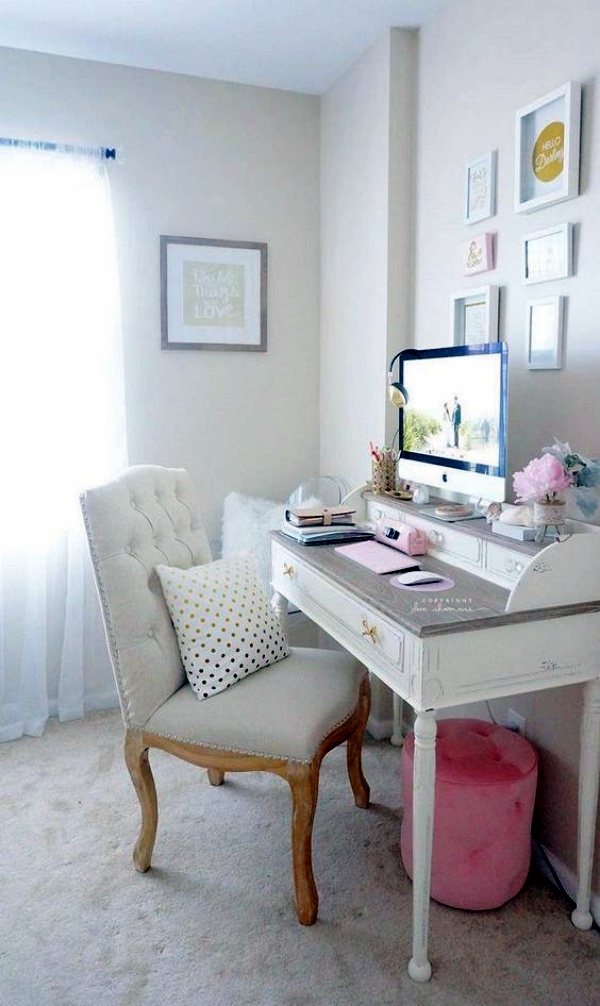 Comfortable and light furniture with a touch of color and comfort in the form of a plush pink footstool can be a good starting point.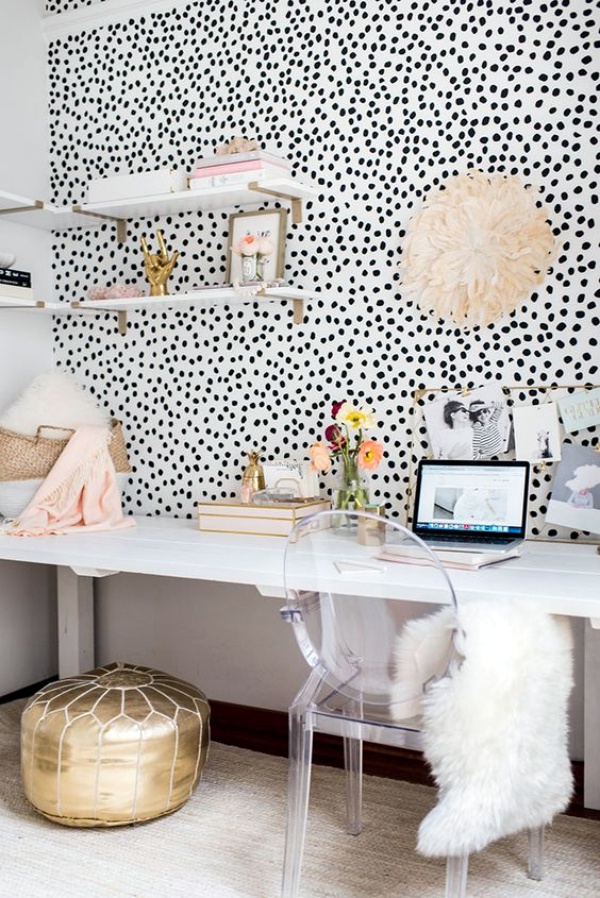 A white background with black polka dots and a touch of lace or two can be a simple but effective to add a personal touch to your working space.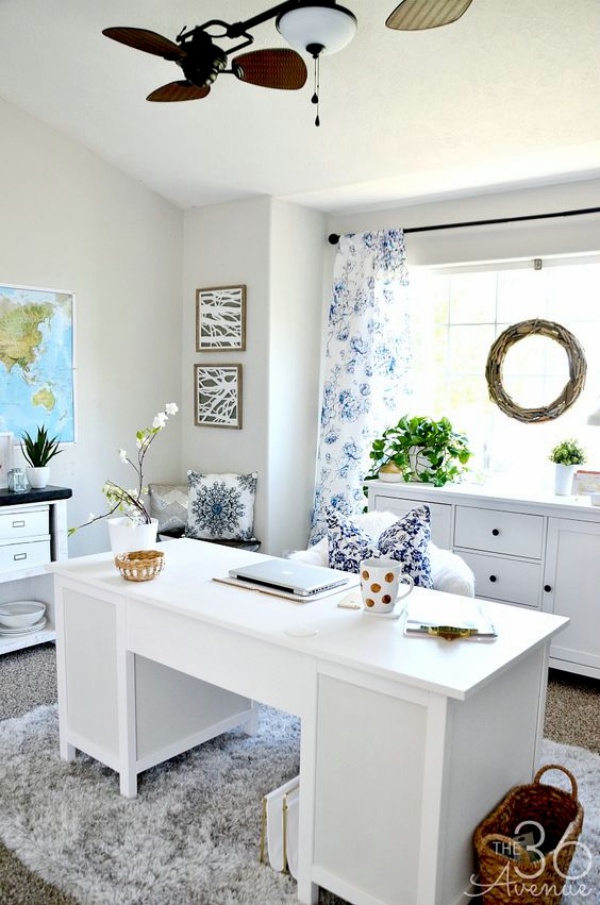 Plenty of light with a couple of comfortable cushions added to the chair you sit on to work can make working a pleasure.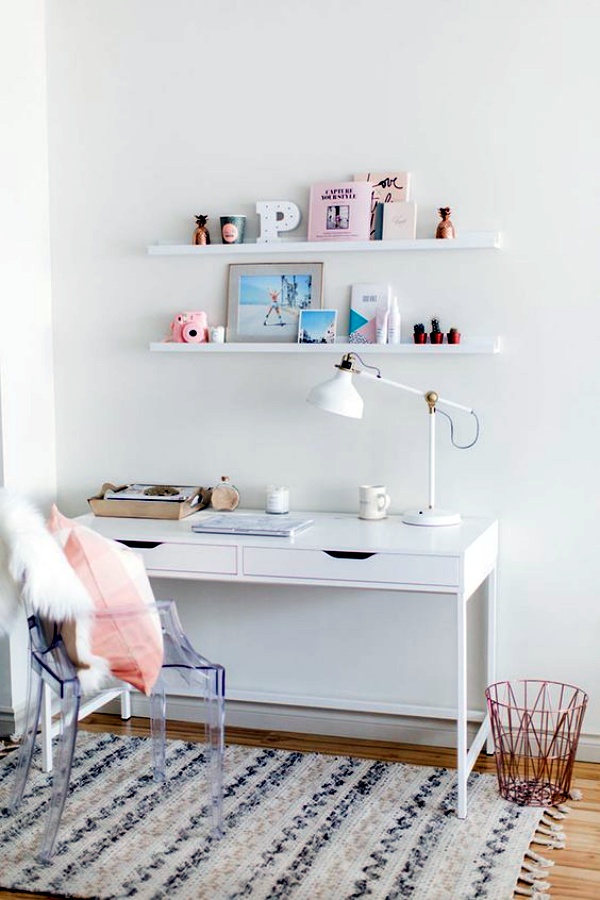 Go for the minimalistic look with a transparent chair, simple shelves, a simple table lamp and wire wastepaper basket.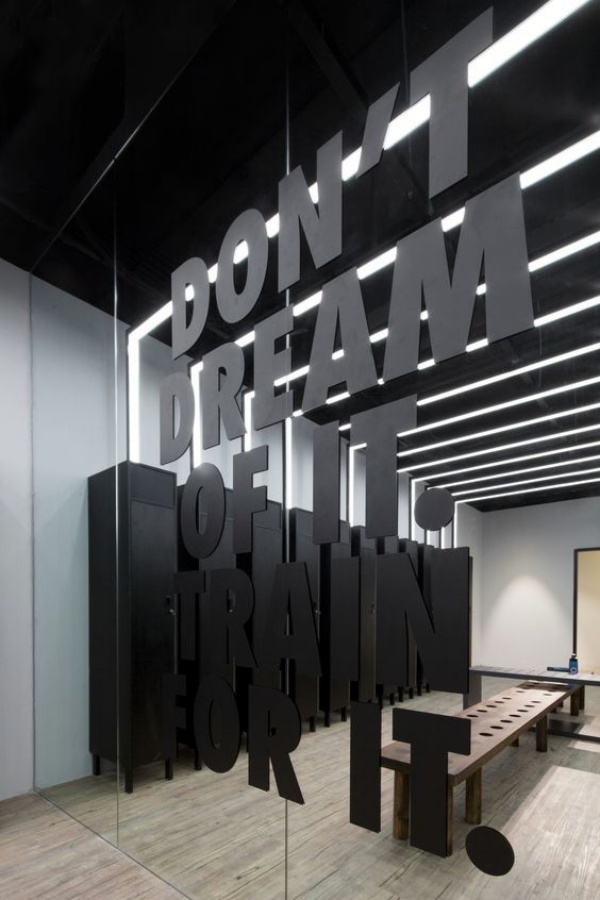 Go for something inspirational on the glass walls of your office cabins to get your thought process flowing.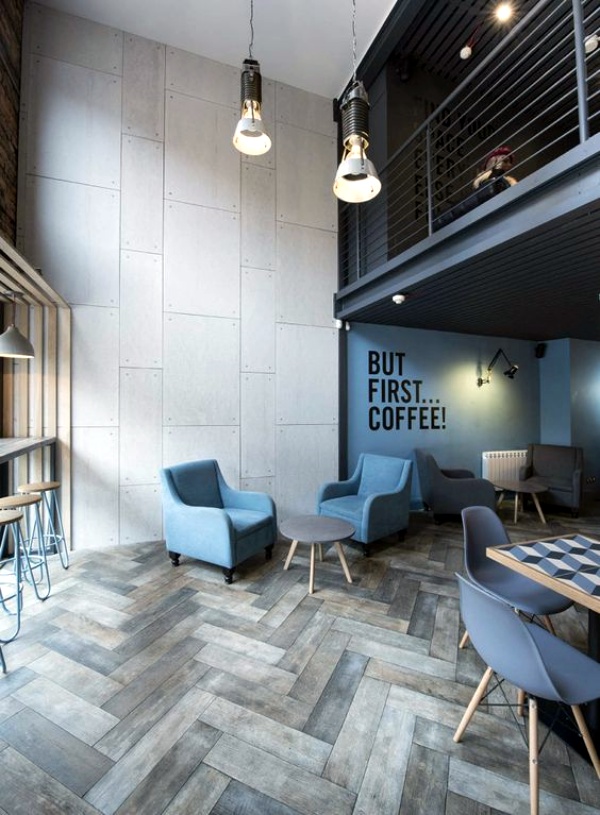 The importance of coffee in the office cannot be ignored as the saying in this particular office décor shows.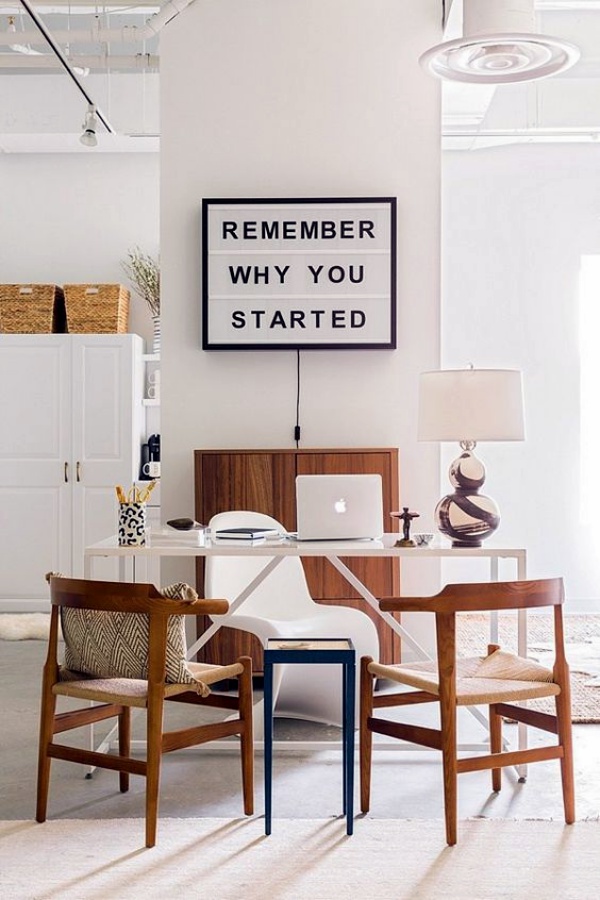 Telling yourself to remember why you started can get you working better and more efficiently.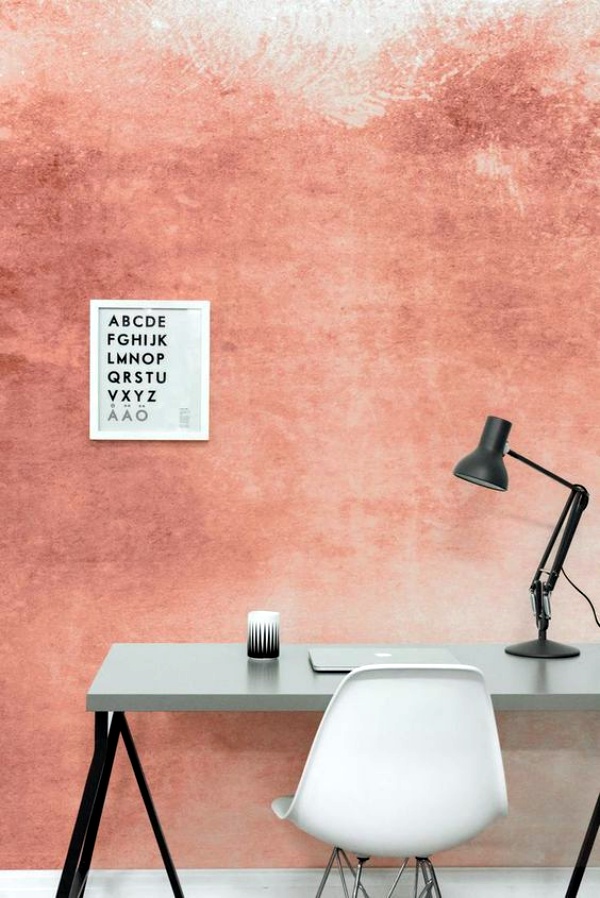 A simple textured wall in bright color with even the alphabets on it can make a great impact.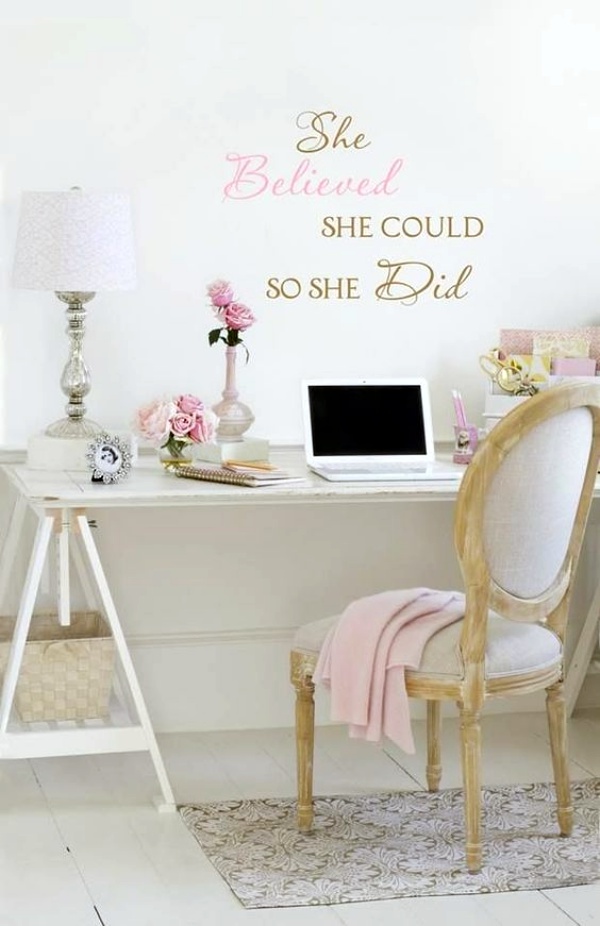 An unabashedly feminine pink and white office with a saying that shows that this girl means business is both inspiring and pretty.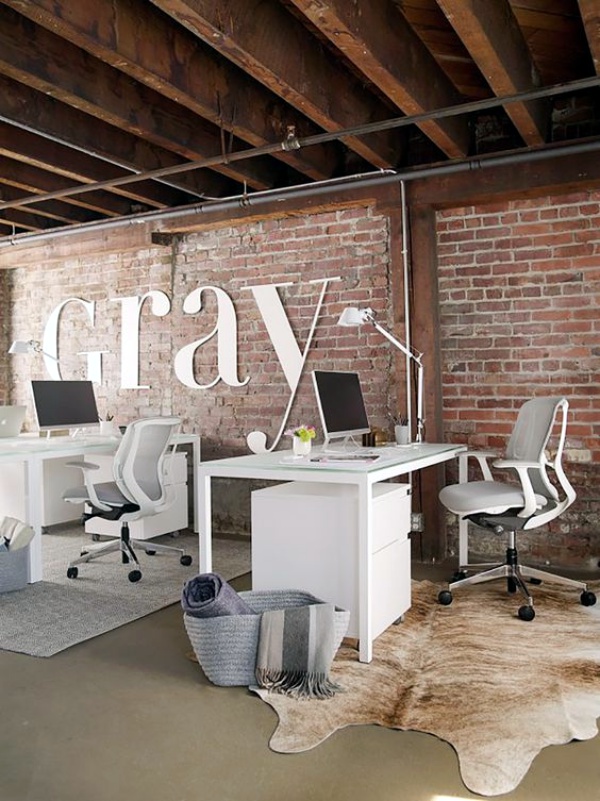 A lovely rustic finish to the office with brick textured walls, animal skin like carpet and wooden beams is a good look for the office too.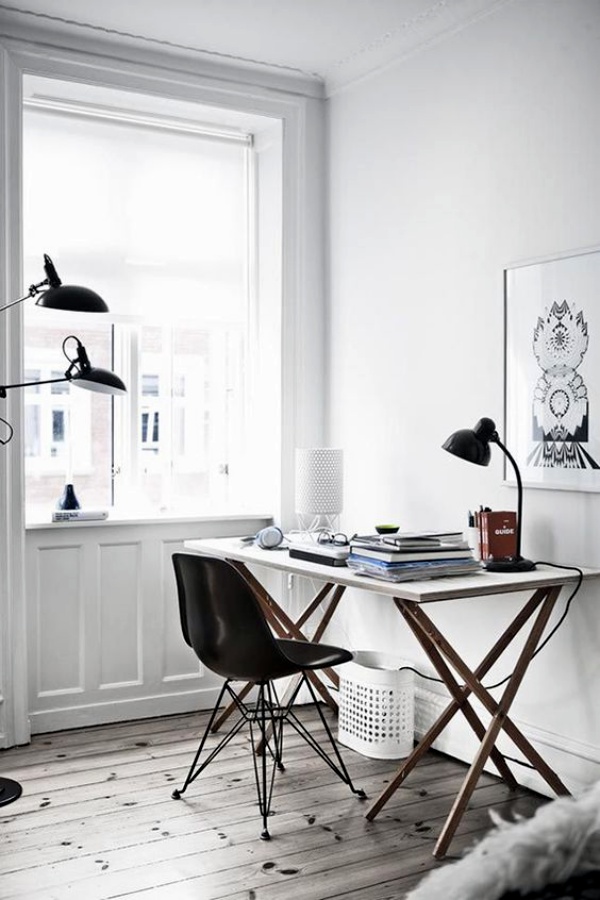 Black and white and the simplest art on the wall is also a sober and cute idea to go with.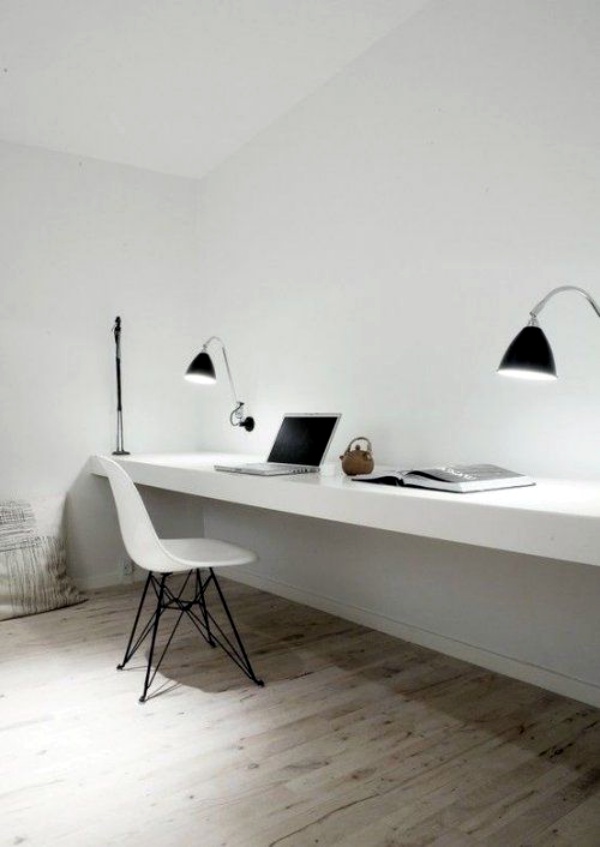 Taking it to the simplest possible can be a way to keep your mind and office space uncluttered.
Workstations with efficient wall folders to stack files can be a great way to ensure that the smallest space does not get too crowded.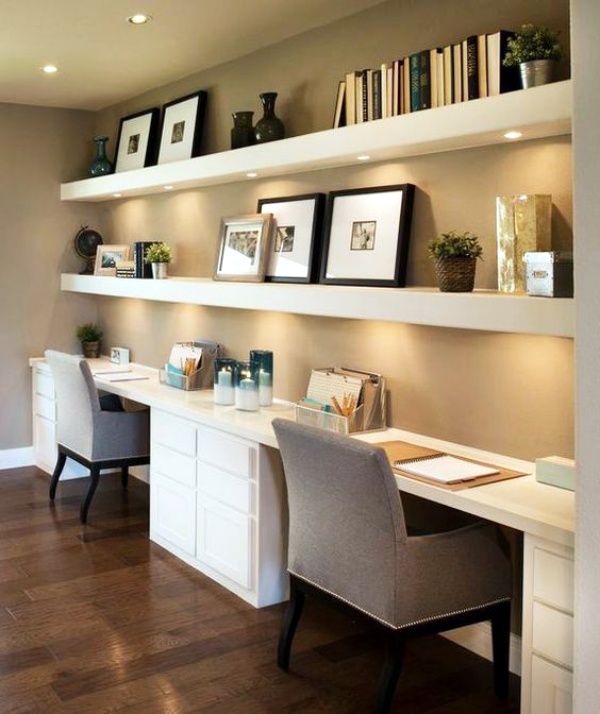 Add a couple of racks to put books and some personal decoration on top of the workstations to make your office look warmer.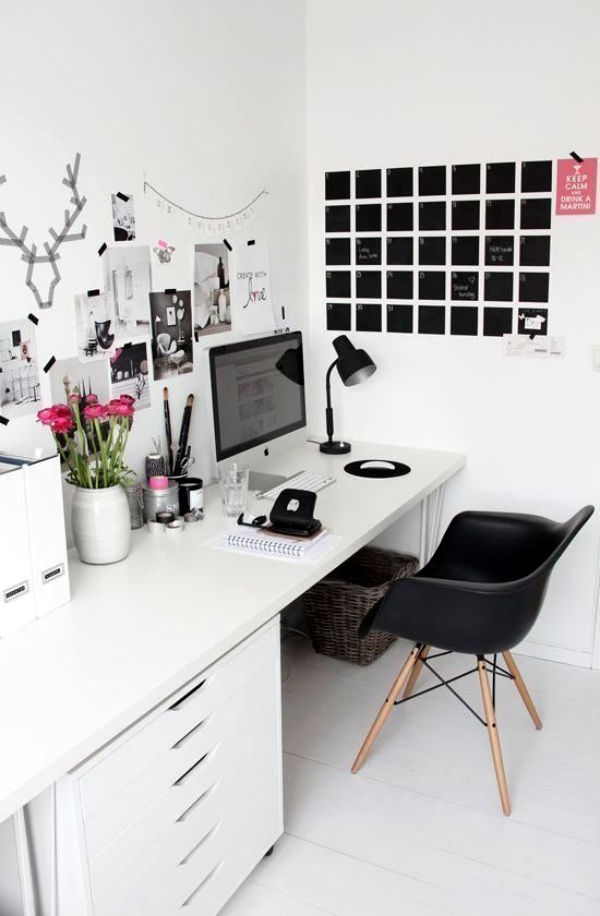 A wall to decorate in front of you and simple black and white checks on the side is a great way to do up an office.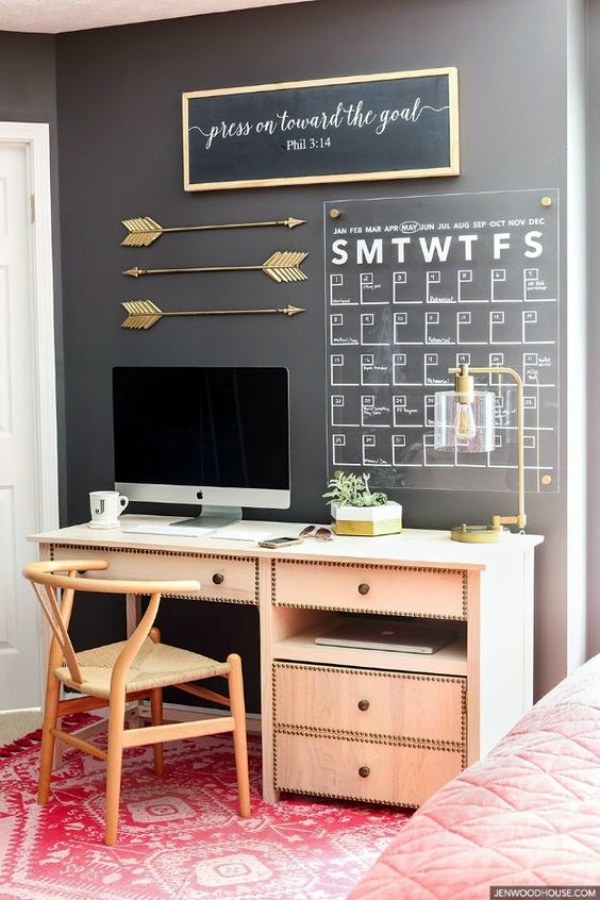 A wall to decorate in front of you and simple black and white checks on the side is a great way to do up an office.
A week planner to scribble things on and a plain wall with arrows on it is a great way to do up your work space not to forget the bright colored carpet to liven things up.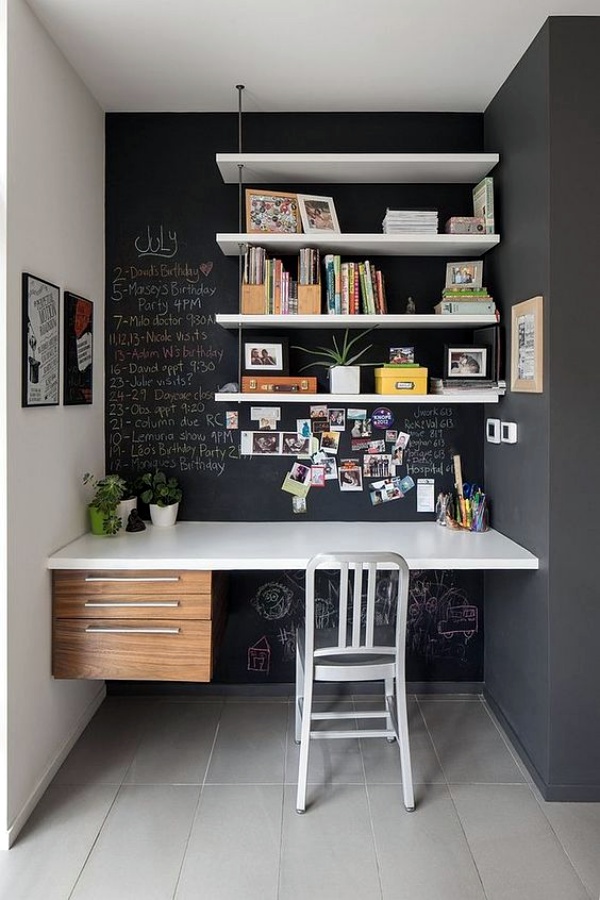 A blackboard with scribbles on it and a couple of racks to keep stuff in open view can make that wall facing workstation look cozy.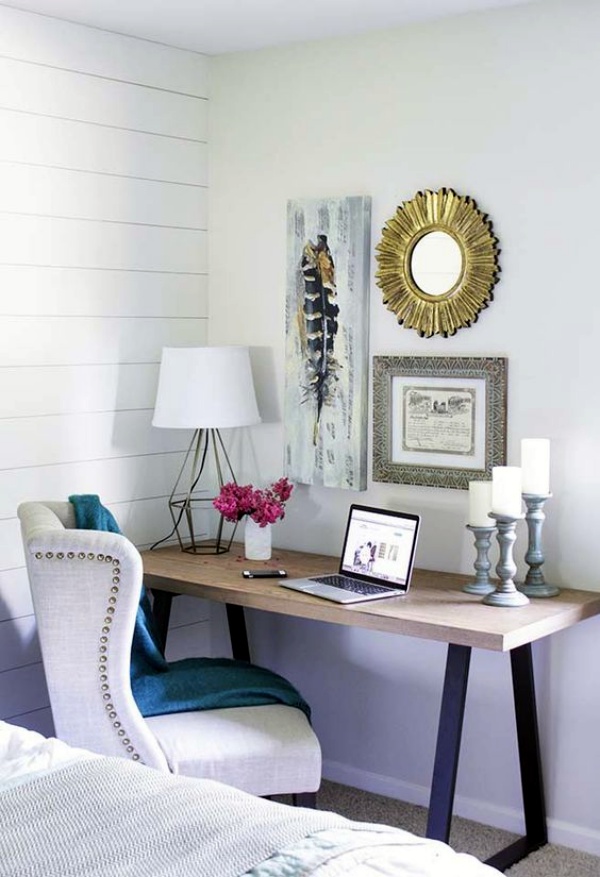 Add some richly framed pictures and wall mirror on top of your work space and upholster your seat in satin to make your office look rich and indulgent.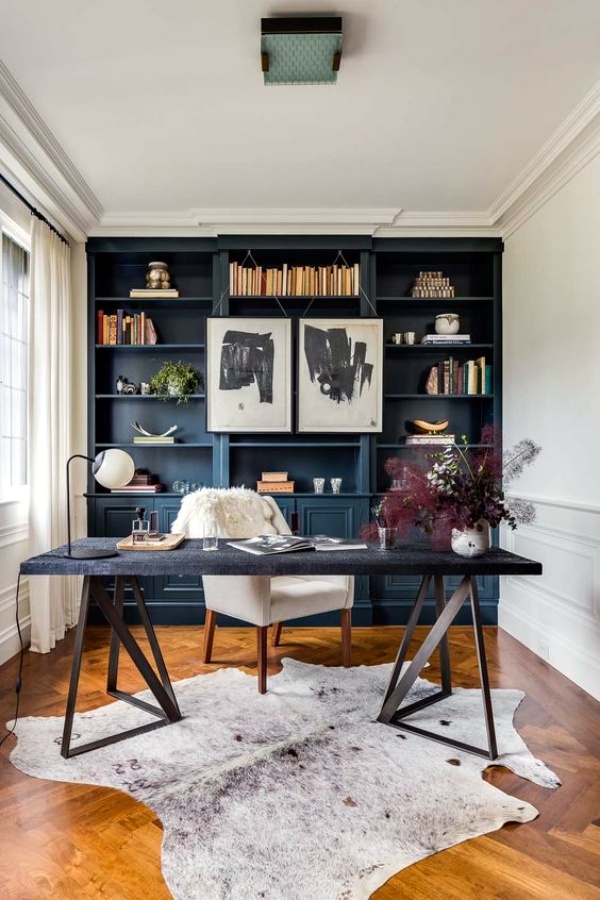 Go for wall unit, animal skin shaped rug, and simple furniture to ensure a workable office space. Add some flowers and a couple of wall pieces to make the space better.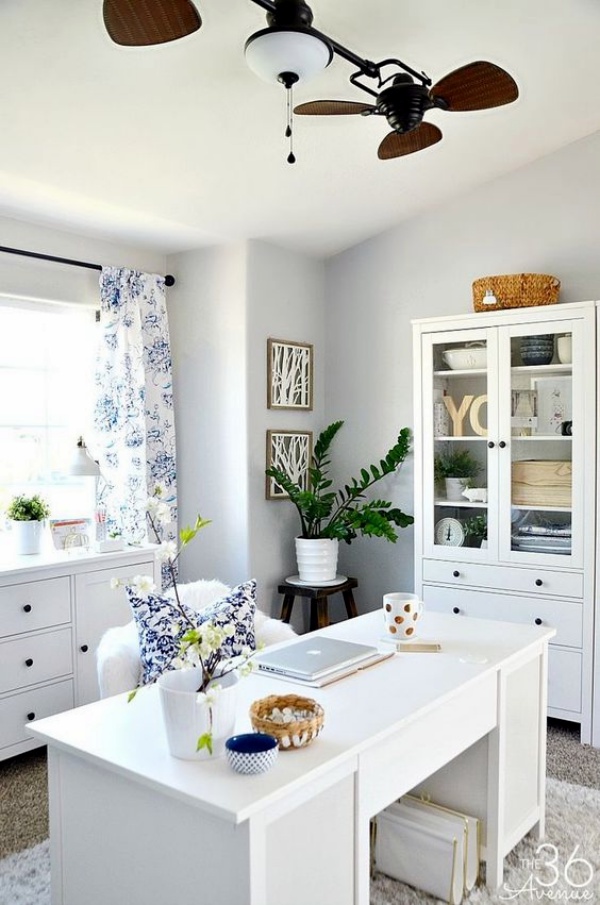 White is bright and spacious along with a few touches of color in the form of upholstery.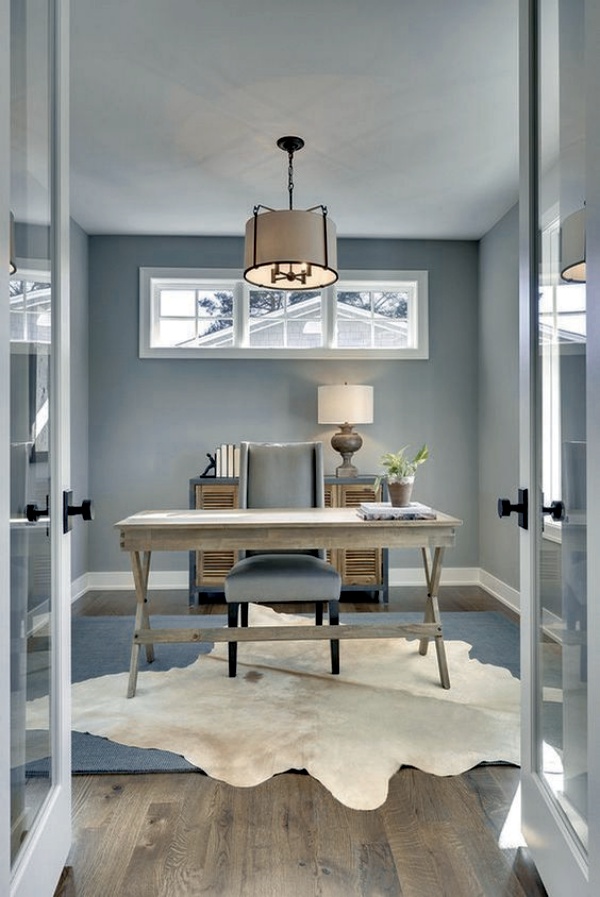 Grey is a great color for a formal look and can be played around with some rugs and lamps, etc.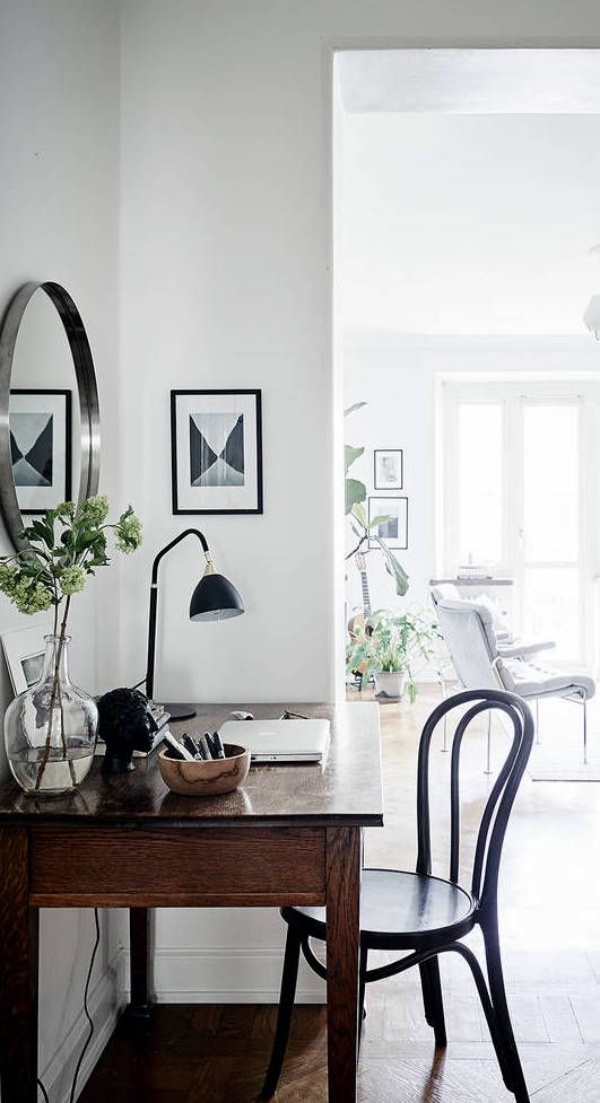 Brown desk and chair with a nice lamp and some greenery can make it work.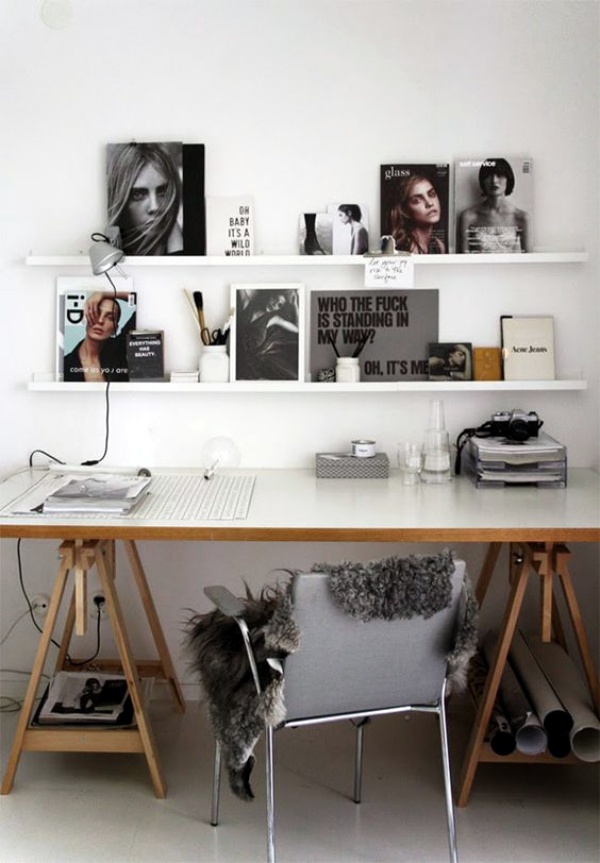 A desk with legs that offer space to store along with a couple of shelves to keep knickknacks.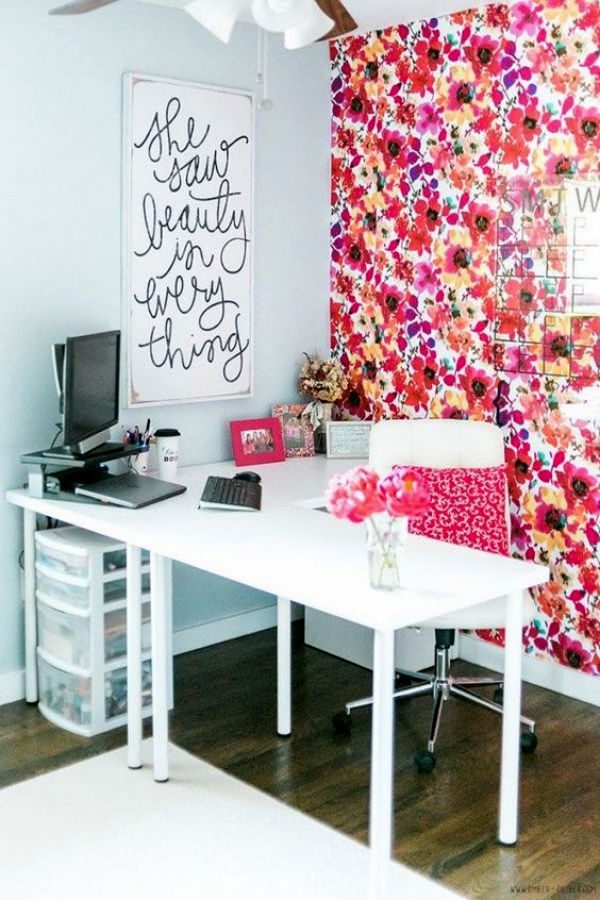 Add a busily floral wallpaper on just one side wall and keep the rest of the walls plain.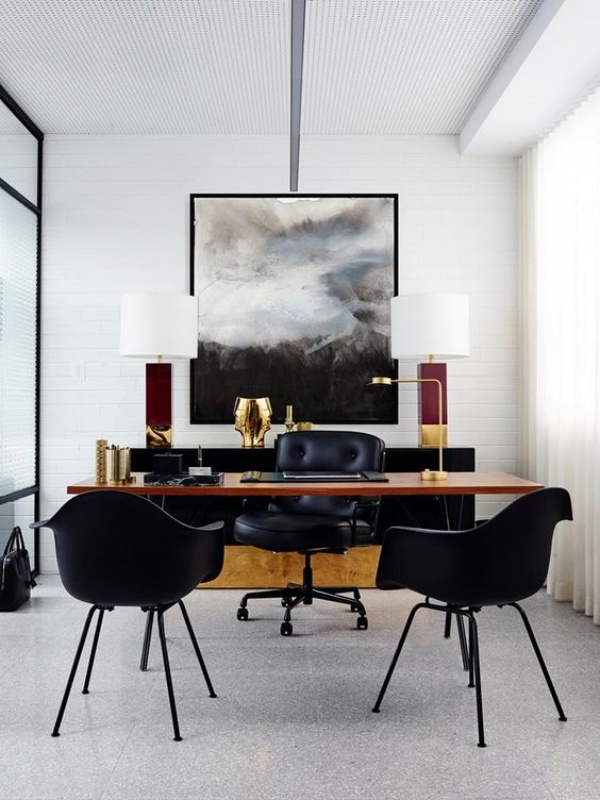 Black and white with a touch or two can come in handy when it comes to decorating the office.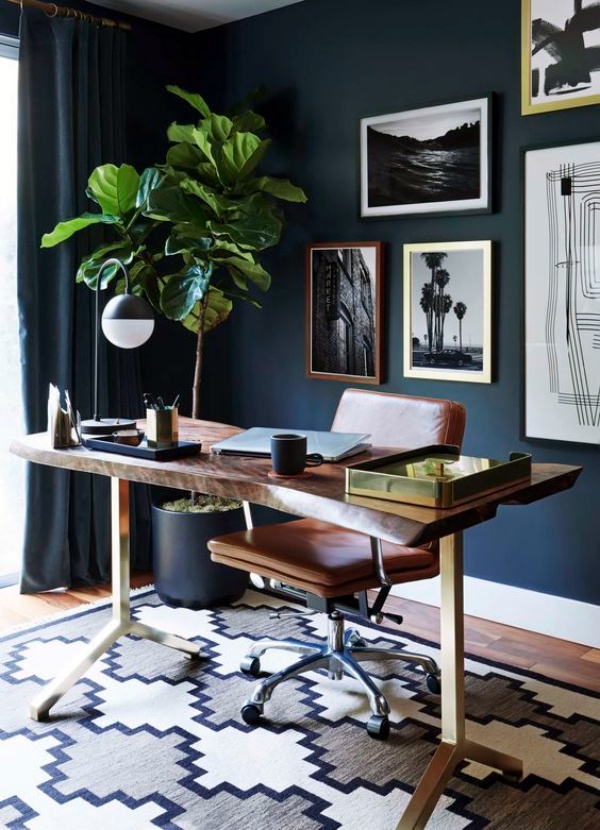 Dark blue with a few black and white framed photos can make your office look serious and official.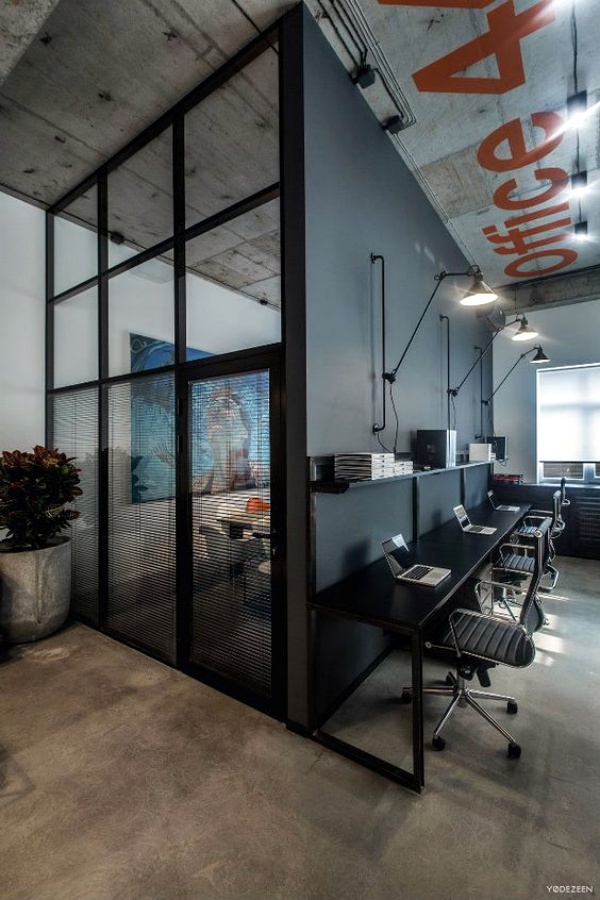 You can go for a minimum space for working with a funky touch by writing office on the ceiling.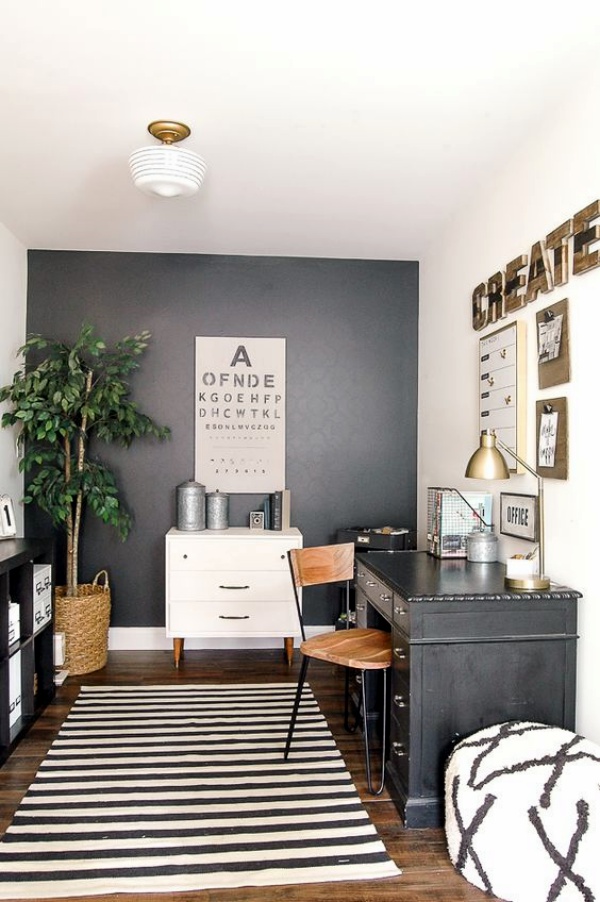 Charcoal grey and white is a great combination with the difference being made with the word create written in metal alphabets.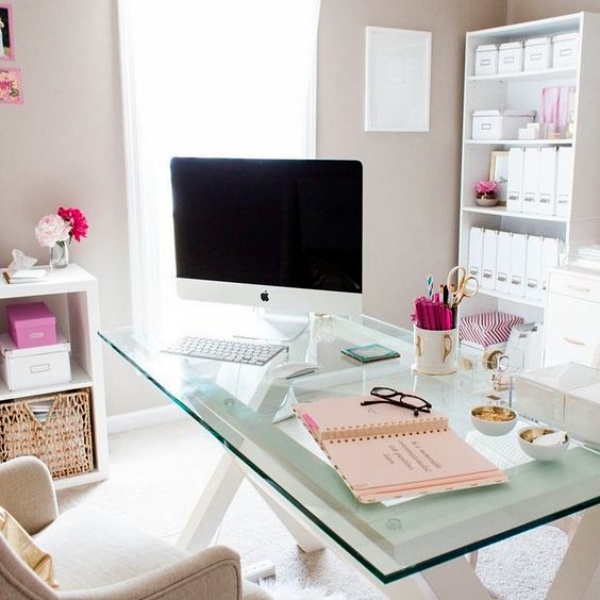 Mauve or lilac is a color that goes well with white and can have a serene effect on the work space.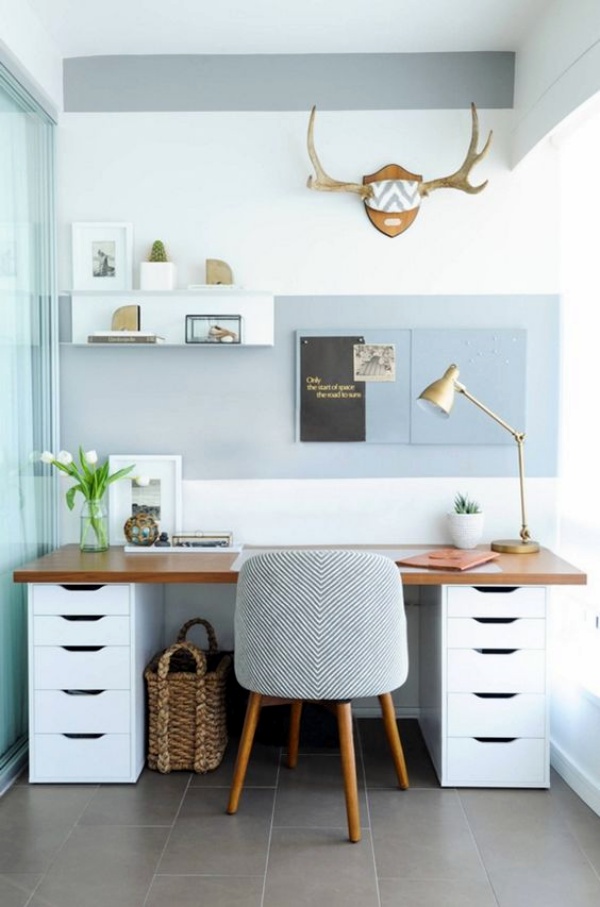 Light blue stripes on the chair with accents of blue on the wall with a false deer head complete with horns on the wall is a cheerful and nice touch.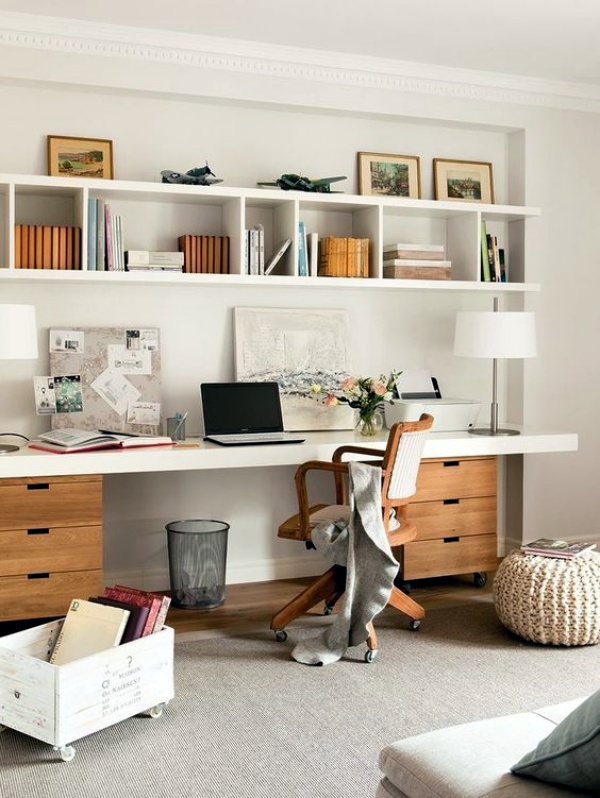 Light brown and white is a great combination especially if you have plenty of storage space for all your bits and pieces.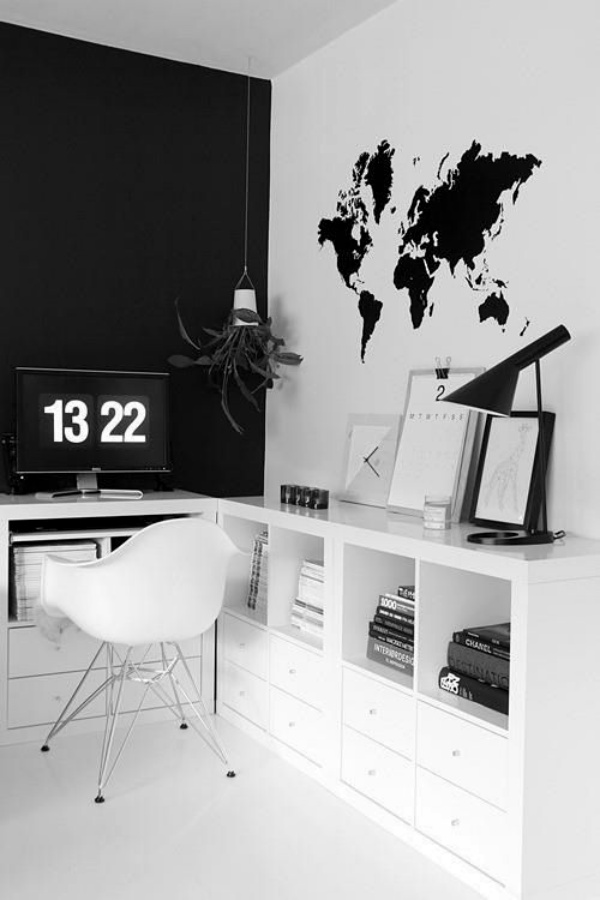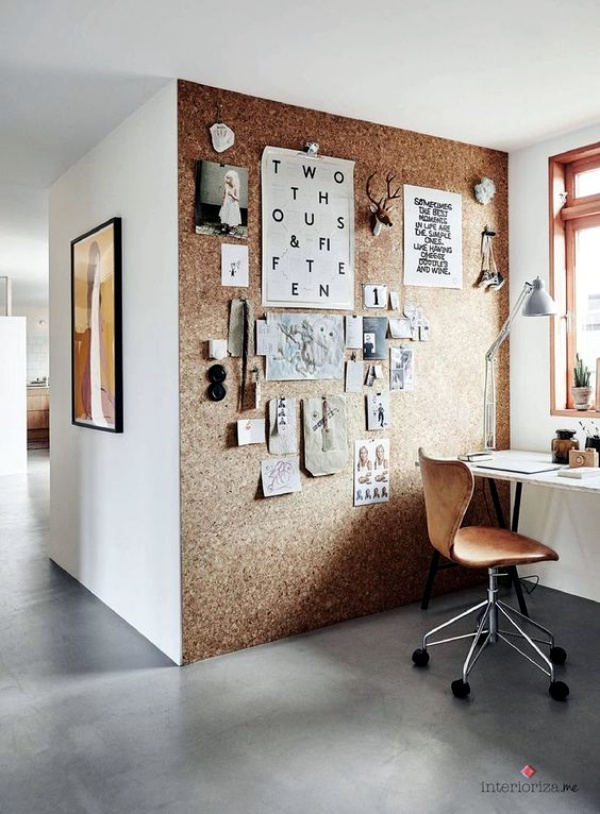 A wooden wall with corkboard where you can stick bits and pieces can add to the charm of your work space.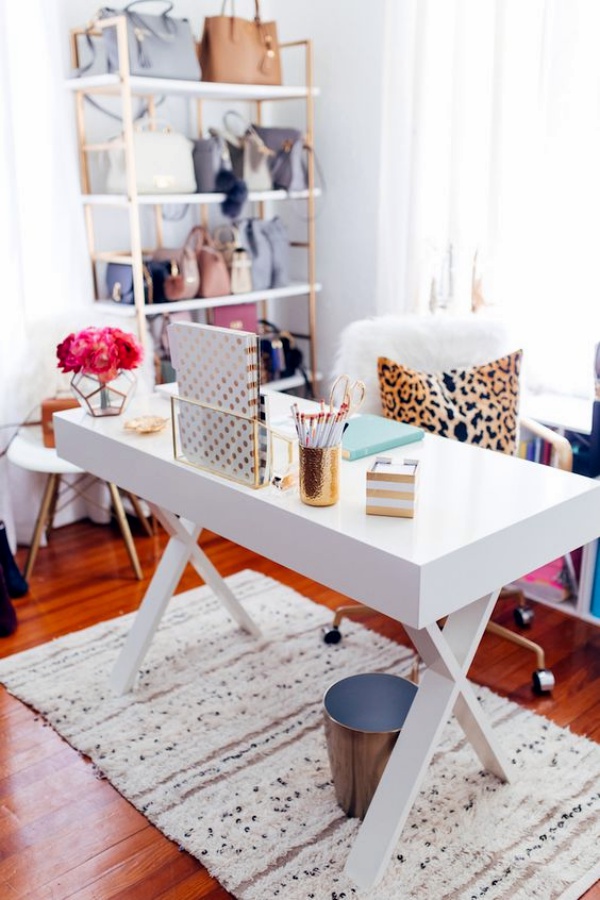 Show off your fashion side with a huge rack where you can stash your bags and go ahead and get that leopard print for your chair.
IDK is a great stencil to have on top of the simple workstation a nice and practical rack to boot.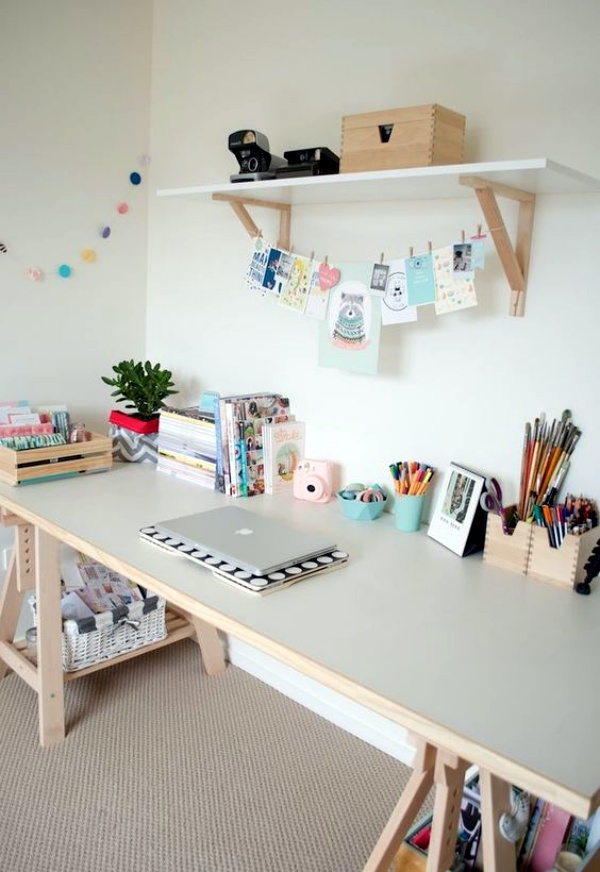 Simple but cute is this work space where you have a rack and also a string tied up to hang some cards to cheer you up.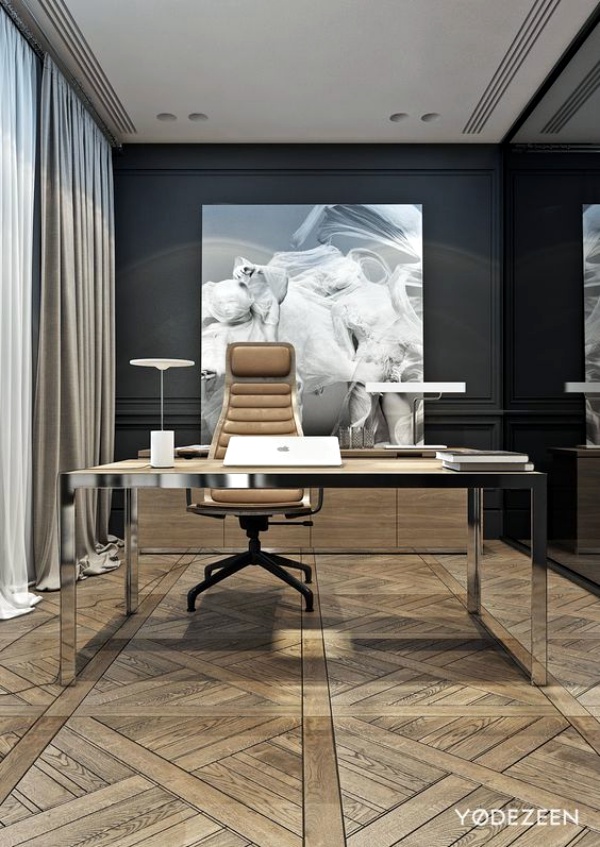 Awesome art hanging at the back adds a three-dimensional look to the office with flooring in geometrical designs along with minimal looking furniture.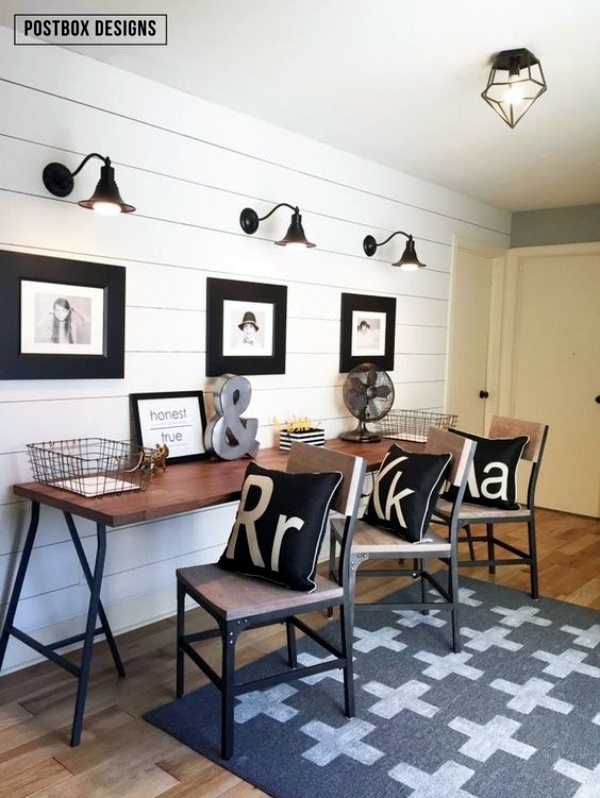 Add cushions with alphabets, individual lamps and a nice basket for bits and pieces will make this space great for more than two people to work here.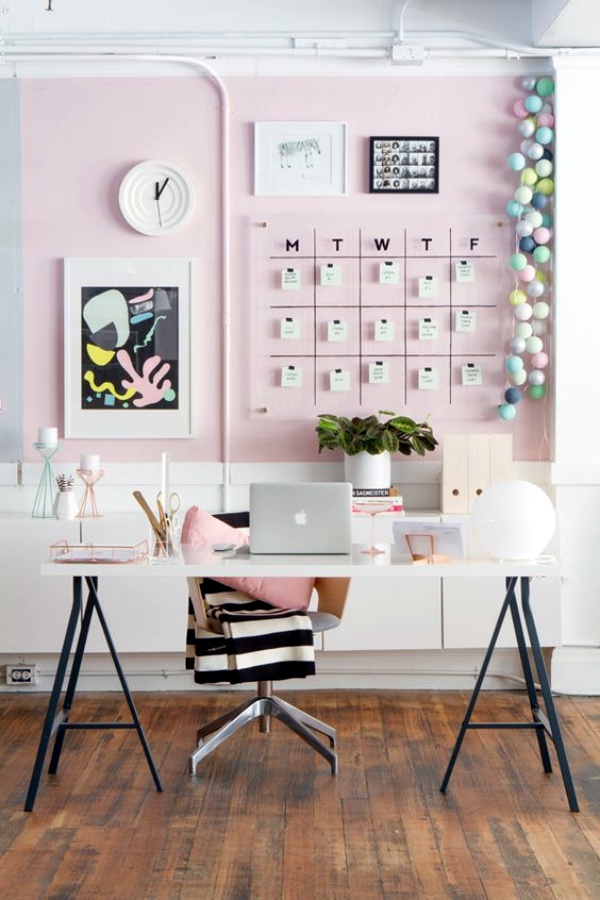 A week board, some balls and light pink walls will have you eager to get to work in such a pretty space.