You might have some doilies lying around somewhere in your home. Yes? Wait what? You are thinking about throwing them away! Just stop exactly there. These poor idly sitting doilies can help you in so many ways you can't even imagine. You can have some real fun with these doilies loitering around. Whether it is a crocheted doily or a lace or paper doily, you can create some amazing home decor items with this Creative Doily Craft Ideas For You. Have a look on the ideas below and I am sure you'll be awestruck. How about bringing your creative entrepreneur skills to the market and making this story unforgettable for you. Make and sell; 'cause why not?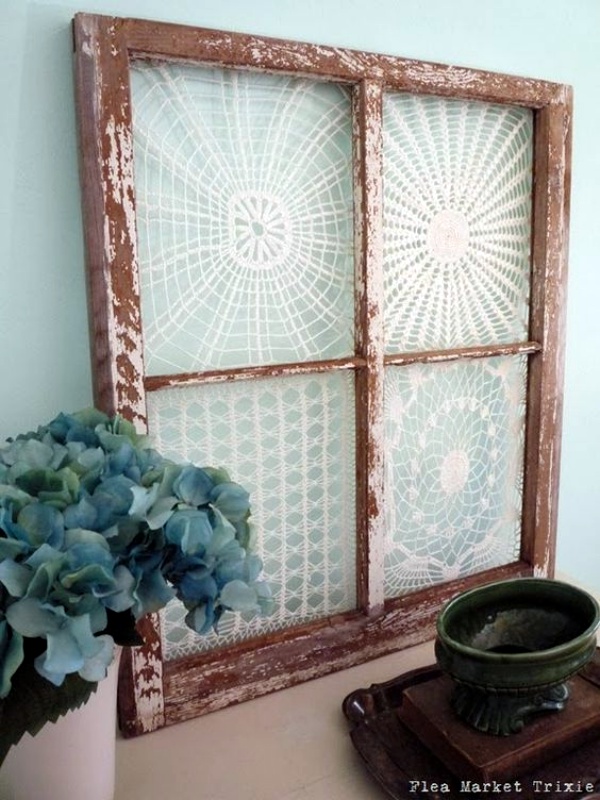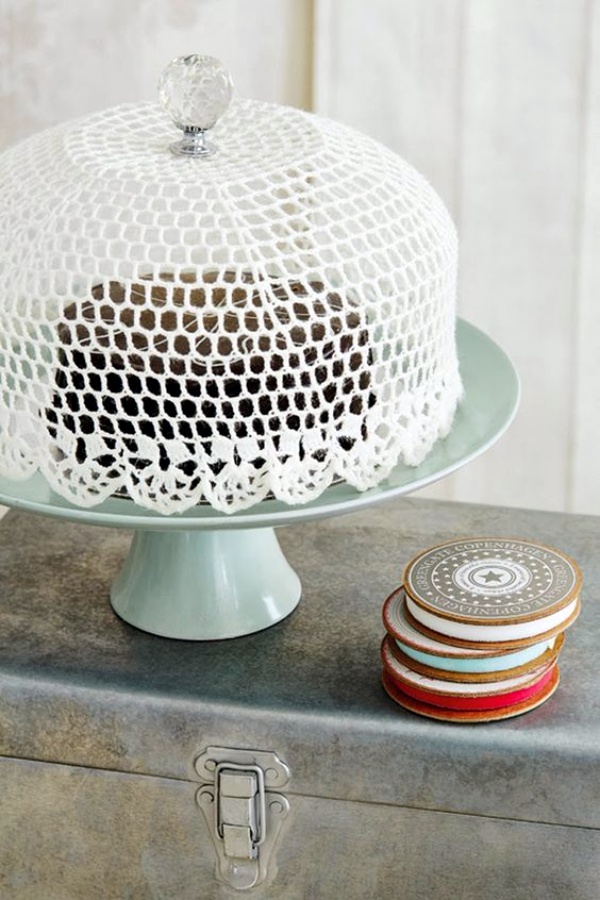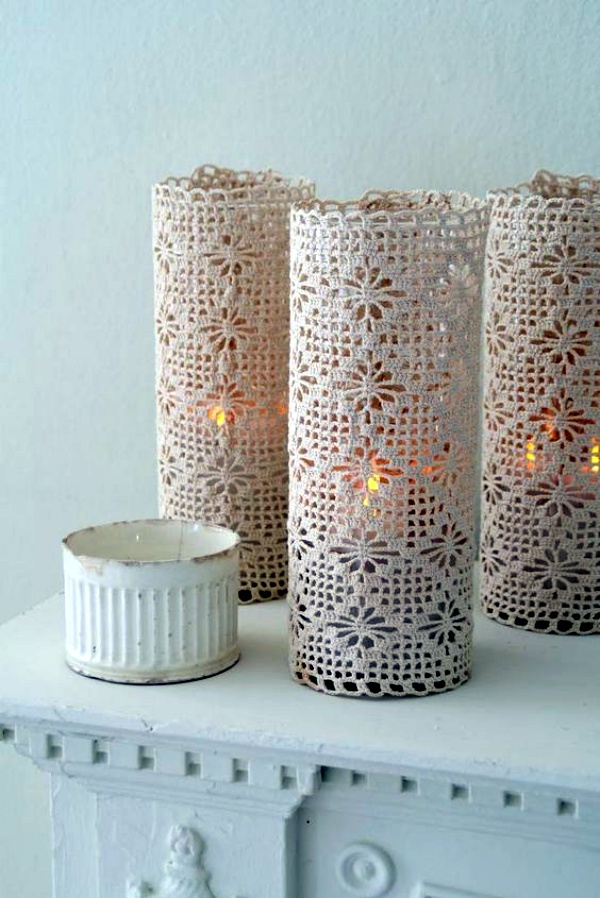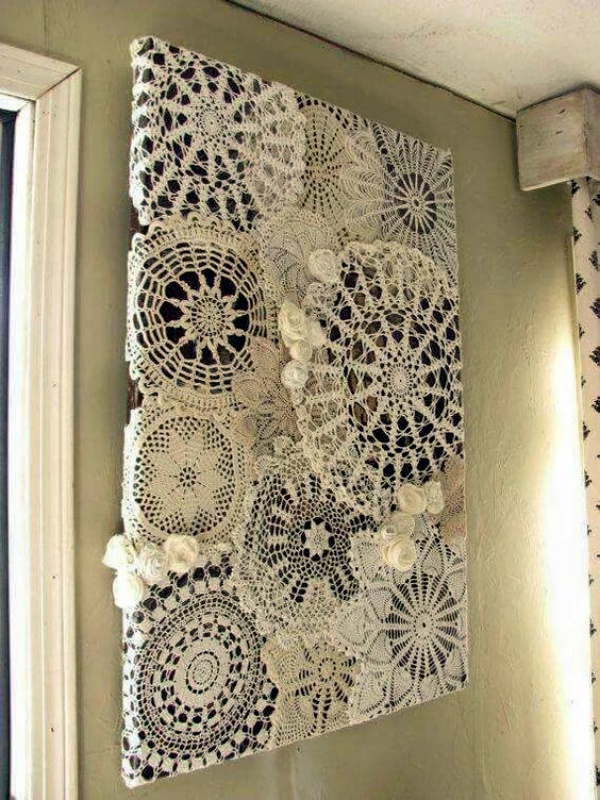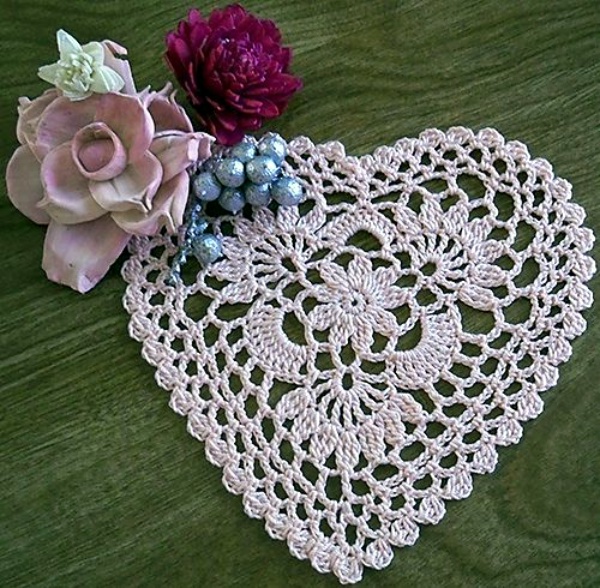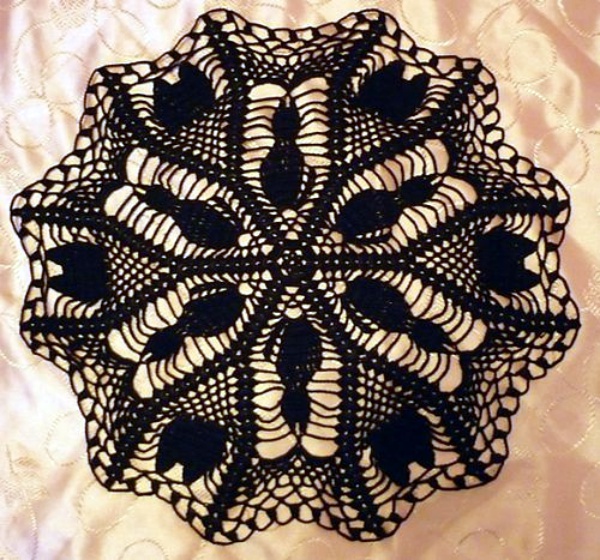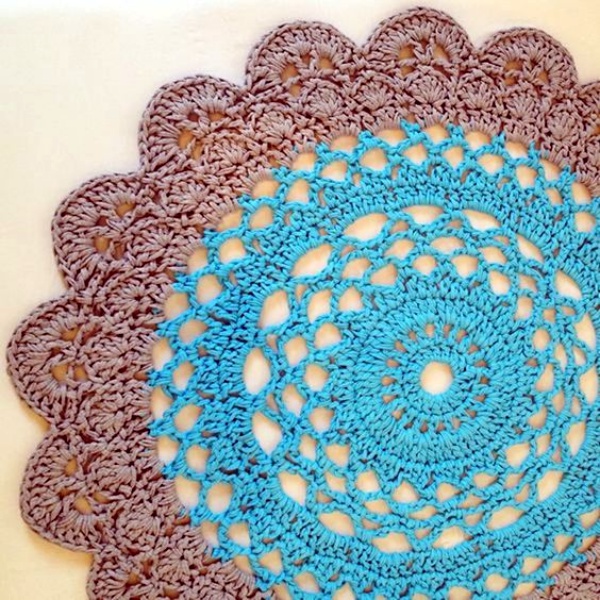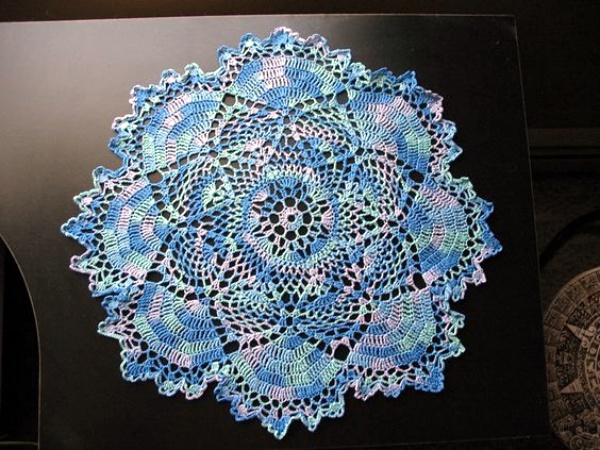 Creative Doily Craft Ideas For You
Creative Doily Craft Ideas For You
Nothing says spring is here more than tulips. Place a bunch of tulips into a mason jar, wrap with a doily and tie with a string. It is a beautiful way to add a touch of rustic beauty to your home decor in seconds.
Paper Doily Banner Party Decor
Celebrate your mother on Mother's Day with this doily banner. It is made from paper lace and craft paper, then embellished with some pink fabric flowers and ribbon. What a beautiful and special way to tell your Mom just how much you appreciate her on her extraordinary day.
40 Complex Crochet Doily Patterns For Masters
40 Complex Crochet Doily Patterns For Masters
40 Plaster of Paris Craft Ideas and Projects for 2018
10 Totally Home Made Slime Making Recipes
Paper Doily Party Decor
Doilies can be glued together to make hanging paper ball decor for parties. What makes these doilies stand out is the fact that they have color and texture. Can you believe that these vibrant colored ornaments are dyed with food coloring and are rated as one of the creative doily craft ideas for you?
DIY Doily Textured Ceramic Plates
What happens when you combine doilies and clay? The artist came up with some of the most beautiful ceramic dishes ever. The doilies add a lovely texture when pressed into clay! These one-of-a-kind treasures make gorgeous gifts that will be treasured for years to come.
Paper Doily Mother's Day Card
This kid's craft, paper doily Mother's day card is easy enough for children to make. Every mother will love this lacy flower card handmade by their son or daughter as a Mother's Day or birthday greeting.
Paper Doily Heart Banner
These paper hearts are so easy to string into a lovely banner and one of the most creative doily craft ideas for you. Celebrate Valentine's Day or any day with these simple but beautiful flags.
Doily Stencil a Pillow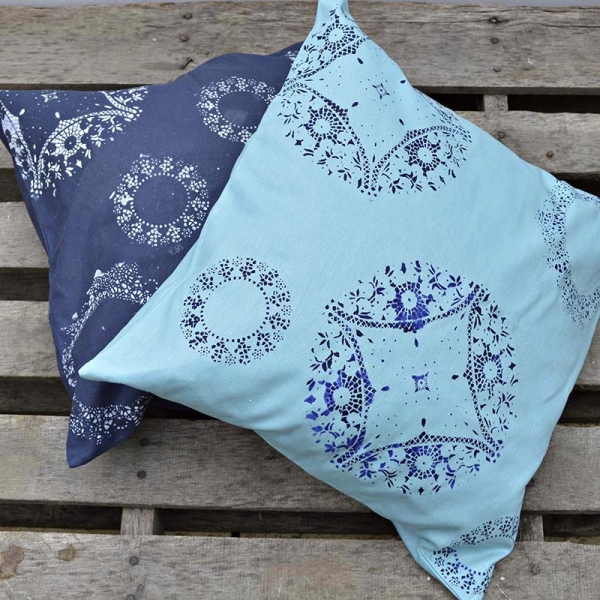 Indigo-dyed fabrics in home decor are quite popular these days and can be seen in catalogues of the trendier home decor companies. Make these remarkably sophisticated pillows with just paint and paper doilies. Who would have thought that such simple supplies would result in such a high end looking product? These pillows are a home decor project you will not want to miss.
DIY Doily Paper Christmas Tree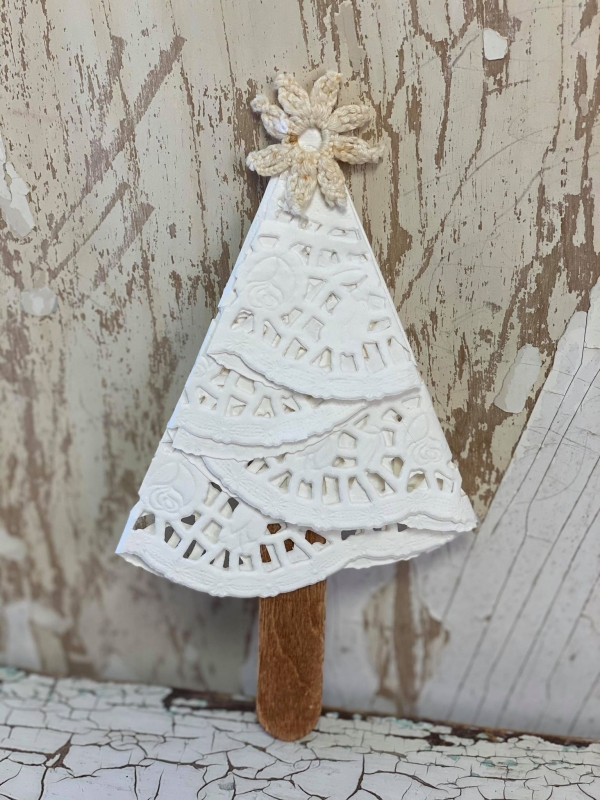 It is never too early to start thinking about Christmas crafting. Make this beautiful winter wonderland forest . This decoration will turn your house into a magical winter wonderland.
Doily Snowflake Bowl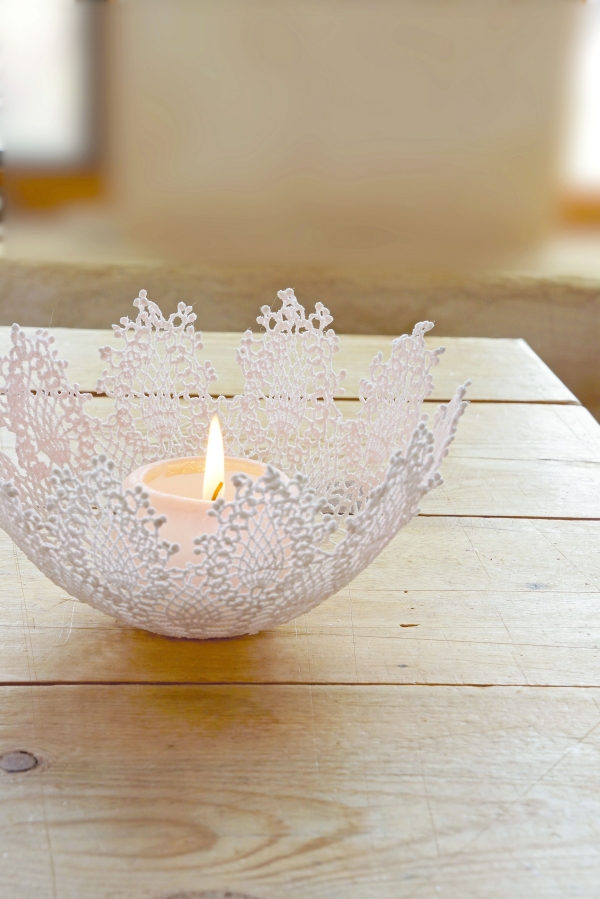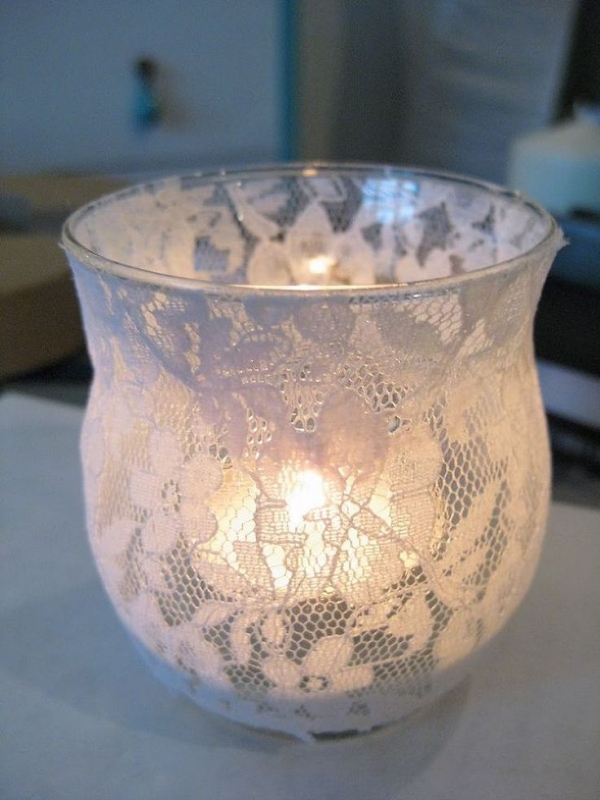 This doily snowflake bowl would make a beautiful decoration for a bridal or baby shower. It might even work well as table decor for a winter wedding. If you are planning to use it as a candle holder always remember safety first. It might be a good idea to use a battery operated tea light instead of a regular candle.
Doily-Wrapped Ice Cream Cones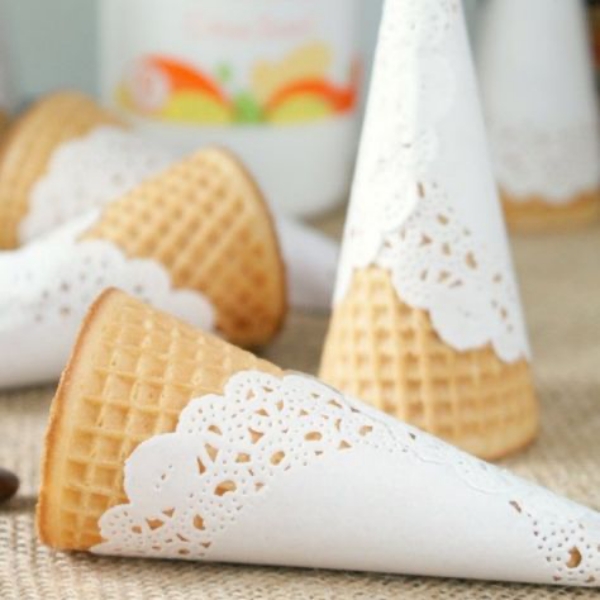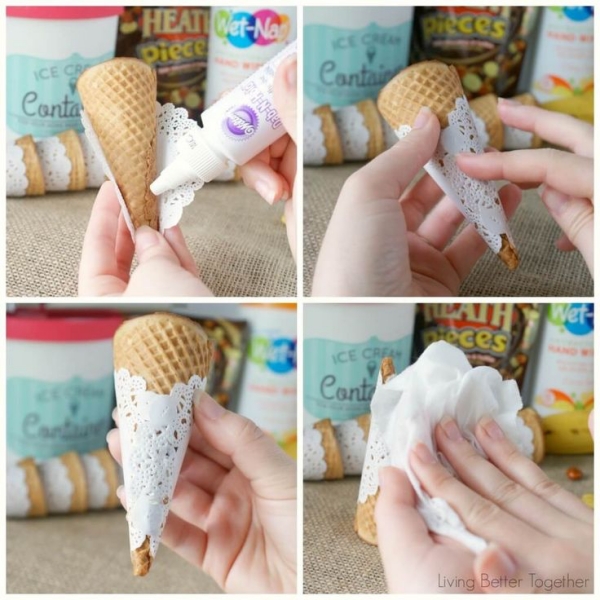 These are the perfect way to add a little detail to an ice cream bar at a bridal shower or birthday party or even just for you! Don't forget to pair it with this killer ice cream; you won't be sorry.
Doily Envelope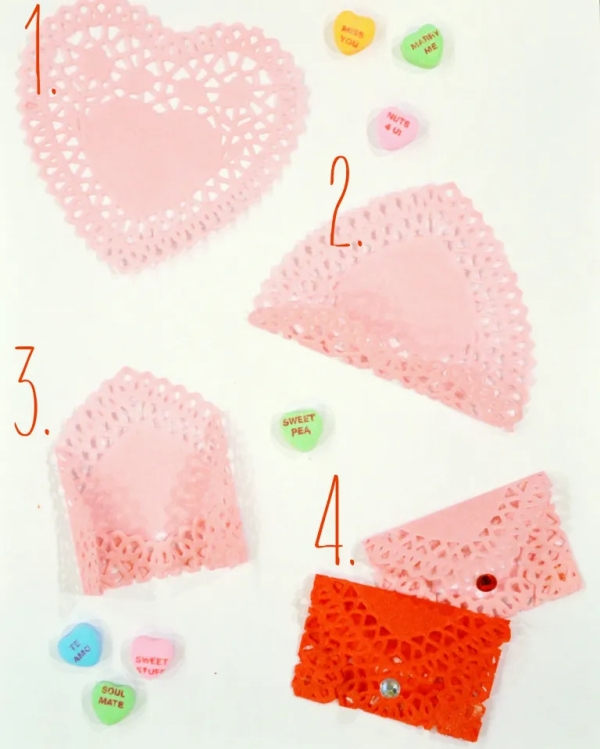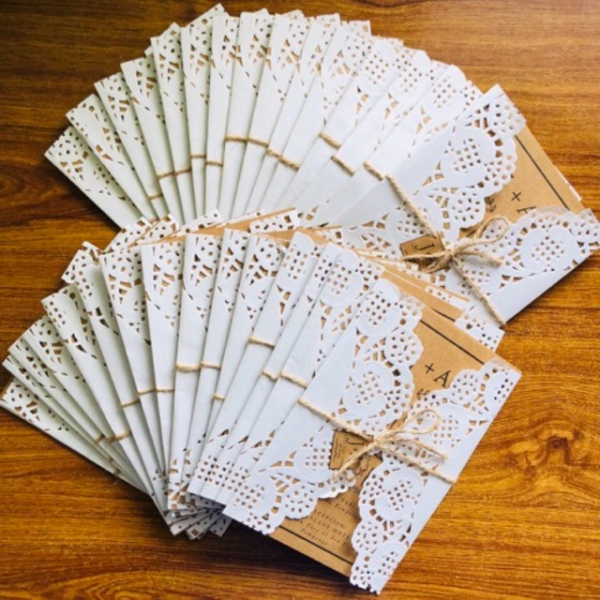 You'll do a little bit of cutting – and a little bit of hand sewing or machine sewing to make this cute doily envelope as well as creative doily craft ideas for you. It's perfect for gift cards or other small items.
Paper Doily Silverware Wraps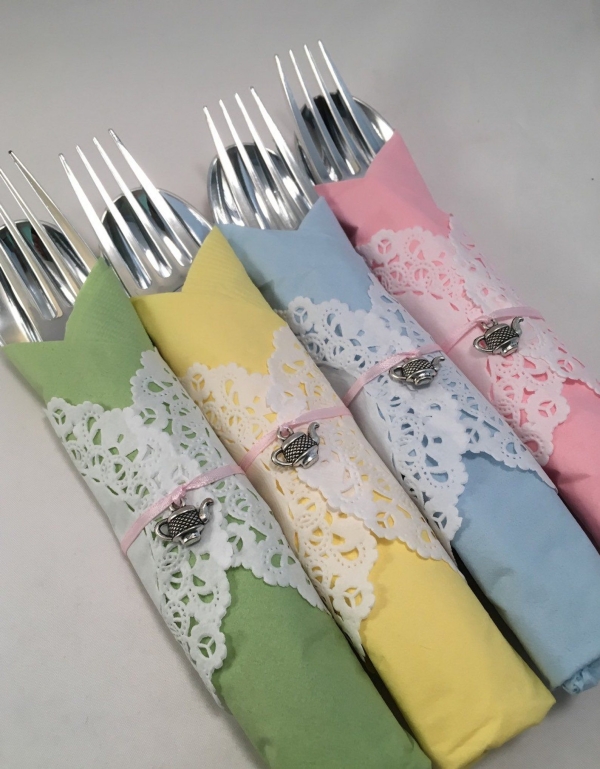 Eventually, we decided and agreed upon biodegradable, recyclable, disposable plates made from bamboo leaves. They are really cute and actually match the decor, so it worked out. They even had silverware to match. You can tie in the paper doily from the program pockets and wrap all of the silverware in a paper doily as well.
DIY Cute Mini Umbrella with Paper Doily
It is great idea to make a greeting card with this cute mini umbrella inserted with flowers or other small gifts. It looks so different and delicate for those who love life. You can make this craft bigger, by crochet a doily with real flowers or paper/felt flowers bouquet to decorate wall that will be gorgeous.
Paper Doily Trees in a Forest
Perhaps you have already thought about your table decoration for Christmas? You can imagine it simple and soft at the same time, very wintry and a little bit poetic too.
DIY Wedding Place Cards & Menus – Doily Charger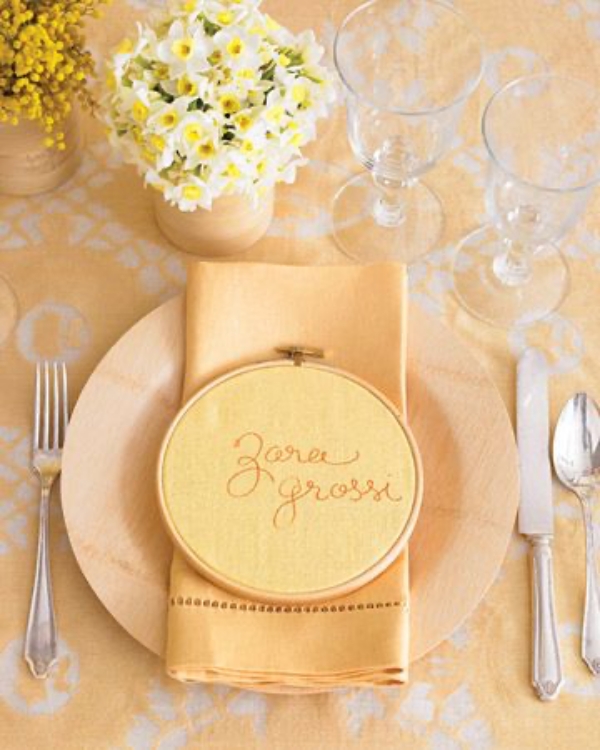 A clear plate and doily takes this table from simple to stunning! Hire a calligrapher to write your guests' names on doilies. Print out your guests' names, place the print-out under the doily, then trace! If you're DIY challenged like myself, you can print your wedding menu on a piece of specialty paper, then glue it to a doily. This extra touch will really stand out to our guests!
DIY Vintage Doily Necklace
Learn how to make the cutest necklace out of a doily! It's best if you can stiffen the doily with Stiffy so that it doesn't fold up on your neck. You don't have to, but Stiffy makes it much easier to keep the necklace in place.
DIY Doily Cocktail Stirrer
Looking to have a vintage themed party or wedding? Stiffening doilies is a great idea for cocktail stirrers, and also perfect for other decorations such as banners, table decor, and other creative doily craft ideas for you.
DIY Doily Clock
How about a doily on fabric in an embroidery hoop? Yes, you can make a clock out of those supplies too. And Jennifer will show you how to do it.
Doily Hanging Planters
It never occurred to sew two doilies together and turn them into a hanging planter! This is a very budget friendly project that looks great in vintage or rustic farmhouse decor.
Vintage Lace Collar From a Doily
Even if you don't like the thought of decorating your home with doilies you can decorate yourself. This cute color can be made for both kids and adults! It adds a beautiful touch to any outfit.
Painted Wooden Stool with a Doily Resist
Paint a wooden stool using a paper doily as a resist instead of a stencil! Incorporate your favorite paint colors, then seal with Mod Podge.
Doily Pumpkins
Every pumpkin needs a doily! Okay maybe not every pumpkin. But if you want to do some farmhouse or vintage style pumpkin decorating, I think you're going to love one of these creative doily craft ideas for you.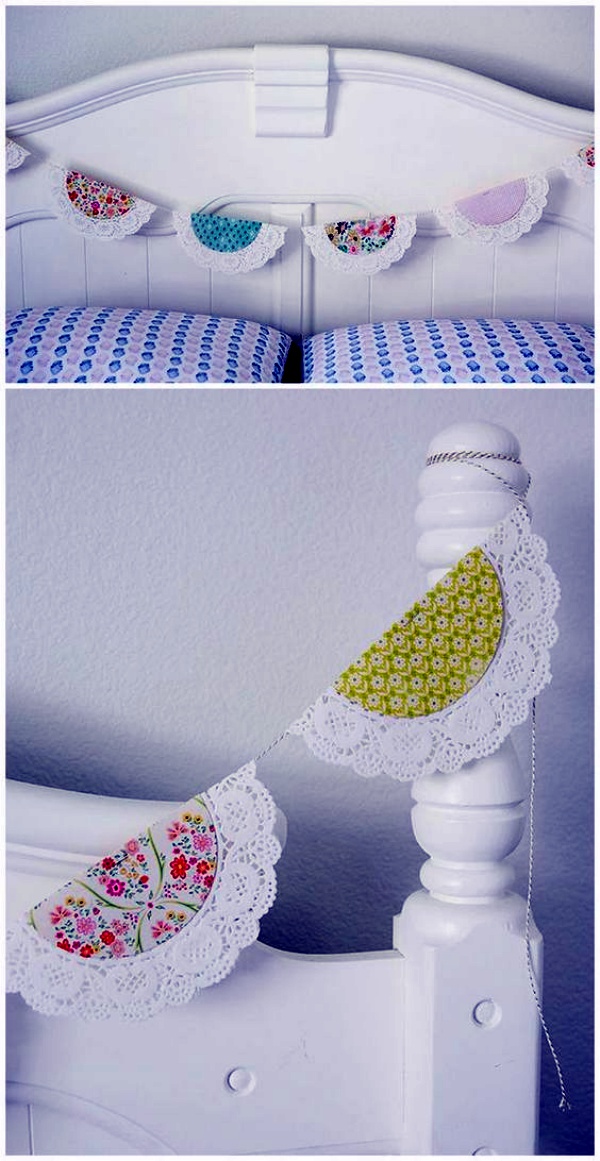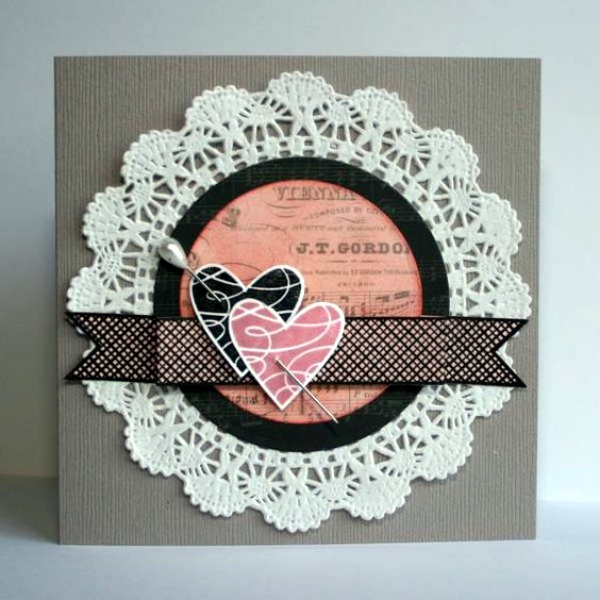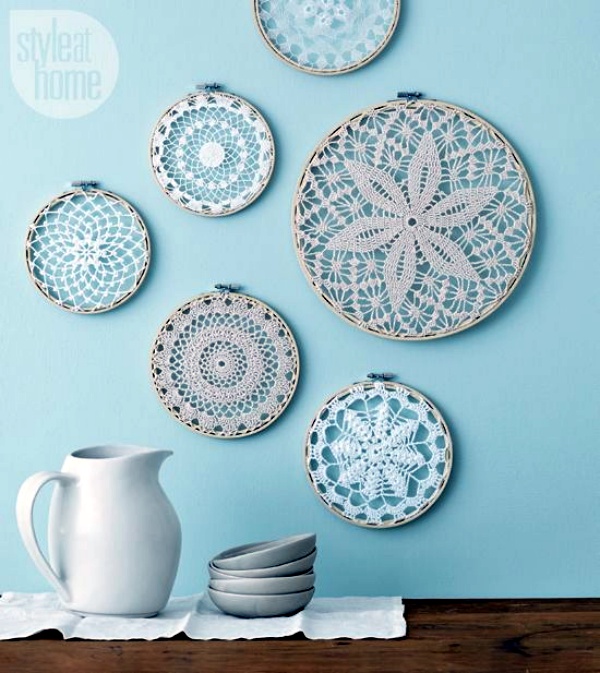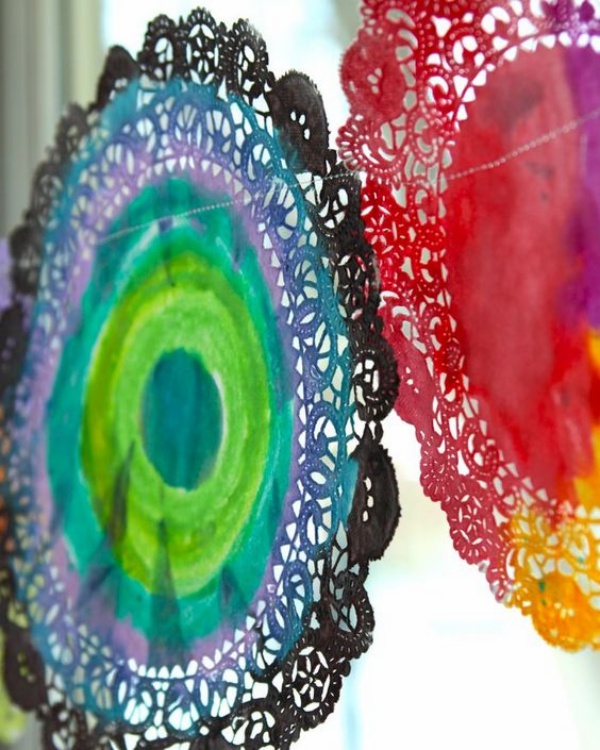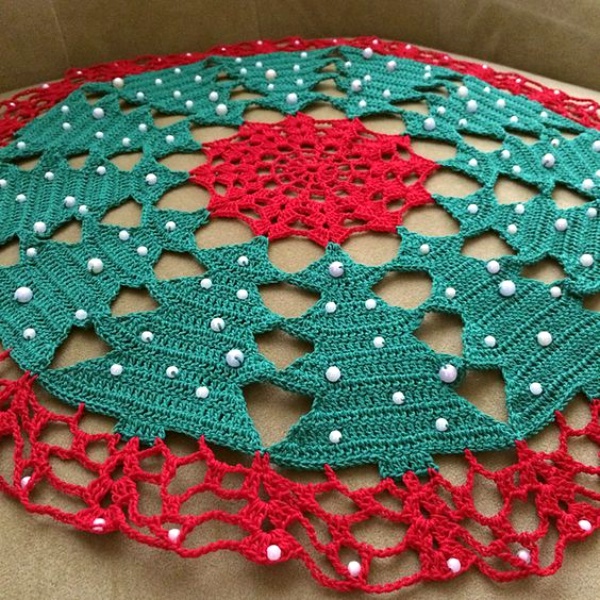 Amazing Doily Wall Art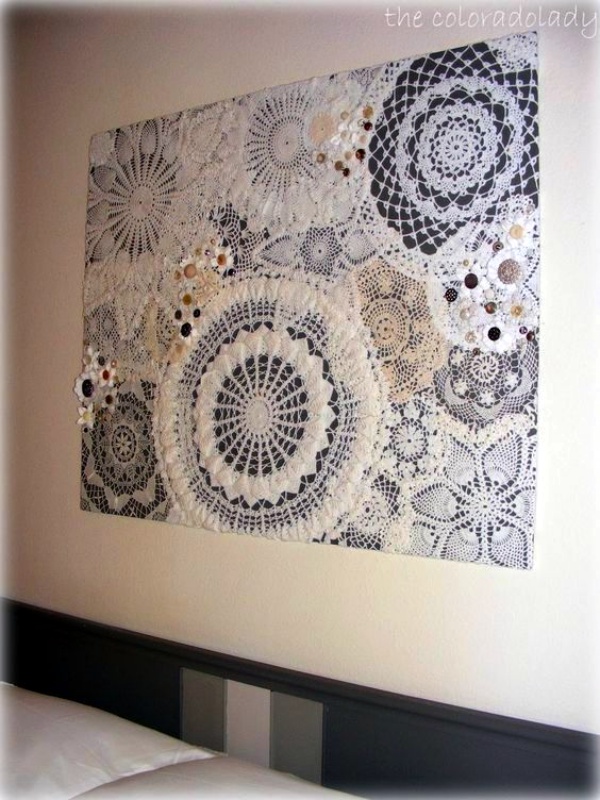 Doilies can make some impressive wall arts. One of the greatest things about doilies is that they are available in diverse designs, shapes and colors. And using these different patterned doilies one can create some beautiful pieces of art work. You can either arrange them in a pattern directly on your wall or you can use a canvas. These spellbinding wall arts will turn your plain wall into an exquisite one.
Regal Paper Doily Chandeliers

If expensive glass chandeliers are amazing then these paper doily chandeliers are a wonderful surprise. And they wouldn't even lighten your pocket! Paper doilies are easily available for just a few pennies. They are easy to make and give your home a nice vintage décor.
Decoupage Bottles And Mason Jars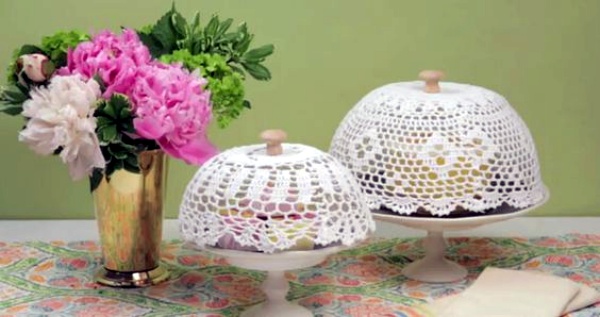 Rather than throwing your wine bottles you could turn them into some unique vases. You can either use paper doilies or lace doilies or simply stick them to the bottle. Now, using mason jars or cylindrical jars you can make some awesome luminaries. Cover these jars with either crocheted or lace doilies and put some fairy lights inside them or you can also use LED lights. Give your pen holders a great look with these doilies.
Give Your Old Boring Furniture A Coat Of Doilies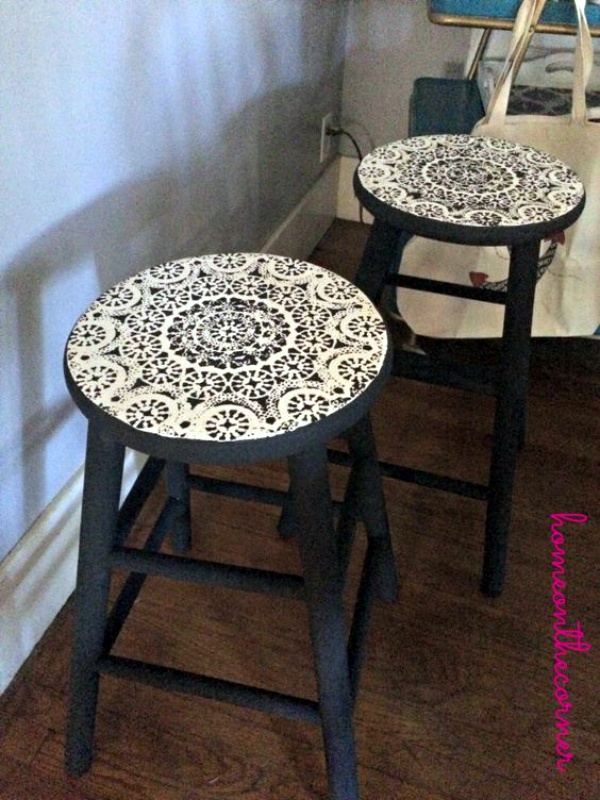 If you are bored with your old boring stool or a chair, you can give them a new unique look with the help of doily. You can get eccentric designed furniture using just a little paint and some paper doilies. Any outdated piece of furniture will be turned into an offbeat one and will enhance the vintage décor of your home.
Get Dolled Up With The Doilies!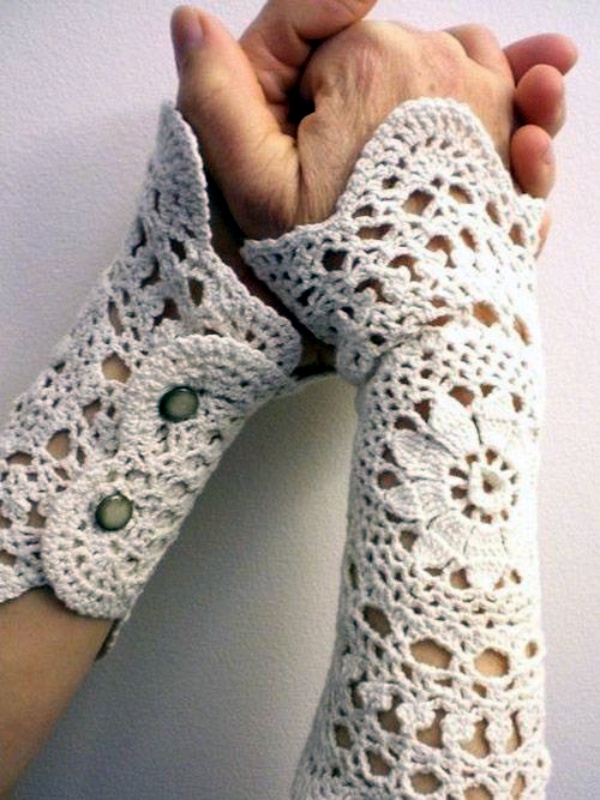 Using lace or crocheted doilies you can turn your plain tees or shorts into some elegant pieces. Simply cut a hole in the back of your t-shirt or tank tops or cut the seams of your shorts and sew a crocheted doily into it. If your doily is made of lace and sequins and pearls and beads then it's more wonderful. It will give a stylish and bohemian look to your outfits. You can also simply paint your dull tees with this doily as a stencil. Winter and these gloves that you would love making will make it a big achievement for you for sure. Find out more what you can do this winter here!
Books Covered With Doily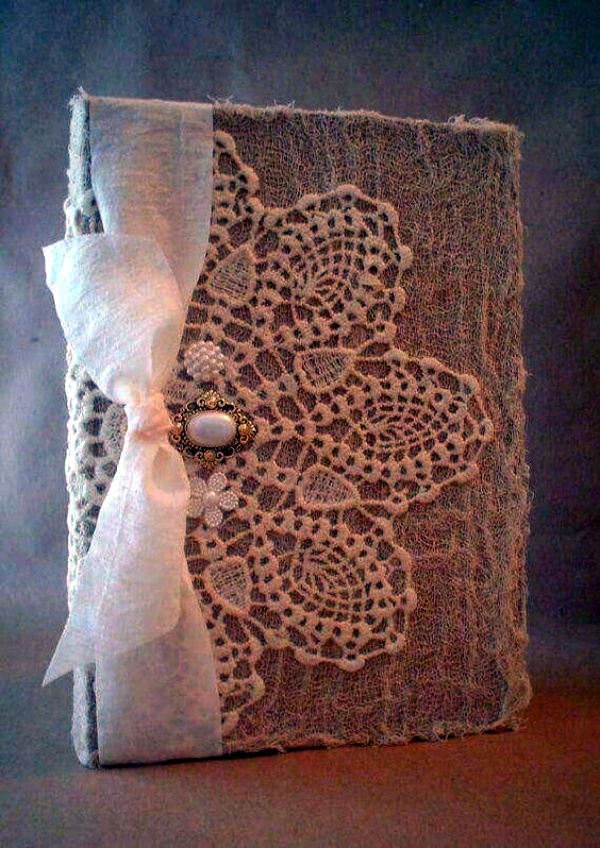 Using paper doilies, books can be given some ethereal look. You can either print doily design on the covers or simply glue some paper doily on it. These books can be either kept as décor items or you can also gift them to friends and kids.
Eclectic Doily Table Runners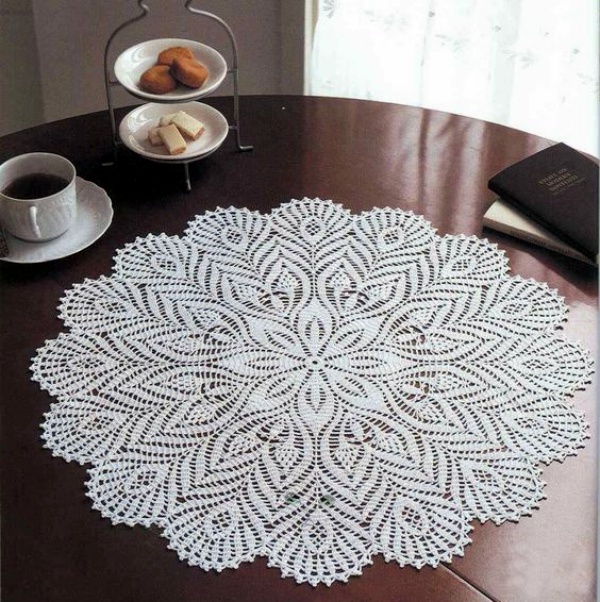 Your tables will become the center of attraction with these attractive table runners. Using different colors and sizes of doilies and sewing them together, you get some lovely vintage table runners. You can also make rugs made of crocheted doily. Also, by extending a table cloth with lacy or crocheted doilies will give you an appealing tablecloth. Indeed, pom pom will add a touch of colors and fun instantly. Find more crafts here.
Delicate Doily Bowls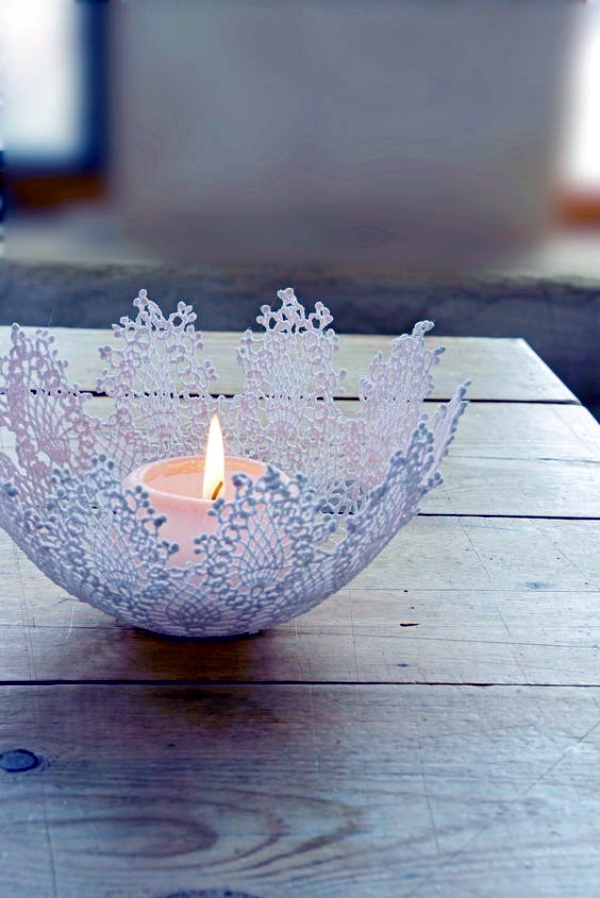 These doily bowls will make you go aww… They are easy to make and you can use them for different purposes such as a candle holder or a jewelry holder or to keep some light hair accessories. You can either use paper doily or lace doily. Wrap a lace doily that was previously dipped into wallpaper glue around a full blown up balloon. After it is dried you just pop the balloon and you have pleasant doily bowls. Since, it's a Christmas season why don't you try snowflake bowl!
Vintage Doily Quilts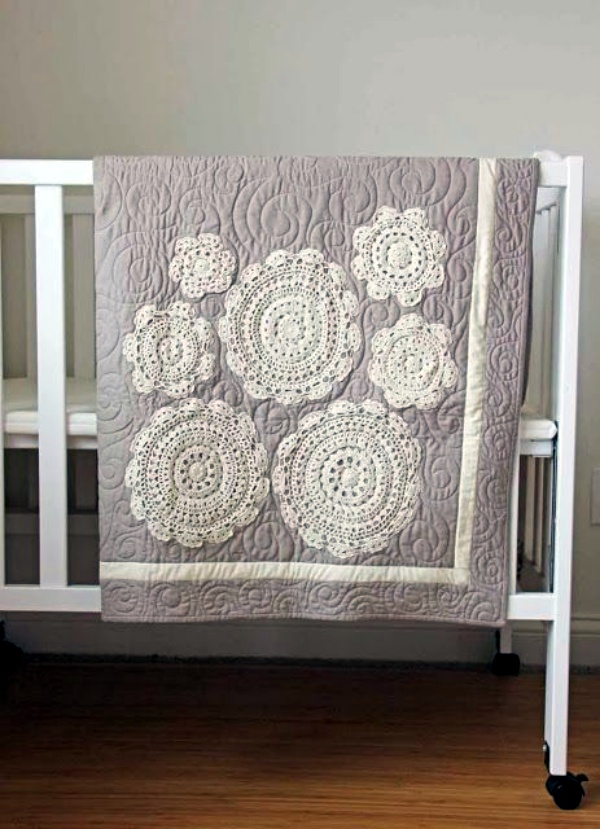 Add some memories to your plain old quilt with vintage doilies. Crocheted or lace doilies with buttons or beads can make some beautiful quilts. These incredible doily quilts are simple to make and can be made in very creative ways with varying designed doilies. Make these as a gift for someone special or you can keep them for yourself as well.
Hanging Doily Lamps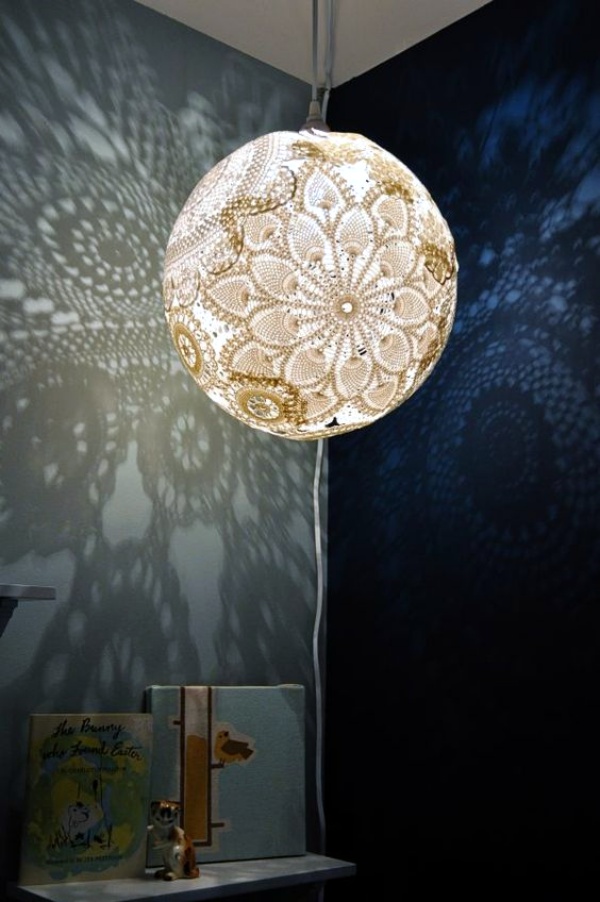 These lamps are sweetheart! So easy to make and the light that flickers through the holes of these doilies creates a beautifully designed illumination. A modern rustic look is achieved with these lacy doily lamps. You can also make your old lamp anew. Simply decoupage the lace dollies on the lampshades and get a beautiful piece for the home decor.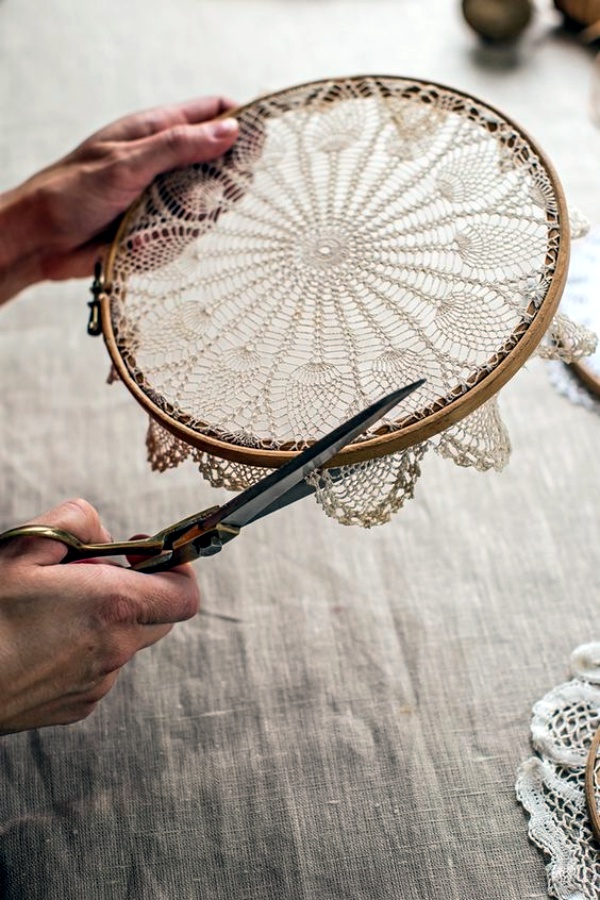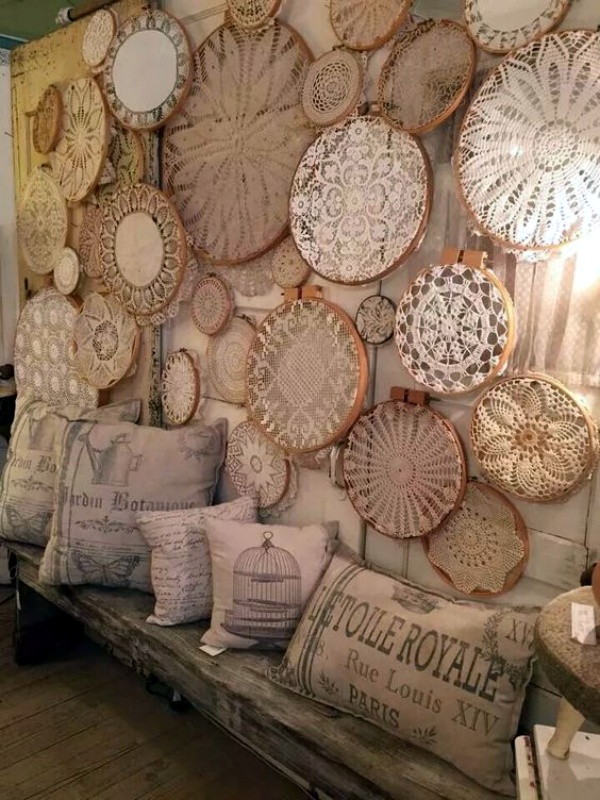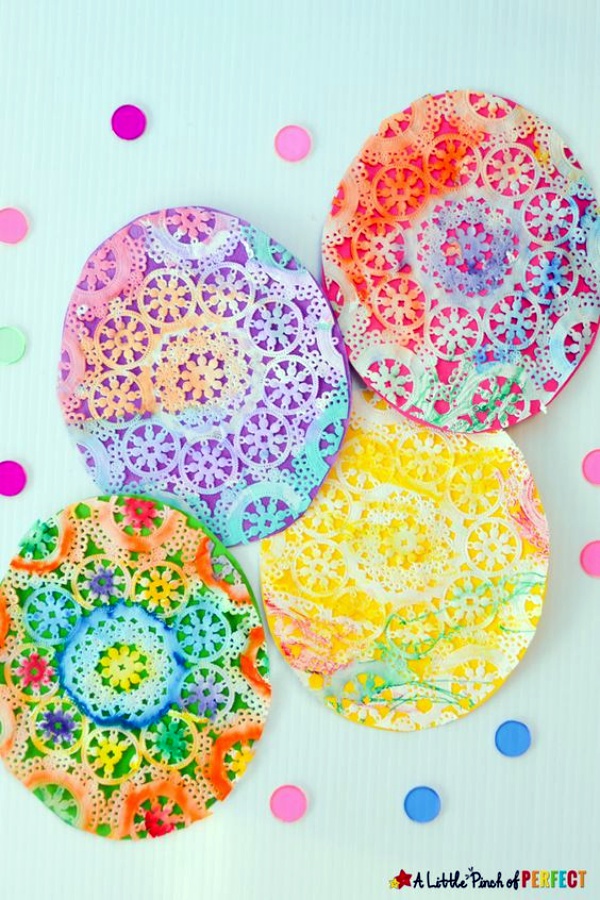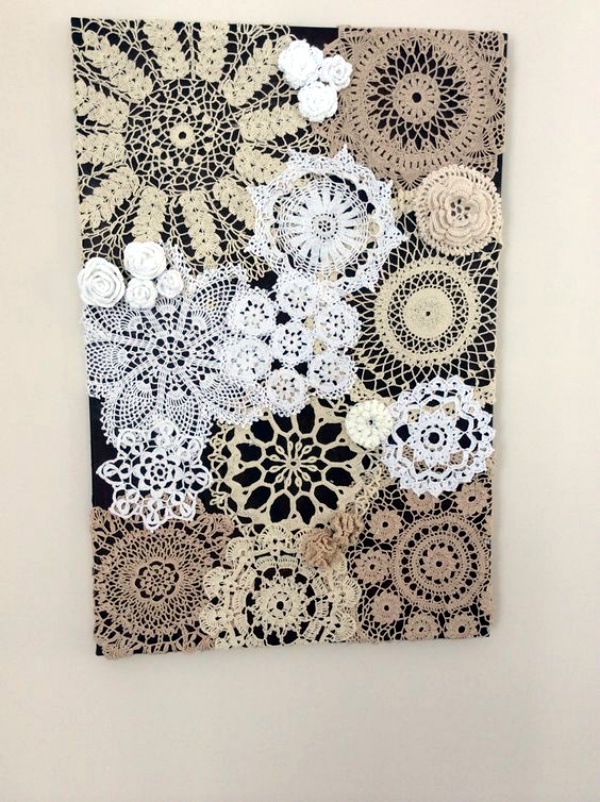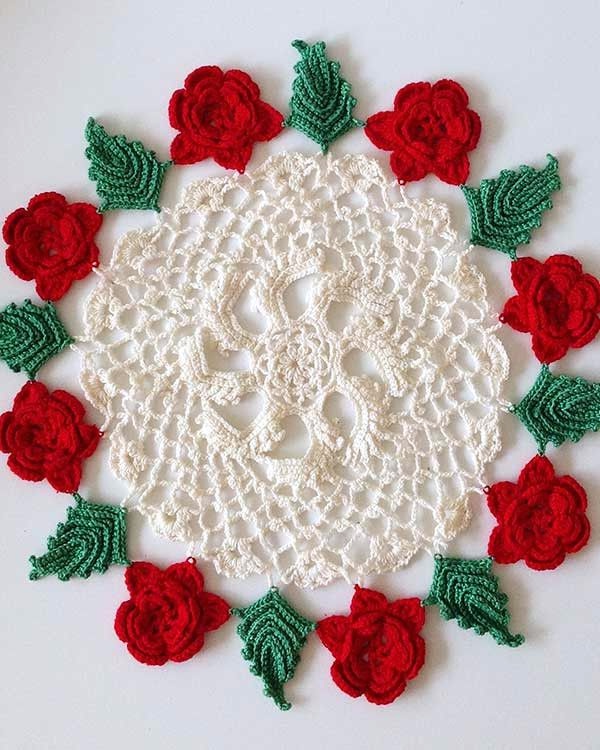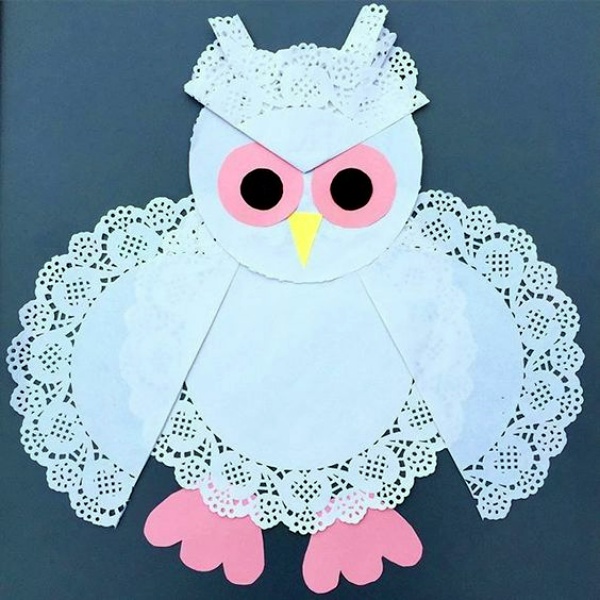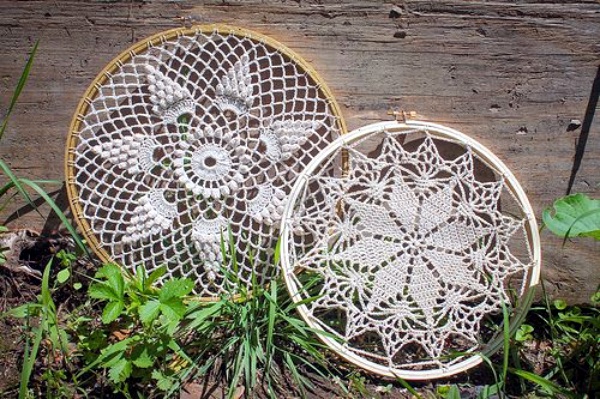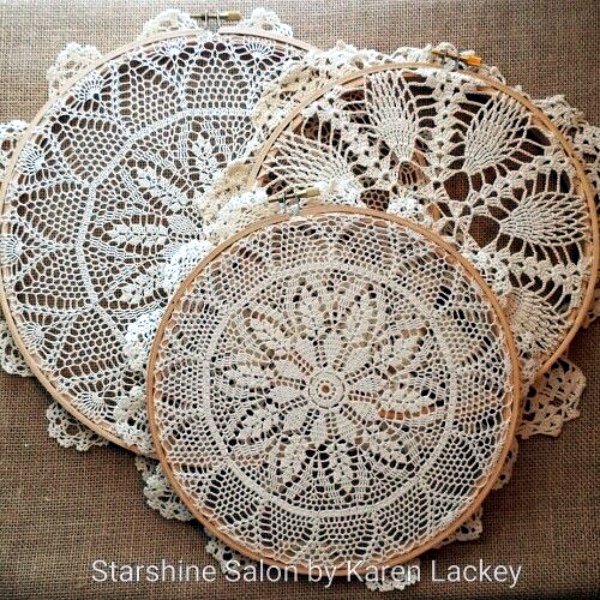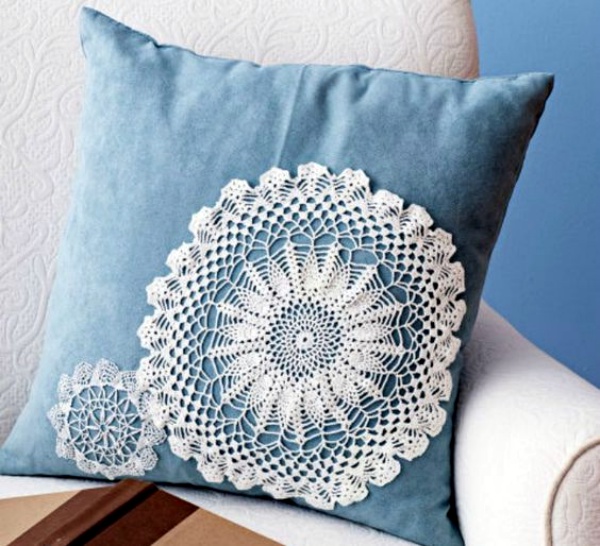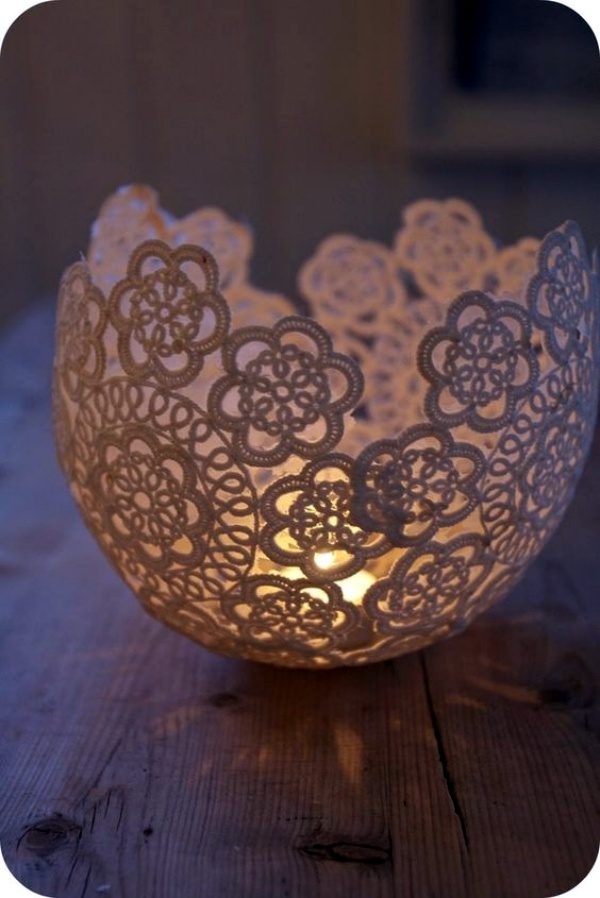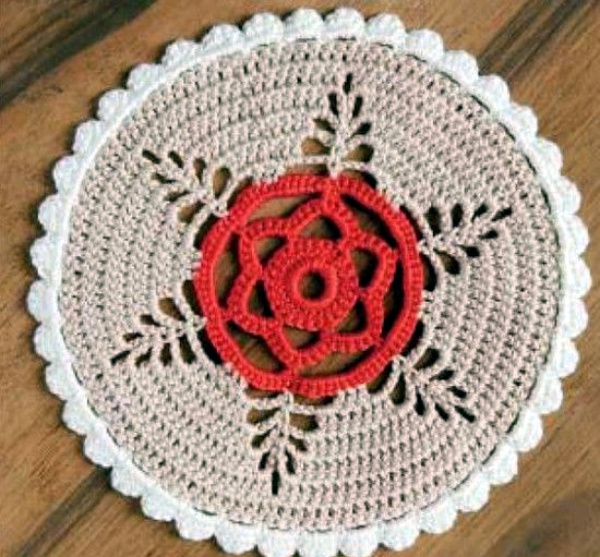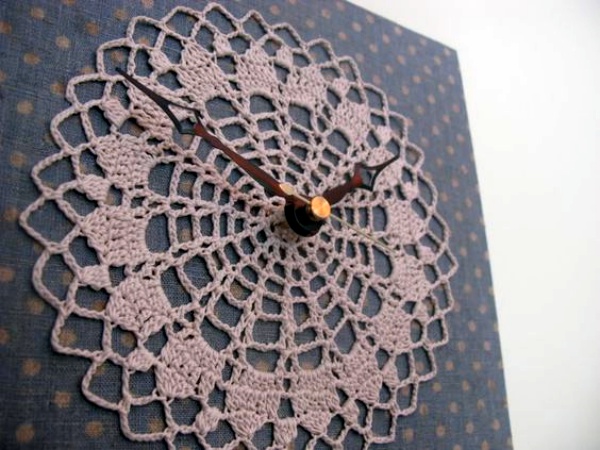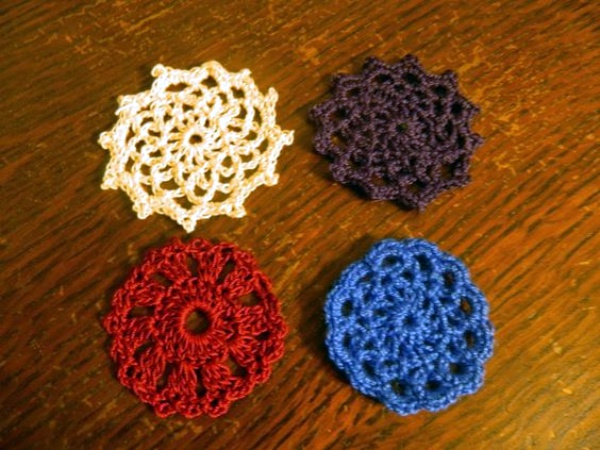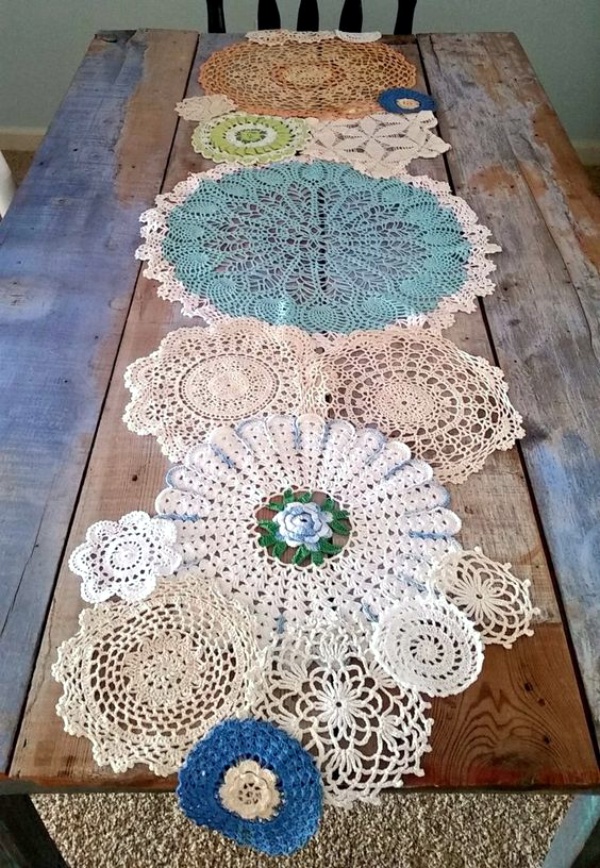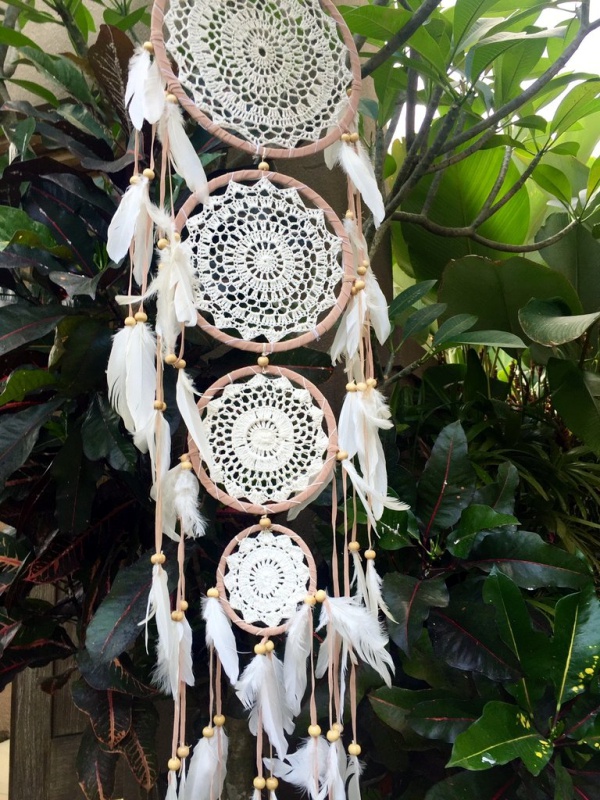 See, how easily these doilies can make something old into something new or how they can just change your decor with a few fun craft ideas. I am gonna make a lot of these items. What about you? And with the end to this fun topic, here we have for you the amazing glue gun crafts to try.