Do you know, painting is an effective way through which a kid can express themselves in their
unique way? Painting helps children use their senses to design something by themselves, express
their emotions, explore different colours, and create highly pleasing masterpieces. We will introduce
you to 20 Easy Painting Ideas for Playschool Kids, where you'll be painting on rocks, pieces of
clothes, will give shapes through tapes, etc.
1. Tape Resist Flower
You must design a flower with tape and then play with colours filling empty spaces with bright
flower paint colours like red, yellow, orange, pink, etc., and the background can go with any paint-
like green or blue. Let your painting get dry and once it's dried, then removes the tape safely. You'll
have your painting in your hand.
2. Pink Door DIY Palm Springs Birdhouse
Birdhouses can be of various types and can be made of anything. Gather pink craft foam, brown
craft foam, small wooden blocks, white paint, paintbrush, glue, scissors, fake succulents, ruler and a
power drill to create the birdhouse. Once your birdhouse is ready, put birdseed inside and place the
birdhouse in a high spot where it attracts birds the most, like hanging it in your garden.
3. Pour Paintings with Water Colors
This Easy Painting Ideas gives a beautiful way to explore process arts with children. You need thick
watercolour paper, painters tape, a board larger than your paper, water and brush, watercolours, a
spray bottle for water and a bin to catch all the drips of watercolours. Pour some colours here and
there, and the rest of the magic of colours displaying will be done by itself, within a few minutes,
you'll get your astonishing masterpiece.
4. DIY Painted Rock Paper Dolls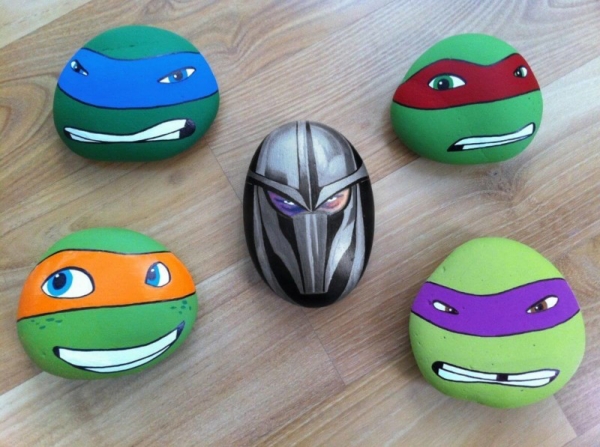 source
You need smooth rocks, craft paint, and paint markers to create Painting Ideas for 3-Year-Old. You
can paint anything you love; you want that on a rock piece like making dolls faces or just some
simple round paintings. No one can imagine even how it looked like previously when it was a
straightforward rock after its complete transformation. These rocks are turned into magnificent non-
living adorable creatures.
5. Q-Tips Rainbow Painting
This rainbow painting will be done in a minute or even less than that because you'll be painting all
the colours at once on a piece of paper. You need Q-tips- one per colour, paint- all the rainbow
colours VIBGYOR, tape or glue dots, plate and newspaper, and white cardstock paper. It is
interesting because it demands some focus and coordination too.
6. Painted Shells
Seashells are white or grey, but there is no restriction if you want them to be slightly colourful or
different from their original look. Looking for Easy Painting Ideas, then take any colour in your
paintbrush and paint the whole shell giving it a new unique look.
7. Coffee Filters Glue Gun Leaves
Without thinking twice, design the kind of leaf that you always wanted to see, which may be a
coniferous leaf, the lotus rose, mango, orange, pomegranate, or anything. Arrange coffee filters,
glue gun, watercolours, paintbrushes, scissors, that's all. Rest the whole process, you know.
8. Garden Wind Chimes
Garden Wind chimes are one of the Easy Painting Ideas for Playschool Kids. The melodious little
voice it creates because the wind is soothing to the ears. You can decorate your garden and explore
a whole new technique of painting. Arrange old gardening pot, waterproof string, assorted beads,
paint, 2washers, kitchen tray, and an optional waterproof sealer spray.
9. DIY Food colouring Painted Plates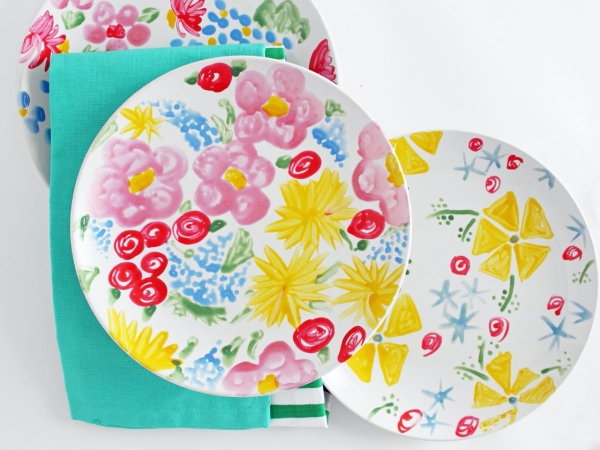 source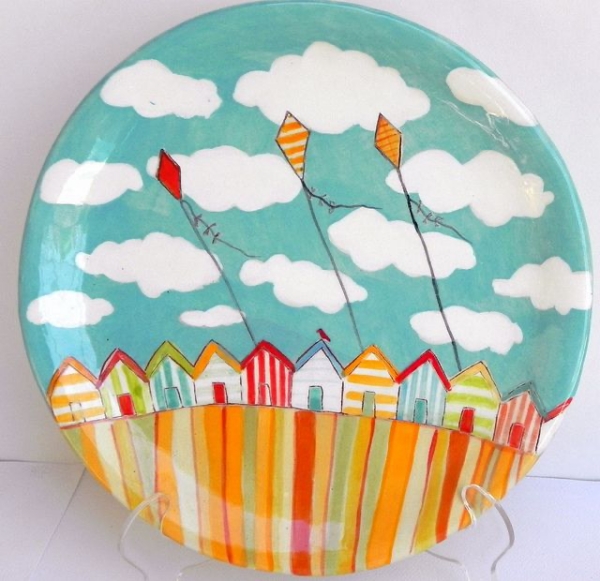 source
If you are looking for a gift, then go with DIY Food colouring Painted Plates. They will keep it as a bit
of decorator that will be close to their heart. And it's not even challenging to make just a couple of
things like food colouring paint and paintbrushes; a paper plate is only required to create Painting
Ideas for 3-Year-Old. Just dye the name with a paint colour stylishly and make that plate memorable
right away.
10. Thumbprint Mason Jar Craft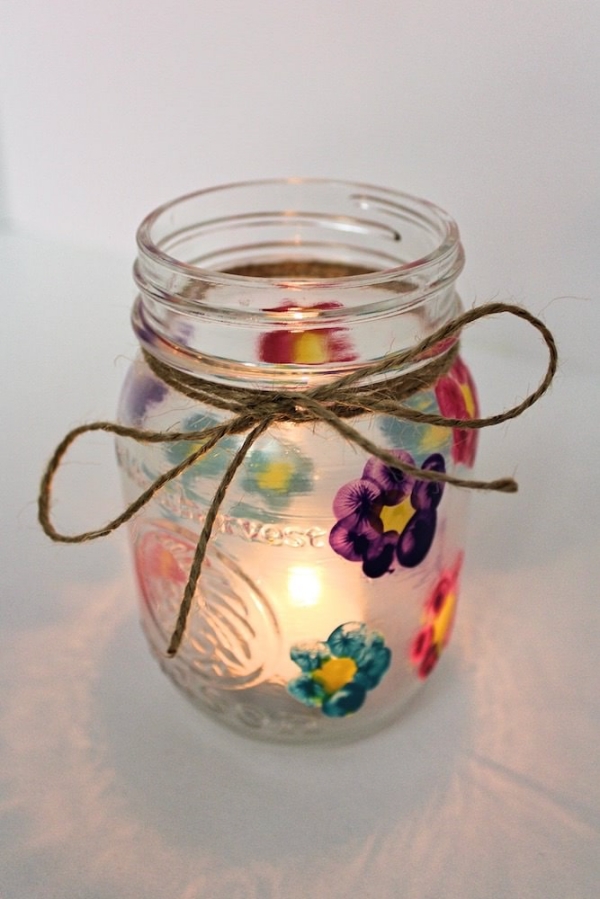 source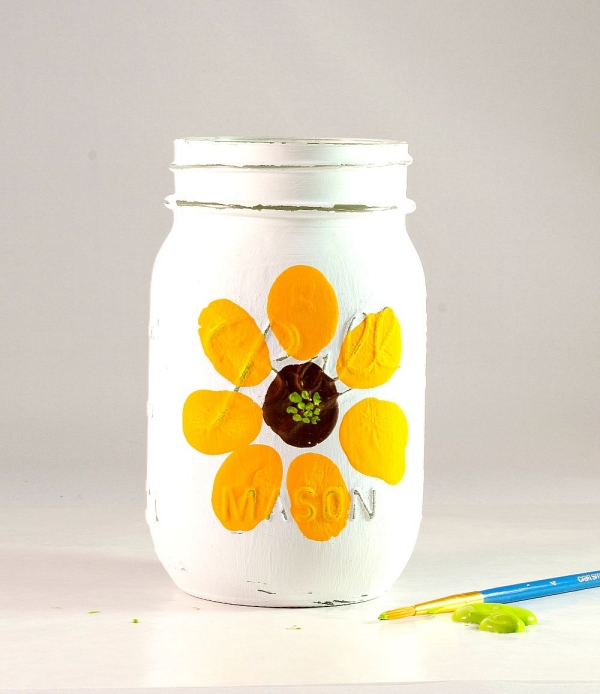 source
We have heard and have also seen that these mason jars are not just jars anymore to be used for
kitchen purposes but can also be put to several uses like for lighting purposes and can also play the
role of a vase-like in the below-given picture. Just a few tricks here and there with a mason jar and a
whole new product will come in your view. This thumbprint mason jar to hold flowers is the simplest
thing is to make. Start with a painting mason jar in white, then Just dip your thumb in each colour
and then print it right into a mason jar shaping it into a flower-like thumbprint sunflower that can be
seen below.
11. DIY Sidewalk Chalk Paint
We all do painting indoors but put a difference by taking it outside as Sidewalk Chalk Paint. One of
the Easy Painting Ideas for Playschool Kids, kids will be painting, and the mess will be outside with
DIY Sidewalk Chalk Paint for kids, which combine paint with chalk for an extra version of fun. You
need 1/3 cup baking soda, 1/3 cup corn-starch, 3/4-1 cup water, food colouring, and paintbrushes or
squeeze bottles.
12. Button Tree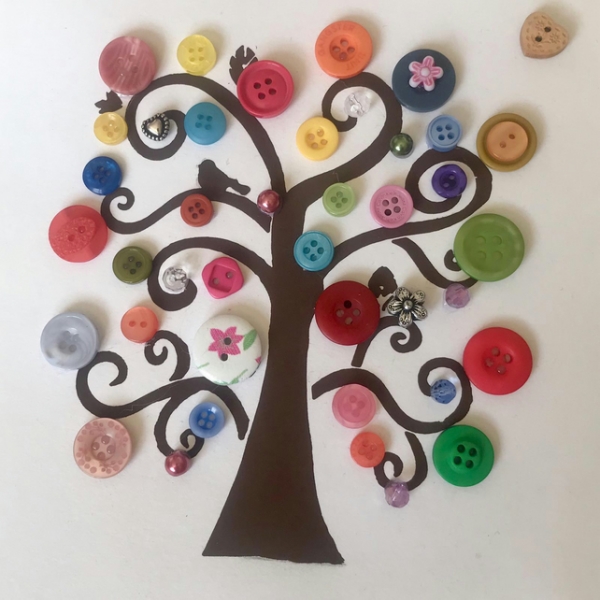 source
Different shades of Buttons like dark, light, medium blue, violet, purple colours are paired up
gorgeously. Any wall will be blessed to have such a beautiful Canvas Button Tree. All you need are
two canvases, a couple of coats of paint in your desired background colour, paint for Blank branches,
glue and lots of buttons. The process is fantastic and funny, It will take some time of yours while
gluing the buttons, but the result will be much more than your expectations.
13. Paint Stick Dolls with Fabric Scraps and Yarns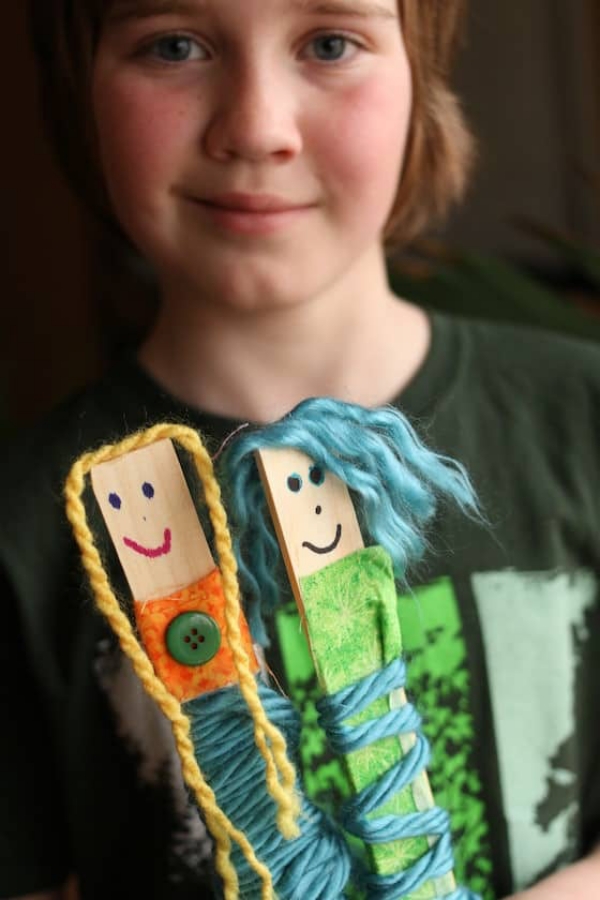 source
Create easy, adorable paint stick dolls with different kinds of objects and play with them. So the
things you need to collect are paint sticks, fabric scraps, yarn, small buttons, glue, paintbrushes,
scissors, acrylic paint and a marker or markers that are sharpies. It is a fun, addictive, easy and
creative craft for kids of all ages. Easy Painting Ideas for Playschool Kids because working with the
yarn strengthens fine motor skills and coordination.
14. Carousel Horse Costume DIY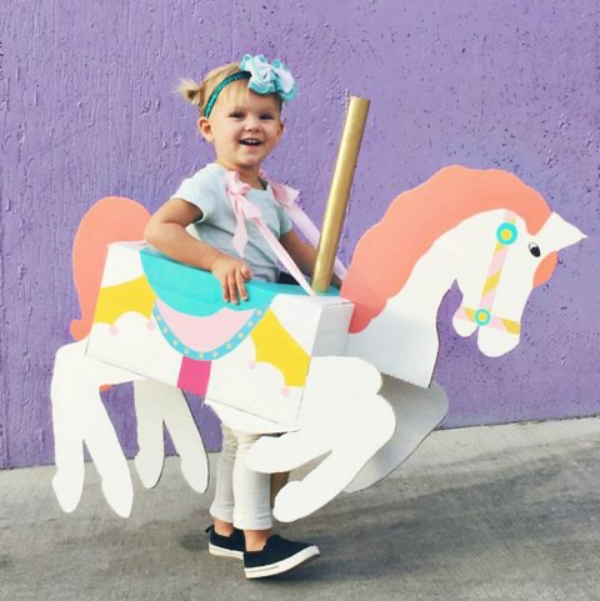 source
With a bit of paint and cardboard supplies, prepare a whimsical carousel horse costume that can
make kids dream come true! Materials – cardboard box in an appropriate size, knife, craft paints in
assorted colours, horse templates, wrapping paper doll or shipping tube, hot glue gun, ribbon, and
an extra flat cardboard/additional box.
15. Painted Bird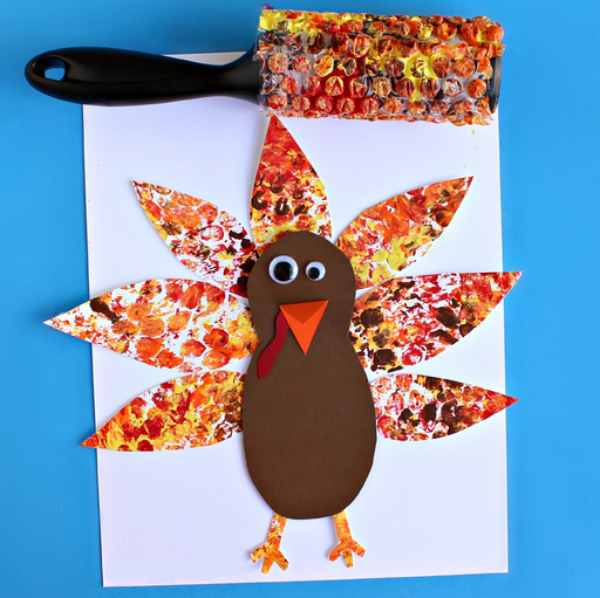 source
Make your simple bag more attractive by painting like this through a bubble wrap printing system.
The whole new definition of painting will be in front of your eyes when you use a bubble wrapper to
paint an object.
16. Creative Cat Pumpkins for Kids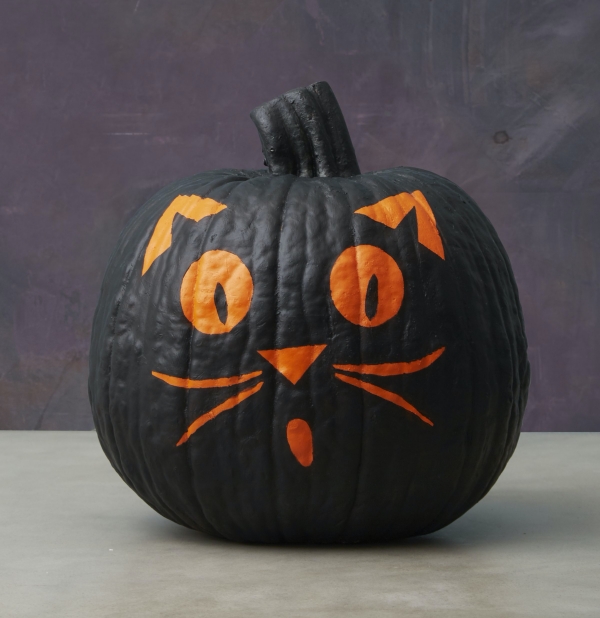 source
One of the Easy Painting Ideas, Creative Pumpkins can add charm to your party and even surprise
kids with its mesmerizing look and colours. Collect few mini pumpkins, air-dry modelling clay, pipe
cleaners, pom poms, googly eyes, colourful gems, and acrylic paint. You can make many pumpkins
like pom-pom pumpkins and sparkly glittering pumpkins, or many more.
17. DIY Upcycle Jar to Flower Vase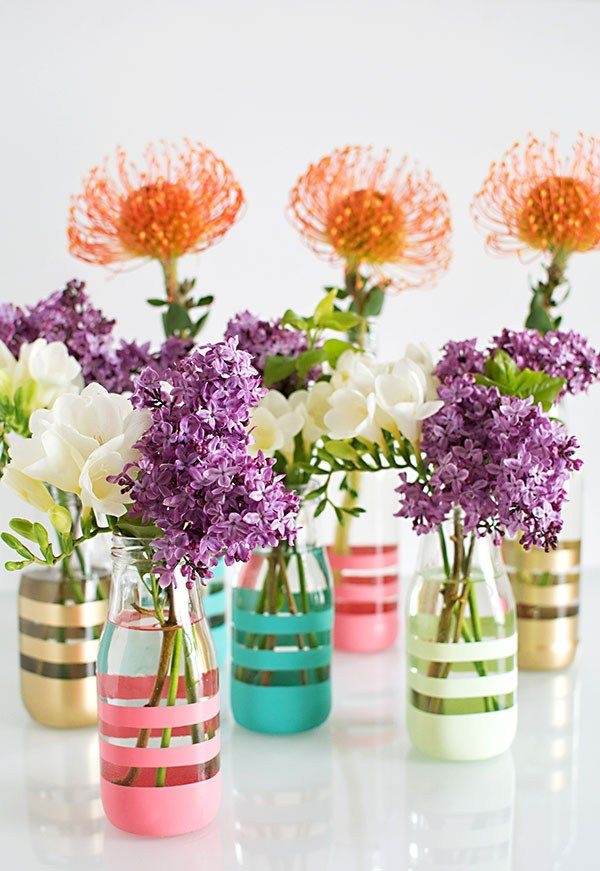 source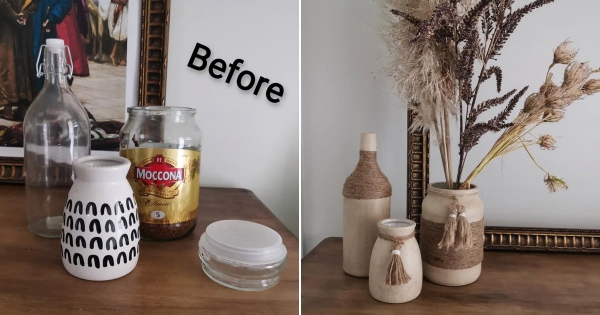 source
It's mostly for people who want to pair it up with a pink wall; well, you can paint it up with any wall,
not necessarily pink. Things needed- jar, wall stickers, spray paint, dimensional design adhesive
paint, sand fixative spray and an optional lace ribbon.
18. Watercolor Stamps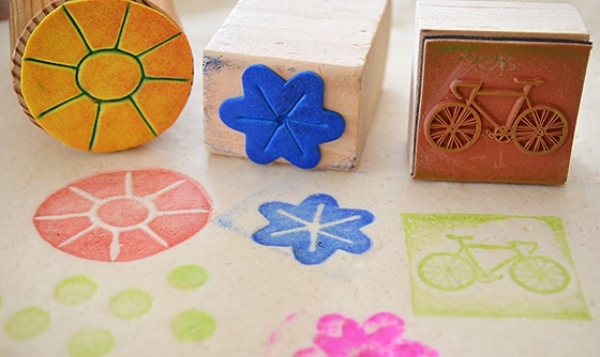 source
Have you ever tried to make handmade watercolour or ink stamps of your own? This is something
that most people have rejoiced to make in their childhood because it was fantastic, it is, and it will
be forever. The materials required are cardstock, watercolour paints, paintbrush, and rubber
stamps. These Painting Ideas for 3 Year Old holds so much fun that they let them design many and
are colourful.
19. Galaxy Painted Rocks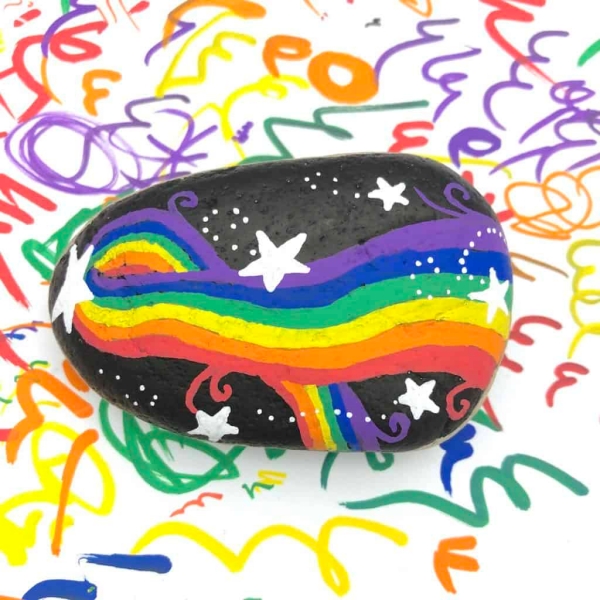 source
You need to make Galaxy Painted Rocks, acrylic paint, toothbrush, toothpicks, sealant, white acrylic
ink, and round foam brush or sponge. You can make a cactus-shaped galaxy, coconut tree, dolphins,
and a moon or whatever you like.
20. Painting with Feet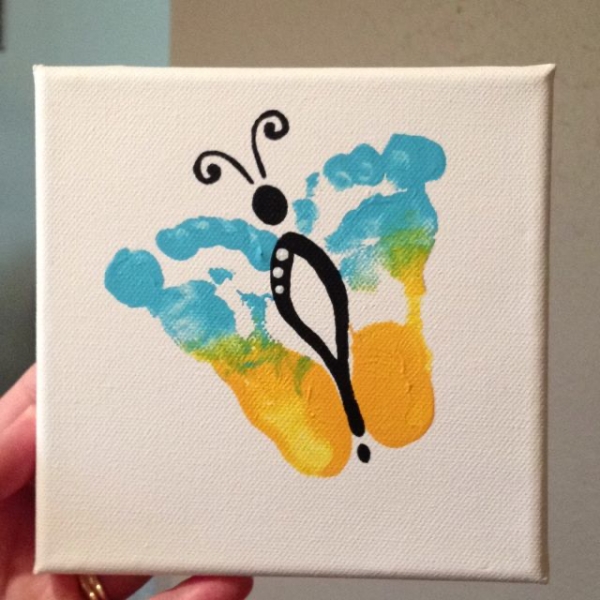 source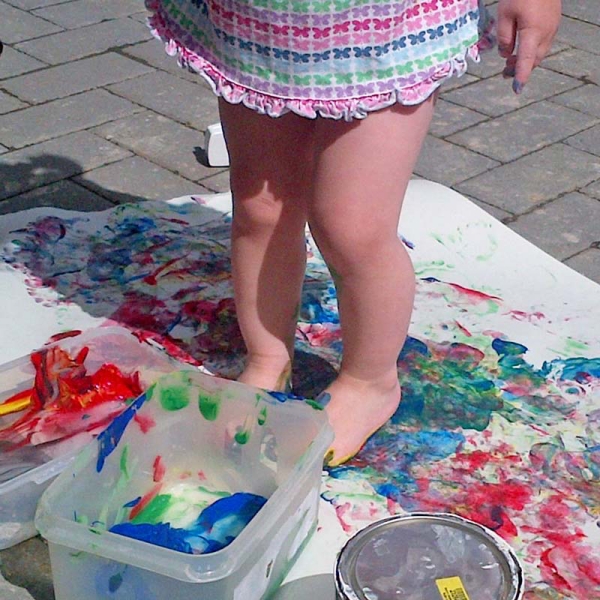 source
One of the best Painting Ideas for 3 Year Old, kids can enhance their areas of development through
sensory, colour exploration, creativity, artistic expression, language development, and gross motor
development. You need a long roll of butcher paper, tempera paints, a large bowl or hose for
washing off the paint, paper towels or rags to clean up, and something to hold the paper down. The
coloured paper that you get in the end can be used for holidays and birthdays.