Acrylic pouring paintings have become a new hobby for so many people. You don't have to be an artist to create a unique and beautiful art piece.
Acrylic pouring is a fun technique of fluid painting on canvas. The best part is, you don't have to be perfect. Just pour the acrylic color on canvas and tilt it to spread the color. The outcome will always be eye-soothing.
Have you ever wondered about getting started with a painting hobby but thought it difficult. The acrylic pouring could be your start. It's fun to spread colors, creating a mess yet having a beautiful painting to hang in your living room.
Does the only question remain what materials to buy to create a painting? Pour painting tutorial from acrylgiessen.com will help you decide on colors, pouring medium, and more to create your first art piece.
By the end of this article, you will find yourself grabbing your wallet to buy paints and canvases.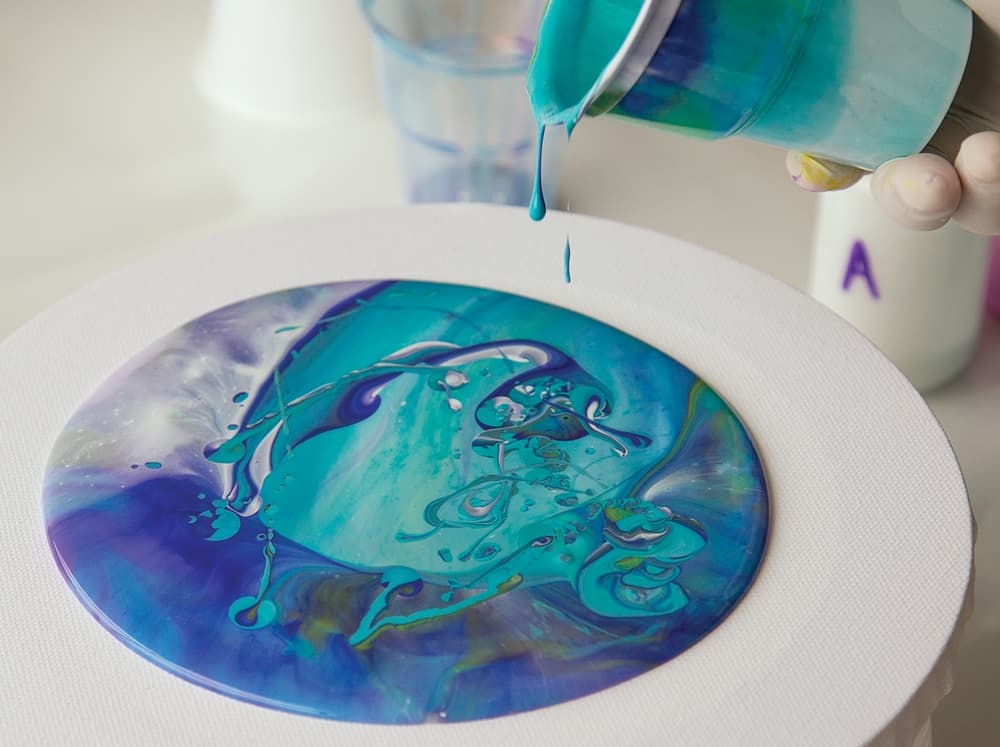 What is Acrylic Pouring?
Acrylic Pouring is a painting technique in which more than one acrylic colors, after mixing with a pouring medium, are spread over a canvas.
In some techniques, the colors can be poured on the canvas surface from different containers. Or you can add all the colors in one large container creating distinct layers before pouring it on a canvas.
After that, the canvas can be lifted and tilted in any direction to spread the paint.
Consistency of Acrylic Colors
You must be wondering, won't the colors mix in together if you pour them in one container? This is where pouring medium comes into the picture.
The pouring medium is a liquid that creates perfect color consistency and prevents them from mixing.
You cannot use water to mix colors. Water can create bubbles on the canvas or cracks on the painting after drying.
It's better to use a Pouring medium or silicone oil to create the same color consistency.
The consistency part sounds a bit tricky, but you can get an idea by practicing. There is no particular color to pouring medium ratio. For the beginners, pour equal parts of paint and the medium. Mix it for about half a minute until the consistency looks like liquid honey.
The final thing is to apply the acrylic primer on the canvas. Primer takes time to dry. Prefer doing it a day before you proceed with the painting.
Creating the Acrylic Pouring Painting
The final step is to pour the paint on the clean canvas. But before that, there are some things you need to take care of.
Pouring technique can create a mess on the floor. So, first thing first, protect the floor with some plastic cover.

Make sure your canvas is dust-free, and the Acrylic Primer is well-dried.

The paint needs a day or two to dry. Prefer a room that is not too hot.
Now, pour colors on the clean canvas and let the colors settle for a moment. Lift the canvas and tilt it side by side until the color reaches every corner of the canvas. After that, keep the canvas at a straight level avoiding tilts.
Blow a butane torch over the surface to close air pockets and bubbles. And the painting is ready to leave alone to dry.
Final Thoughts:
You can find colors, primers, pouring medium quickly on Amazon or the art supply shop. Start with a small canvas and gradually create a large painting that can beautify your house. Acrylic Pouring is easy to learn, and is a fun start to create paintings.