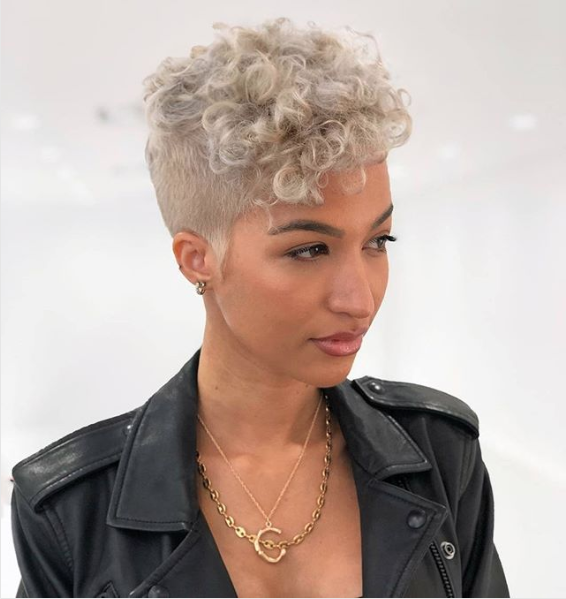 Ladies nowadays are opting for daring and unique styles that give a bold statement. A good example is fade haircut styles that are the talk of the town right now. What you need is confidence to rock these daring styles.
Many ladies don't want to style common styles and long layered haircuts. They want to experiment with something new and unique that they can use as their signature. As such, the hairstyling industry has responded to this revolution, and we have started seeing daring hairstyles such as fade haircut styles.
Pompadour with Fade.
There is a notion that fade haircut styles are exclusively for many. However, that is a misleading belief that never holds in this twenty-first century. Women can rock faded haircuts too with style and great fun. If your manes are soft and fine textured, choose this pompadour fade hairstyle for ladies. Make it your signature haircut, and people will respect you. Rock it with any outfit and don't be afraid to showcase your supper stylish fade haircut!
Shaggy Short Blonde with A Cute Fade.
If you want to show the character of a classy and modern woman with a simple transformation, this short and shaggy fade haircut is what you should choose. Apply makeup of jewelry on your ears and rock this fade with fun and confidence. Your haircut does all the talking for you.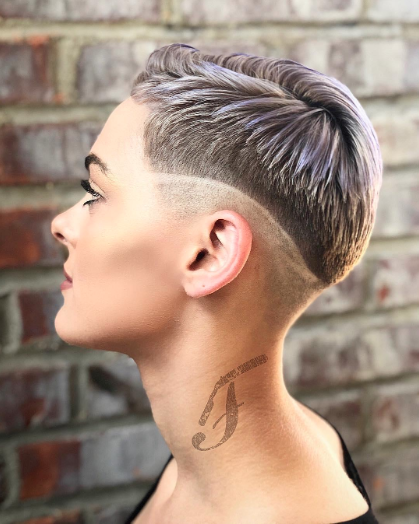 Slicked Back Style and A Fade.
Do you want to maintain it bold and dark? Then go for this fade hairstyle with hair at the crown long and then swept backward. The sweeping of the hair to the back is accompanied by the side fade to make the forehead more conspicuous. Shade the ends of the hair at the crown with a light blue hue to accomplish a unique and polished look, and rock it whenever you go.
Buzz Style and A Fade.
Be unique by embracing this bold style with a fade for black women. In this haircut, the hair is faded on both the back and the sides. The hair at the crown is permed for a classic and composed look. The clear shave line in the front enhances a bold statement to this beautiful hairstyle.
Forest Brown with A Fade.
This haircut is ideal for women with great hair density but rough texture. To achieve this look, shave the hair at the back and also at the sides. Leave the hair at the crown medium long. Add light brown colour to make this style more modern and stylish.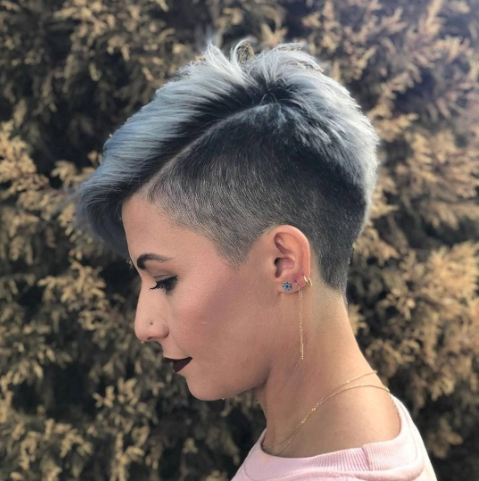 Edgy Pixie Haircut.
Do you know you can express your freedom and independence with your style? That is pretty possible especially with style as this one. Try both rich and subtle styles for women. For instance, this haircut shouts freedom and independence. Without a doubt, this haircut is the most beautiful hairstyle for ladies.
Short Blonde Hair.
Few women have thick and straight hair. But if you have natural waves in your manes and you want to rock fade haircut, then this is a great haircut to opt for. Apply blonde colour on your hair to make it more visible and make it stand out from the other styles.
Curly Mohawk.
Reveal the happy side of you by embracing this beautiful fade style. The fade cut is gradually styled but not bald. The hair increases in thickness as it approaches the top and it gives an elegant appearance. Don't forget to get an excellent hairspray since that is important for a great shinny finish of this haircut.
Dare to Chop.
Show off your rebellious personality with this rebellious haircut. This one does that job very well. It shouts, "I am a rebel" the crop is maintained too short which is a bold decision and the strict hair design on all sides, sends a bold message.
Pixie Cut and An Undercut.
If you are looking for an unconventional fade haircut for women, this is the best style for you. It involves shaving all the sides and leaving the top untouched.