It doesn't matter how easy the thing is, if you're new to it then you're most likely to feel overwhelmed by it. And my friend, painting is not just a work but it's an emotion, an art to pour yourself out on the canvas then fill it with the kaleidoscope of the colours. So no need to be so hard on yourself if you feel it's too difficult. Every new thing seems pretty hard at first but later you'd know it like the back of your hand. That's why today we've brought some Easy Step by Step Painting Examples for Beginners like you.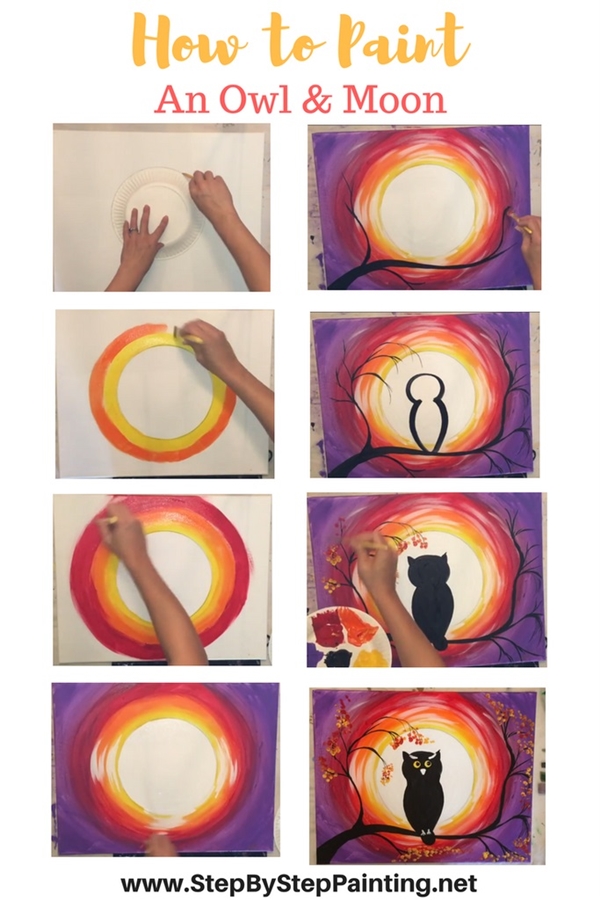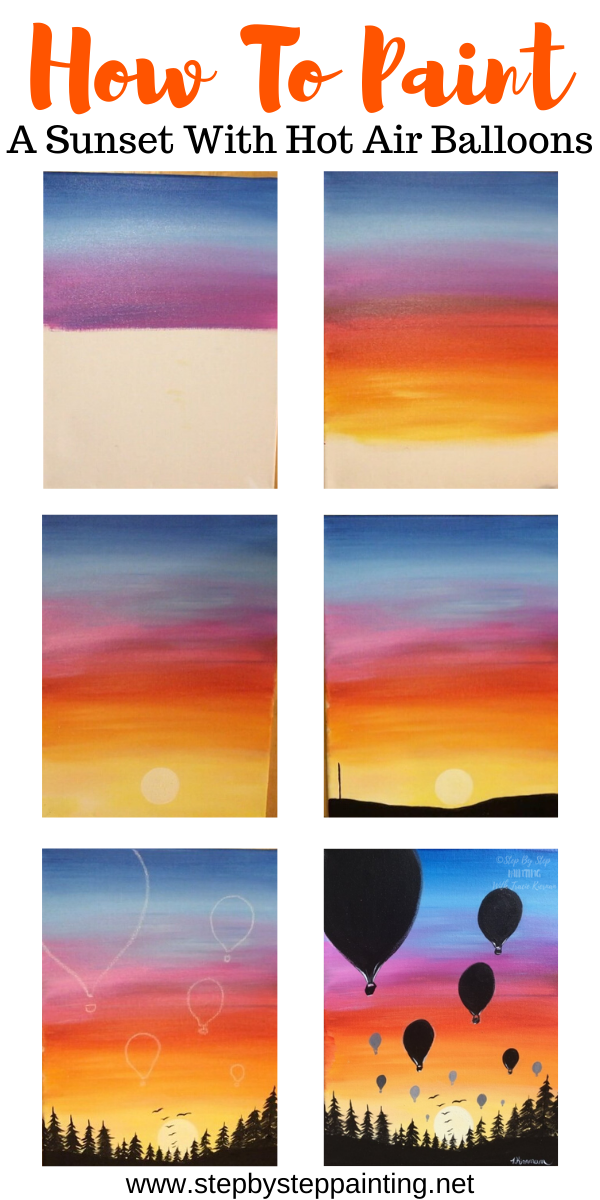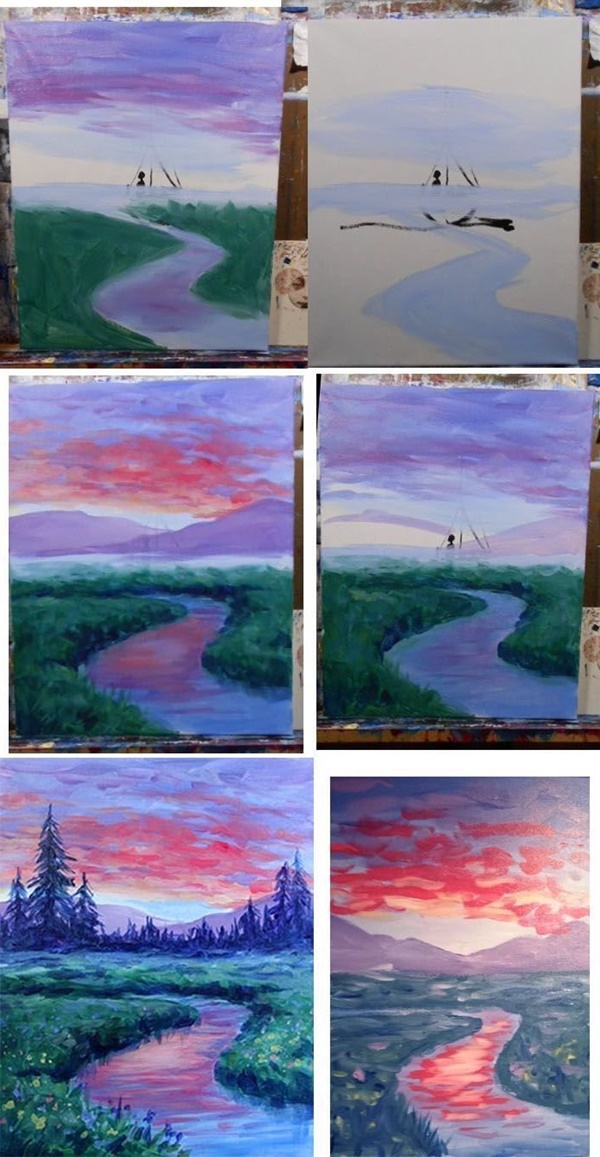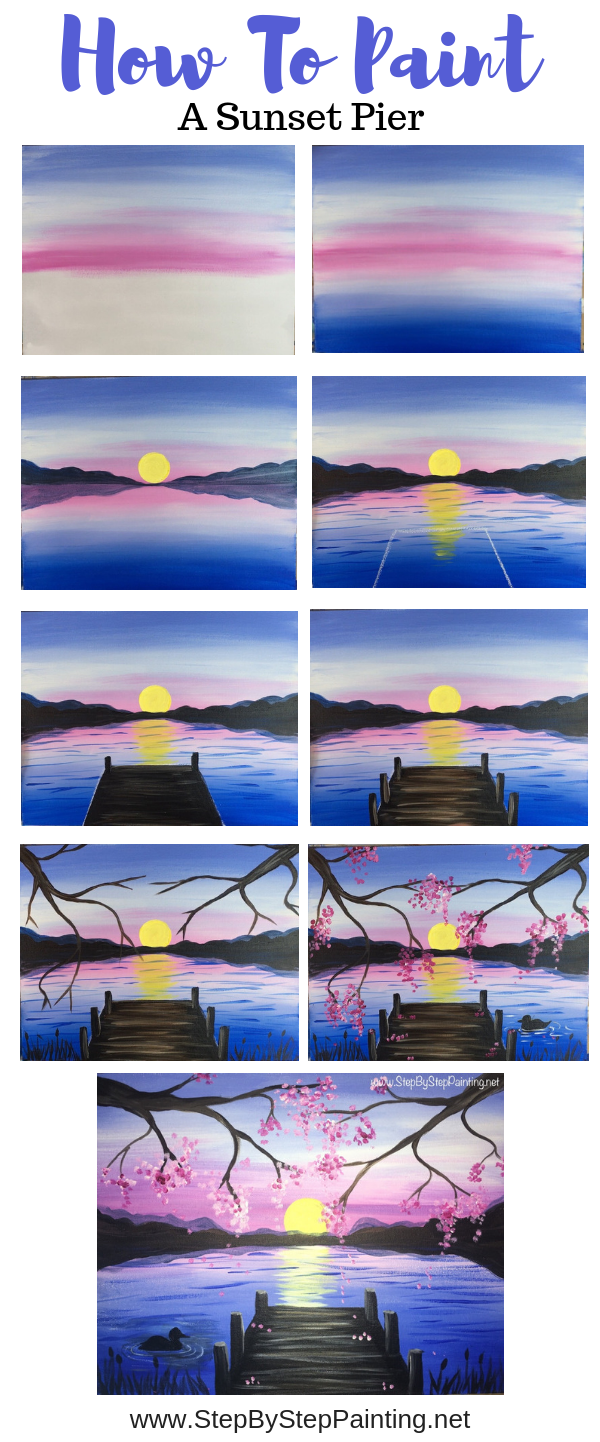 Easy Step by Step Painting Examples for Beginners
Easy Step By Step Painting Examples for Beginners
Easy Step By Step Painting Examples for Beginners
Color Block Design
Using masking tape and just a few colors of acrylic paint, you can create this color blocked masterpiece.
Colorful Pineapple
This geometric, boldly colored pineapple, created by student Jessica C in this course, isn't exactly a realistic depiction of the tropical fruit, but that's part of the fun.
40 Amazing Textured Painting on Canvas
40 Best Colorful Paintings Of Animals
40 Easy Tiger Face Painting Ideas for Fun
60 New Acrylic Painting Ideas to Try in 2018
This forest shows that even beginners can create a masterpiece. Create these easy step by step painting examples for beginners yourself.
Rainbow Swirly Tree
Looking for fun acrylic paintings to do with your kids? This painting is easy enough for little ones, but perfect for aspiring artists of all ages to practice blending a rainbow of colors.
Bouquet of Flowers
This is one of those easy acrylic paintings that look more difficult than it is. The artist breaks the painting down into simple shapes and instructions, so that even beginners can tackle it with ease.
Gold Leaf Abstract
This acrylic paint design looks like it was done by a professional but is one of the easy step by step painting examples for beginners.
5 Types of Trees
With their dramatically different shapes, leaves, and bark textures, trees are endlessly interesting things to paint with acrylics.
Sunflower
Bright and brilliant, sunflowers make for fun acrylic paintings. From stem to leaf, the artist will show you how to paint them with ease.
Wooden Door
The door is the focal point of this simple acrylic painting, but the tutorial will also show you how to paint leaves, shadows, and tiny details.
Abstract Modern Art
When you're stumped with easy acrylic painting ideas, abstract art is a great place to turn. The artist shows students how to create this acrylic paint design with a few simple colors and brush strokes.
Abstract Seascape
Layering acrylics creates depth and movement in this stormy sea.
Acrylic Bookmarks
Working on a smaller canvas can be a wonderful way to practice your detail skills.
Christmas Tree
This cheery holiday tree can be as abstract or realistic as you'd like, making it a great project for beginners. Hang it on your wall during the holiday season, or surprise a loved one with a homemade gift.
Apples
Still life objects, like fruit, are beloved things to paint with acrylics, as well as great subjects for practicing perspective and shadows.
Maasai Warriors
Using just a few colors and simple detail work, kids and adults alike will enjoy easy step by step painting examples for beginners.
Acrylic Florals on Wood
You don't just have to stick to easy acrylic painting ideas for beginners on canvas—painting on wood adds texture and interest to your artwork
Potted Plants
Use tiny brushes and bold colors to create these fun acrylic paintings that would look perfect in a tropical or desert home!
Field of Sheep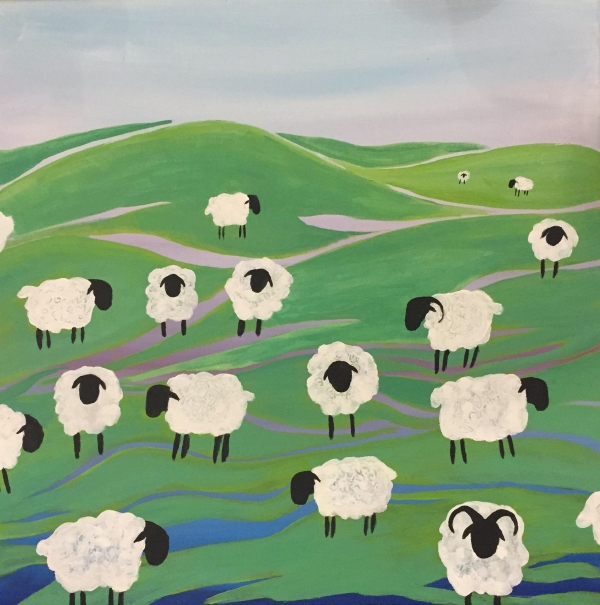 Learn to paint sheep from a variety of angles in this fun landscape.
Woman With Flower
The artist creates beautiful acrylic painting designs—like this comic-style portrait—and you can, too.
Recreate Your City Skyline Using Watercolors
The artist shares a simple yet strikingly beautiful watercolor tutorial. There are so many variations of this painting you can try, and an online search of your city's skyline can help you make this idea even more custom.
Create Art With Your Favorite Quote
Do you have a blank canvas for whatever reason and you don't know what to paint on it? Not being an artist, it took a couple of months for inspiration to strike. Eventually, the artist decided to use simple brush strokes and a favorite quote to make the artwork more memorable.
When in Doubt, Paint Something Abstract
Art inspiration can be found anywhere, from art galleries to local parks. There aren't many rules when it comes to abstract art, but there are plenty of tips to make sure the final product looks like something you'd want to hang on your wall.
Pour Instead of Paint on a Canvas
You may have seen several paint pouring videos pop up on social media lately. While they are relaxing to watch, the technique is even more fun to do. The best part about this painting technique is that no two pieces of art will look alike.
Create a Simple and Colorful Galaxy Painting
The on-page tutorial for easy step by step painting examples for beginners includes helpful pictures, clear steps, and expert tips. If you're still stuck, check out the video tutorial for a visual play-by-play.
Learn Two Ways to Paint a Cactus
A cactus is one of the easier succulents to paint because there isn't much to them. This tutorial is perfect for beginner watercolor artists. It explains simple watercolor methods that you can apply to other paintings as well. We recommend purchasing a watercolor pad and practicing several cacti before you commit to a painting.
Modern Number Art
The simplicity of this art as well as the size makes it a pretty cool customer. Pick a date, and colors, that jive with your decor.
A Pinwheel Painting
Sometimes the best way to get started painting is with a lot of color. This wall art reminds of the circus but in the best way. Great for white walls, too.
Five Idiots
This cute group of five cute birds sticking their face for you is so delightful. You can texture paint in this painting and it will look awesome. Use different colors for the birds and use a darker color for the background with some light hues to it.
Cute Big-Eyed Owl
An owl is a good option to paint for the beginners when it comes to the acrylic painting. For this painting, you need to use the dry on dry or wet on the dry technique of acrylic painting.
Where The Horses Meet
Isn't this sight mesmerizing? Well, it is easy to paint too. Use your skills and imagine how the shades should mix with each other. In the end, paint the horses so that they look amazing together.
Texture Painting
Try your hand on the texture painting if this is not your first time in the acrylic painting arena. Use palette knife with this and do some awesome texture to paint the acrylics on the canvas.
As a beginner, you might be a little stressed about where to start from and what should you do first and all such things. Stop fussing and take a deep breath. First of all, just clear your head of everything and decide what you need to draw or paint. It's not necessary that you must know how to draw before you paint but brushing up on basics always helps. I'd suggest as a beginner start with something simple and take things from there. Have a look at these abstract painting and you might know what you wanna paint.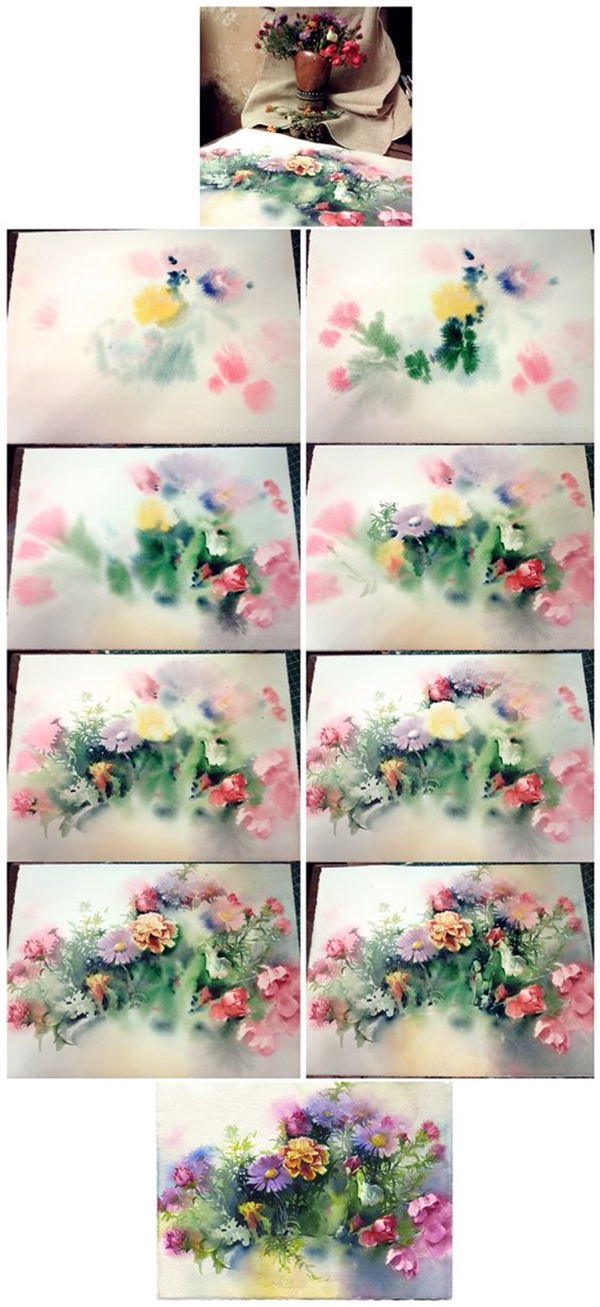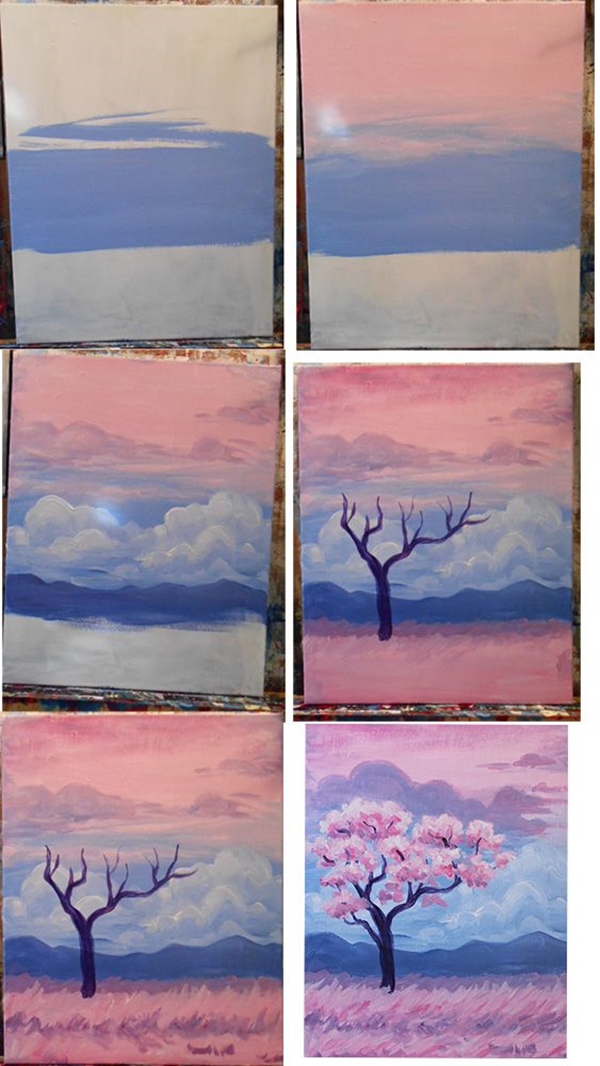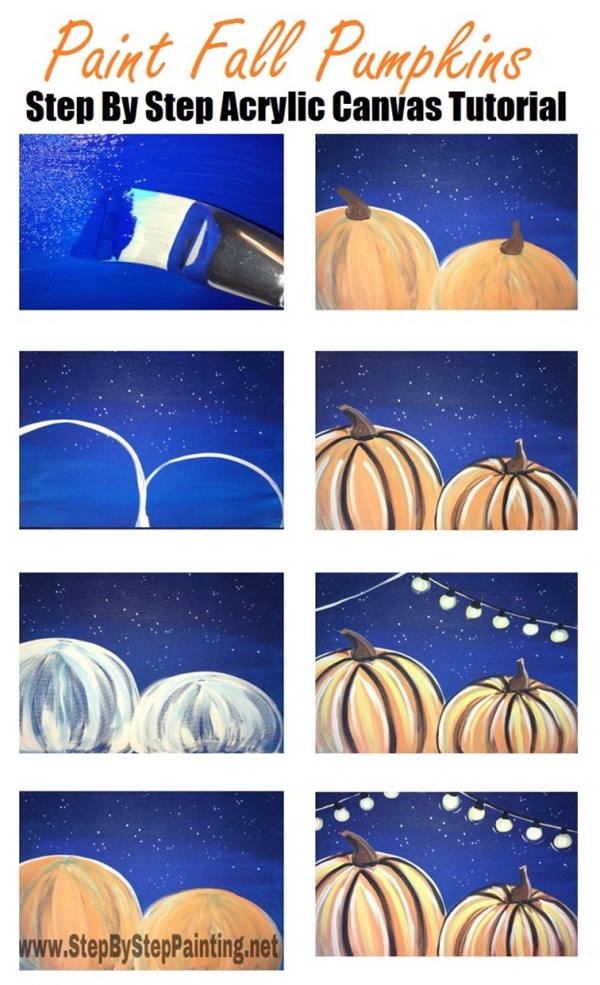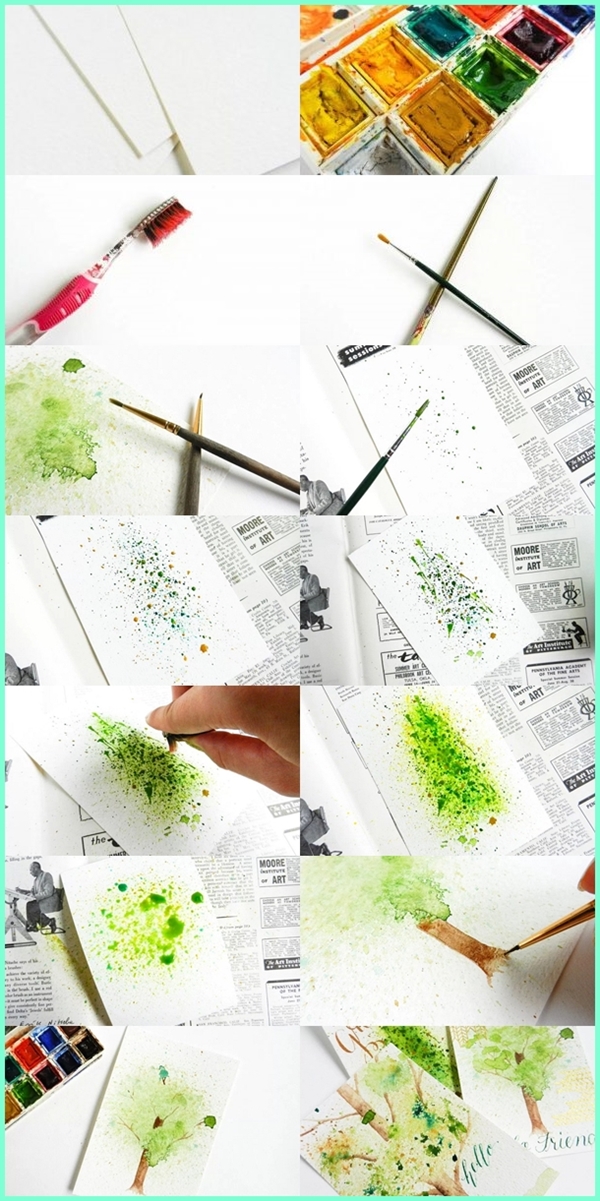 Paints to Use
Just like any other beginner to painting, you must be also thinking about what paint should you use. Well, the choice is yours but it'd be best if you start with acrylic paints. Paints are of different types such as acrylics, oil, watercolour, and pastels. Watercolours are translucent but beautiful and while the oil paints seem fancy and we all know their durability and rich hues.