A stylish and flattering hairstyle is as important as a well-picked outfit because it makes the overall look well-groomed. So, if you want to look up-to-date, then consider the following haircuts. There are examples for businessmen, who prefer formal and classy styles. Also, for men with casual preferences, here are smart and messy modern haircuts.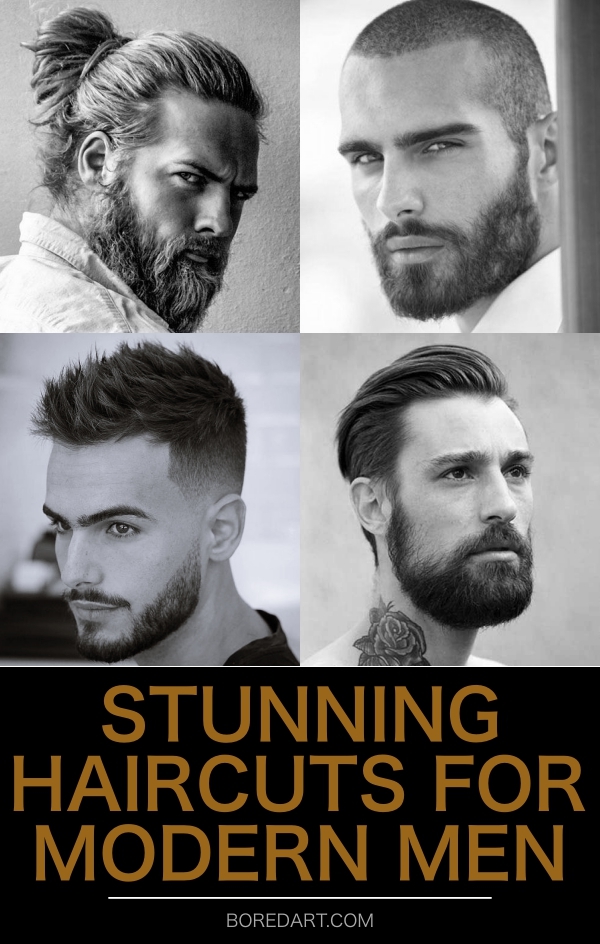 Check out these ten stunning haircuts for modern men, which you should try this season.
Stunning Haircuts For Modern Men
Faded Undercut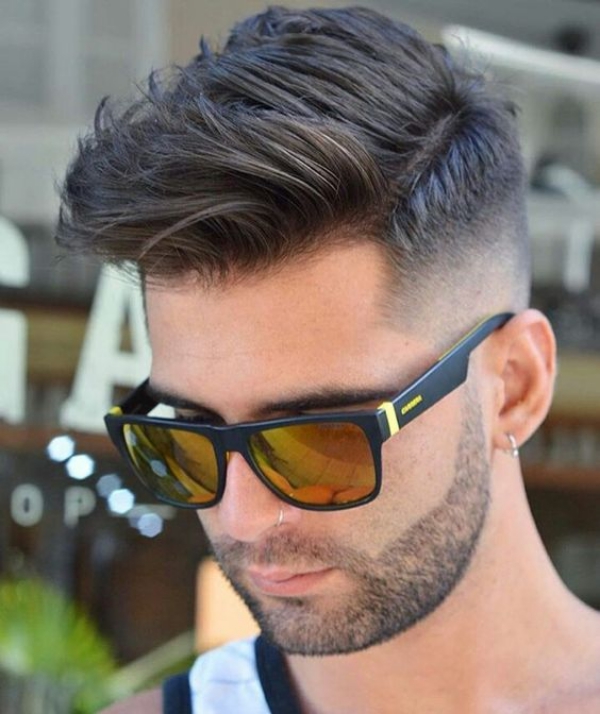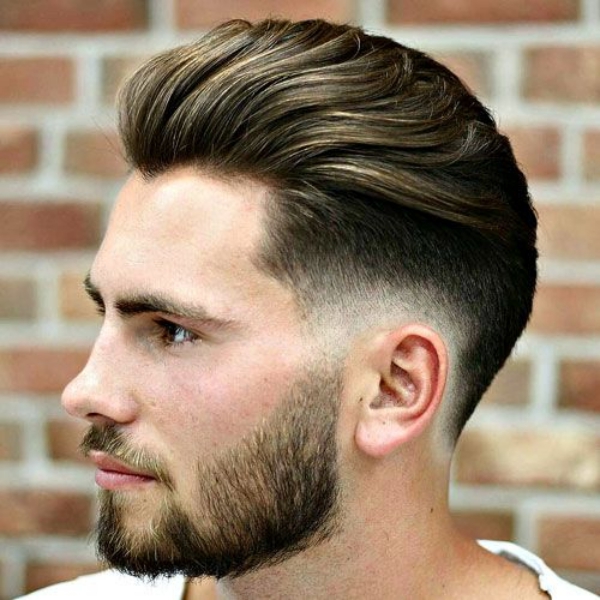 This hairstyle implies faded sides and the back, which are accompanied by either a long or short top. This is a type of tapering, but the major difference is that the hair is cut drastically lower than in tapered cuts. There are several types of fades:
A high fade means that the fade disappears at 2 inches from the top of the head.
A low fade features a gradual tapering from the sides and the back and the fade finishes above the ears.
A bald fade means tapered hair at the top and completely shaved sides and the back.
A temp fade presupposes faded temples and other parts are left without tapering.
A disconnected undercut fade has a long hair on the crown with an immediate disconnect and the sides are always cut dramatically short.
A side part taper fade incorporates a side part, which tapers into a fade.
This hairstyle doesn't require much styling. It fits both dense and sparse hair. All you have to do is to maintain the top you want: it may be either messy, textured, curly or sleek using styling products. Everything depends on the type of your hair and its length.
High And Tight Haircut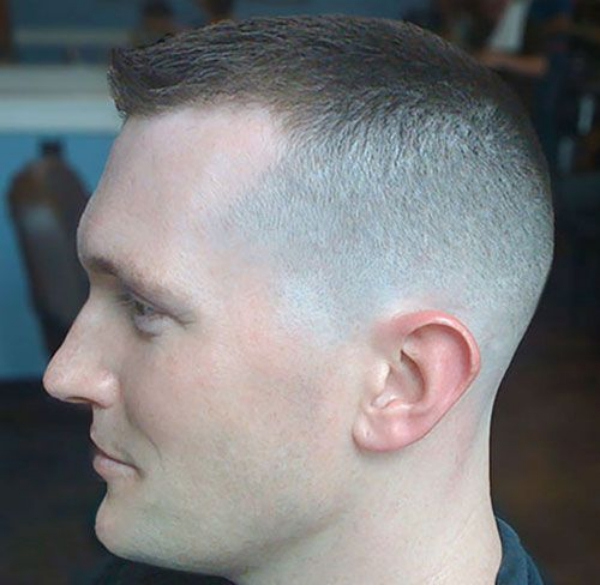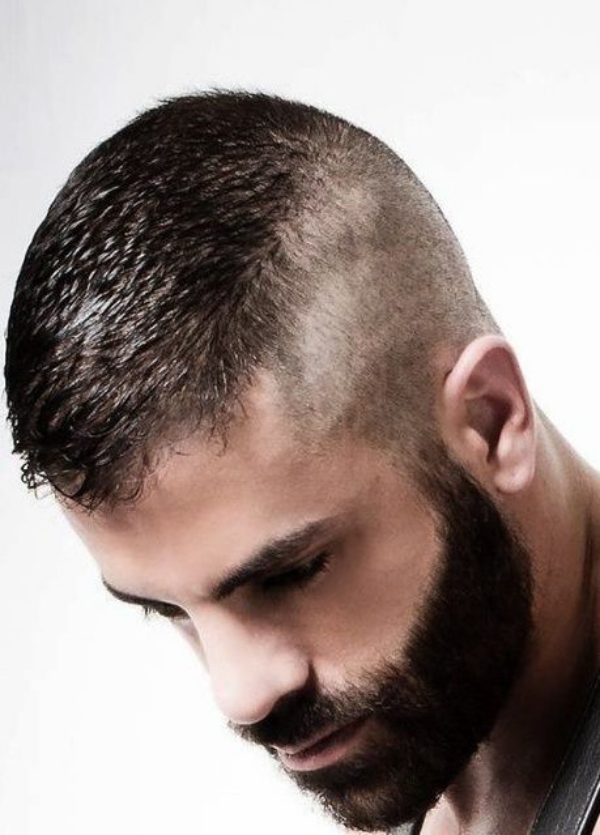 This hairstyle is a kind of a military haircut, which provide necessary comfort, effortless styling, yet a stylish look. This cut is classified as a hairstyle, in which the sides and the back are kept short (at a length 3-5) and the top is about one inch long and has blunt edges. There are several types of high and tight hairstyle:
A high and tight recon features shaved sides and a narrow stripe of hair at the top.
A horseshoe flattop has faded sides and the back, whereas the top is cut so that it forms a flat surface when it is brushed up.
A crew cut requires a tapering on the sides and the back, while the crown is left long and may be styled in different ways.
A short Mohawk has faded sides and a narrow, tousled top.
In a pompadour hairstyle, shaved or faded sides are combined with a volumetric top.
How to style:
This cut suits men both with a receding line and dense locks. Depending on the variation you choose, you may just comb strands or moisten them with gel or mousse to give the necessary texture.
Asymmetrical Hairstyle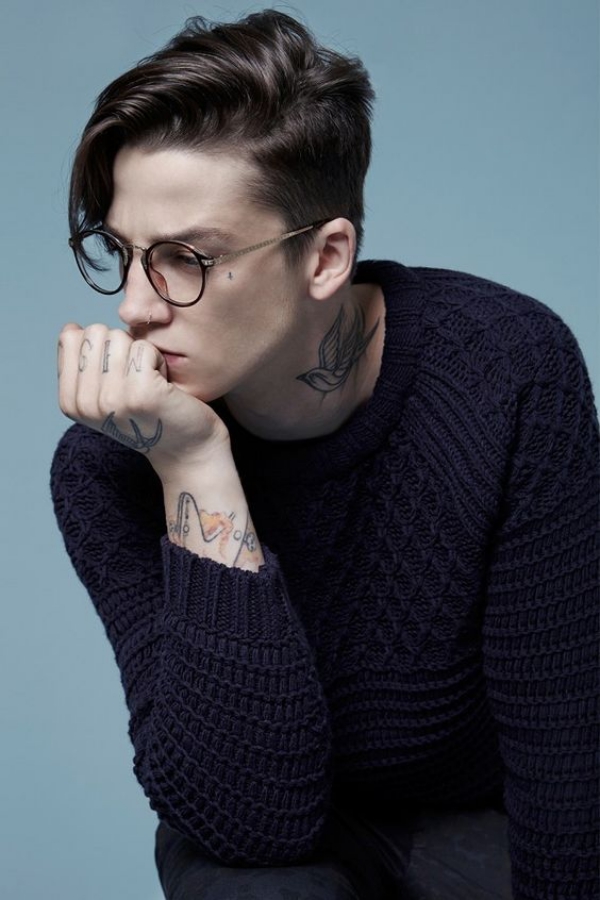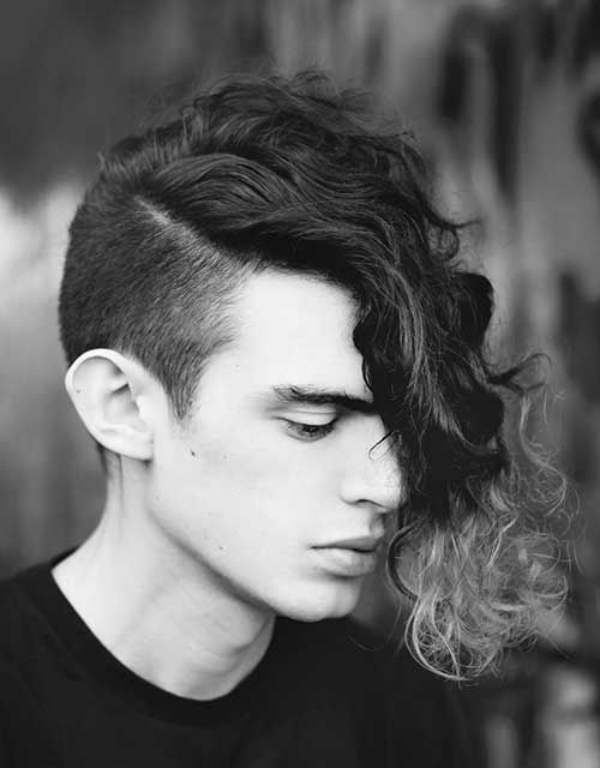 If you have a rebellious spirit, it's time to add a zest to your look. Asymmetrical hairstyles are a good way to show how daring you are. This hairstyle implies the different lengths on the sides of the scalp and this difference may be either small or significant. This hairstyle is flattering for oval and round faces and this cut elongates the facial features. There are the following variations of this hairstyle:
A wavy haircut means that one side is cut short or faded, whereas another is long and wavy.
In a bleached haircut, there are chaotic bleached accents on locks or separate strands may be dyed to emphasize asymmetry.
A sleek haircut has sleek and flat locks without tousled texture.
A spiky hairstyle requires a spiky top, which may be short or long, brushed upward or swept to the side.
How to style:
Depending on the variation, you may use wax to add gloss and make hair sleek or with the help of mousse create a spiky or tousled texture.
Bun Hairstyle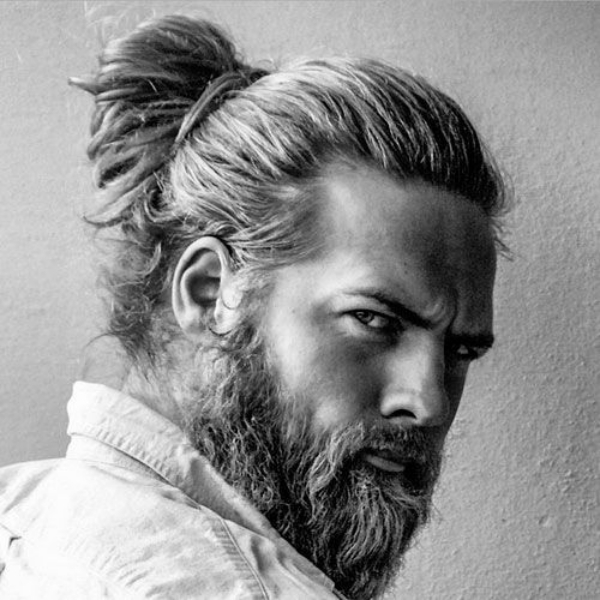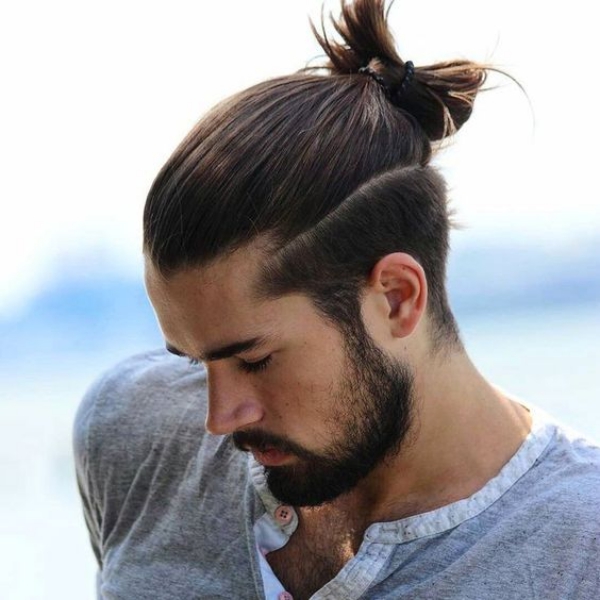 Men, who prefer a casual look with a touch of slight negligence, should consider a bun hairstyle. This hairstyle features faded or shaved sides with a bun or a top knot. Curly and straight, sparse and dense locks are acceptable for this hairstyle. Here are the types of the bun hairstyle:
A full man bun includes one single bun, which is placed at the top. The hair length should be at least 12 inches long.
A semi bun aka top knot hairstyle implies that only hair at the top is pulled into a bun and hair on the sides and the back is not used.
A low bun is placed lower than the regular bun and it may be messy or sleek.
A high bun aka pineapple hairstyle means that the bun is placed higher than the vertex area. Locks shouldn't be too long, 6 inches is enough to do this haircut.
A top knot undercut requires buzzed sides and the crown is long and pulled into a bun.
How to style:
Pull hair into a bun and if you want to achieve a tousled finish, use gel and tousle locks with fingers or apply wax and make the bun sleek.
Pompadour Hairstyle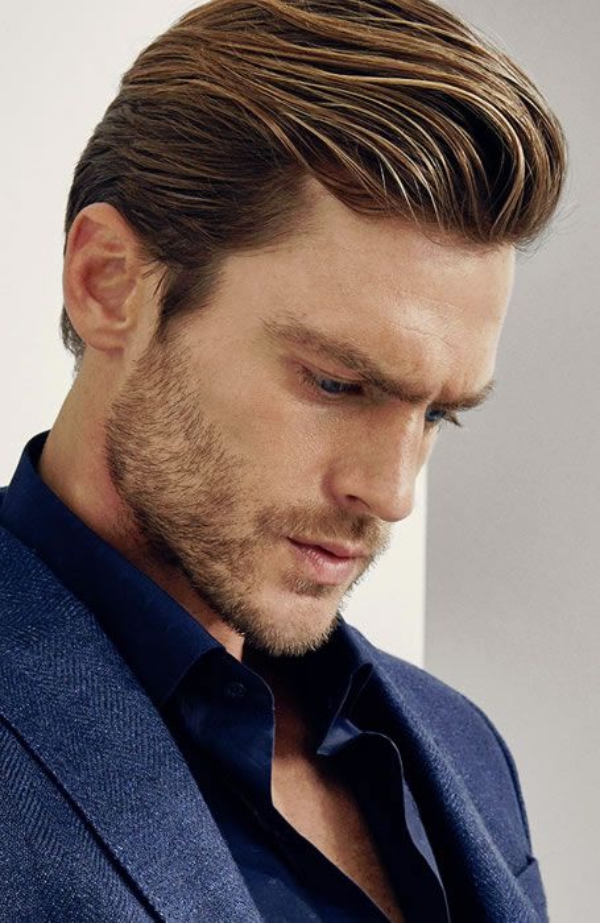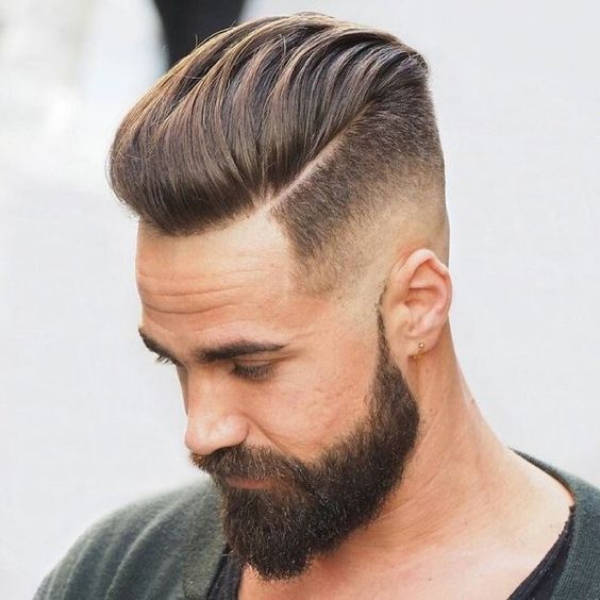 The man, who has long and dense locks, should use them wisely. A perfect variant for this hair is a pompadour hairstyle. It features trimmed sides and a volumetric top. This top is combed upwards or backward to create a bulge. Curly and dense hair fits this hairstyle. There are several types of the pompadour hairstyle:
A fade pompadour brings neatness to a messy pompadour style. The sides are tapered or faded, that is why the crown seems more volumetric.
The side part pompadour features a traditional pompadour hairstyle with a side part, which makes the look more defined.
A short pompadour has shorter hair, but still, it looks classy.
A curly pompadour integrates faded sides and chaotic curls at the top.
A pompadour and a beard are a trendy combination. The sides are tapered, the crown is long and textured, and a full beard finishes the look.
How to style:
You may use styling products to make the crown messy, textured, sleek, or style the temple near the part line. If you use a round brush, a decent amount of pomade and a blow dryer, you'll get a sophisticated look faster.
Caesar Hairstyle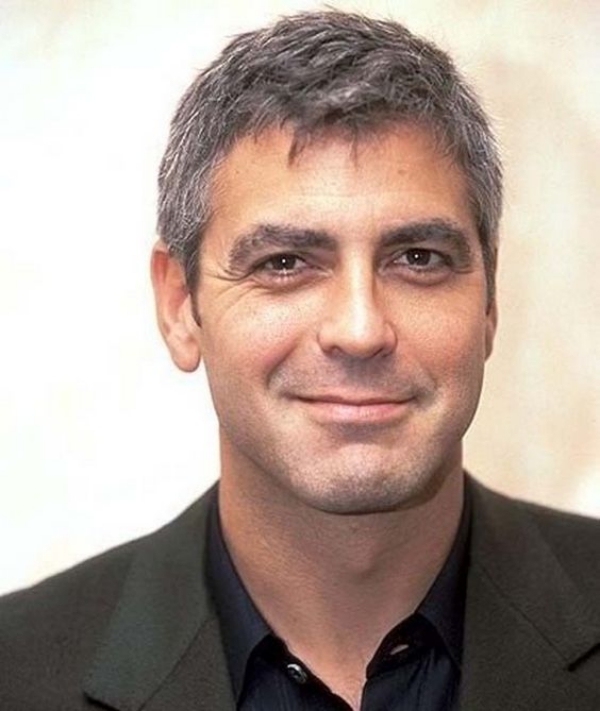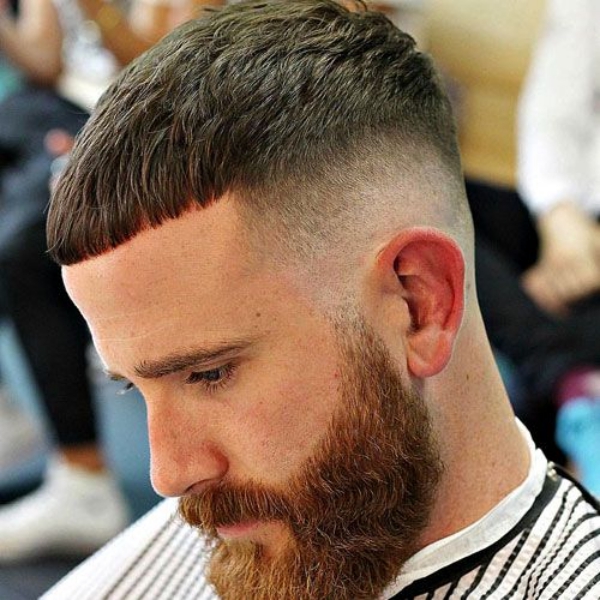 This hairstyle is a classic cut, which may be modern if you add a textured top to it. The sides may be tapered or left without a taper and the top is one inch longer than other strands, that is why there is a slight forelock. This haircut can mask a problem of the hair loss or sparse hair and it does not require a special maintenance. There are two major types of this hairstyle:
A classic Caesar hairstyle requires an equal length (1-3 inches) over the scalp.
A modern Caesar haircut has a taper on the sides and the back and the crown are also tapered. Besides, this haircut may be combined with an undercut hairstyle.
How to style:
You should pay attention only to the crown: comb using gel or wax and get the desired texture.
Buzz Cut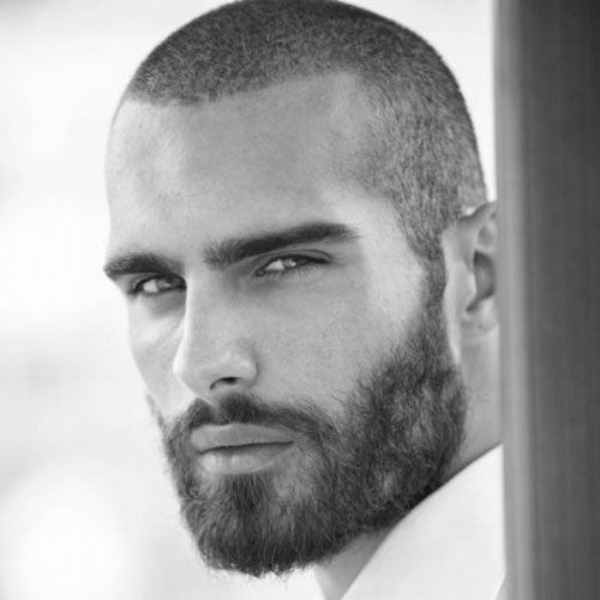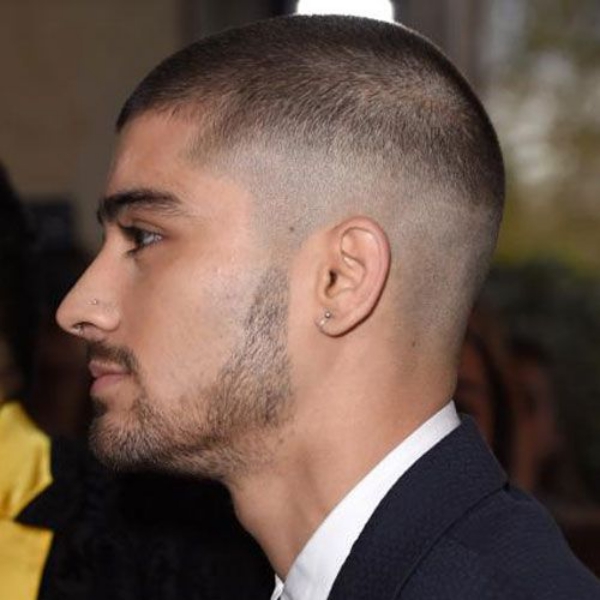 This hairstyle is worn by soldiers as it is practical and doesn't require special styling. Hair may be cut between ¼ and ¾ inches around the head. The types of the buzz cut are the following:
An induction cut is an extremely short cut, known as "zero." It leaves the shortest layer of hair on the head.
A crew cut has shorter sides, which lead to a longer top.
A flat top requires short sides and a long crown which is styled upwards, the temples are usually framed, which gives an edgy look.
How to style:
If the length allows, you may use gel, pomade or wax to either spike or slick the top.
Faux Hawk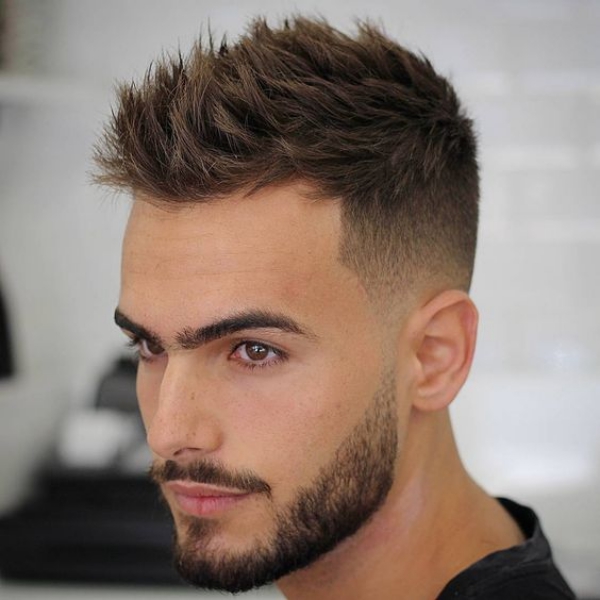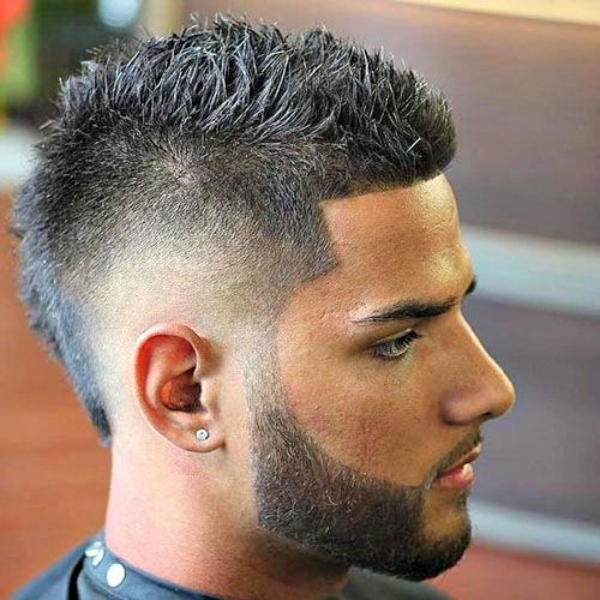 This is a combination of a traditional and modern hairstyle. It features short clipped sides and a strip at the top of the head, but the difference between them isn't drastic. The top may be long or cut into a triangle, which may be spiked up. There are the following types of the faux hawk hairstyle:
A classic Faux Hawk has a significant difference between the sides and a long top.
A Shaggy Faux Hawk features a disheveled top and faded sides.
A Short Faux Hawk has the sides of the same thickness and the crown is pointy, but not very long.
A Bald Faux Hawk has a stripe of hair, which goes down the middle and a volumetric top, whereas the sides are shaved.
How to style:
Take a sufficient amount of styling product and comb hair to get the natural look or use your fingers to give the necessary shape and then fix with a setting spray.
Slicked Back Hairstyle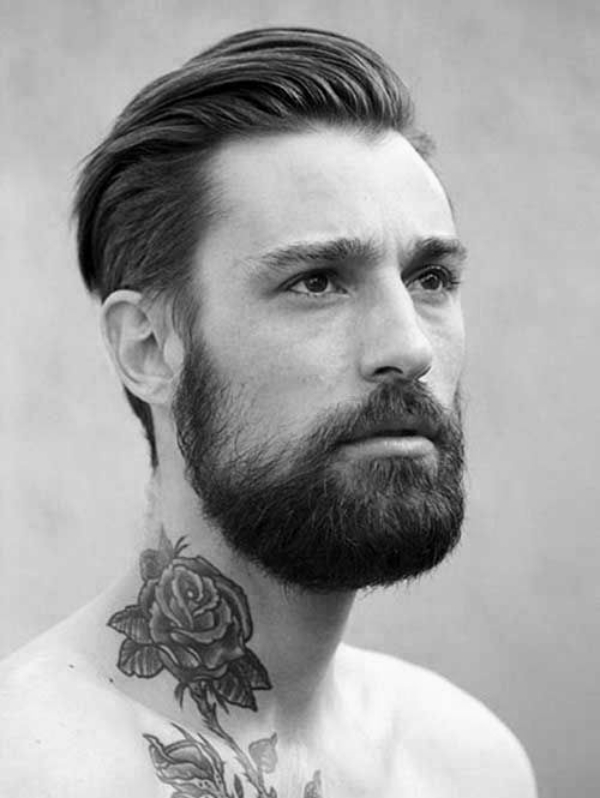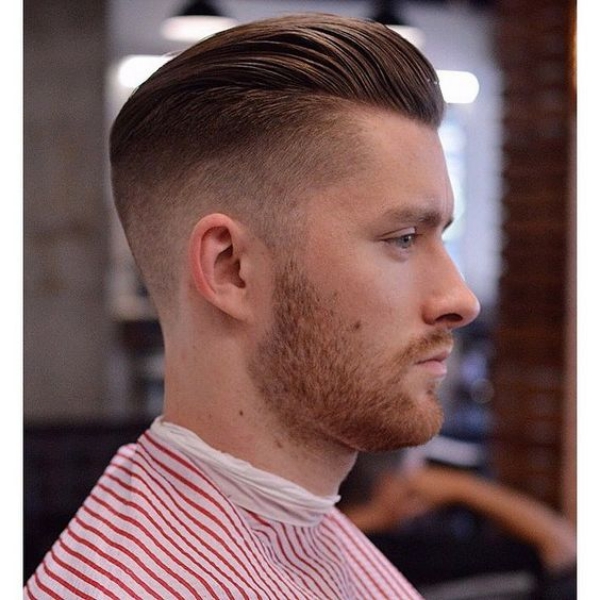 This haircut is for men, who like a sleek and sophisticated look. Hair is brushed up from the front to the back. This haircut suits almost all hair types except very curly and coiled. The types of this hairstyle are:
A short or long slicked back hairstyle, which features the crown of different lengths.
A slicked back undercut requires shaved sides and a textured top, which is combed backward.
A slicked back comb over means that long hair at the top may be parted to the side and then slicked back.
How to style:
Apply a small amount of pomade to your dry hair and then comb strands starting from the forehead until you reach the crown. You may fix it with a setting spray.
Blunt Cut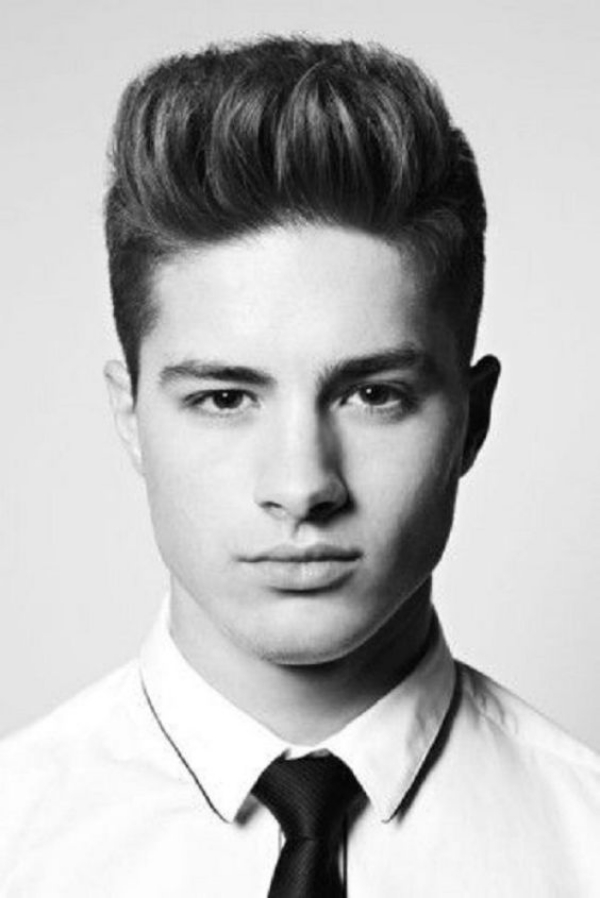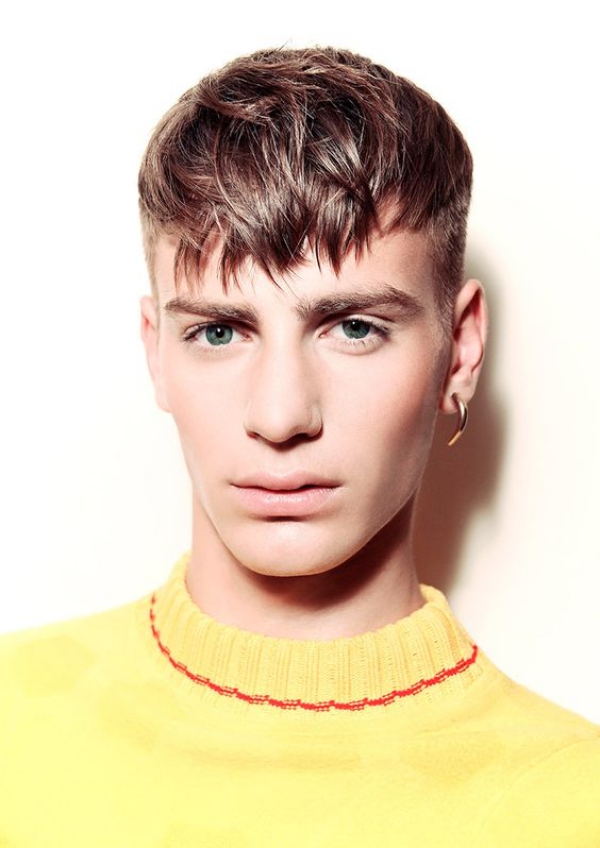 This hairstyle fits both casual and formal look. The hair on the sides is shaved or trimmed short and the top is left thick and chunky. This hairstyle is recommended for men with thick hair. Here are two major types of the blunt hairstyle:
A dramatic blunt cut means that hair is clipped tight on the back and sides, while the top is taken high and left thick. It may be styled either to the side or upward.
A blunt cut with blunt bangs features shaved or trimmed sides and a forelock, which may be flat or curly.
How to style:
Apply gel to wet hair, then use a hair dryer and when locks are dry, apply pomade to the roots and tips to create a necessary texture.
One more hairstyle which is popular among boys is punk hairstyle. This hairstyle has recently gained popularity about young aged boys. If you're willing to check some of suprecool punk hairstyles for boys, then, you can go through our amazing collection on this specific topic.
So, use this guide to choose the hairstyle, which will help you to make a statement!