What is the best way to ensure that the jewelry that you own is one of a kind, not too expensive and really pretty all at the same time? Why? The answer is making it yourself. Is it possible to make jewelry at home? Yes! As long as you are not considering making jewelry out of precious metals and precious stones, you can make lots of jewelry at home itself. You do need to shop carefully and source some beads, strings, glue, glitter, wire, some small sized pliers, rhinestones, any pretty bits and pieces that you can find around the house. You can even give them as one of a kind gift to friends and family. It will make them special. Remember the last time that you felt really special about the care that went into making the handmade card you got for your birthday?
Giving out such unique gifts will be just like that. After collecting these bits and pieces you can keep on adding tidbits to this as time passes and you will find that some ideas will inspire you to make jewelry with these things and some times you will find that the pieces that are lying around will inspire your homemade jewelry ideas. You will soon find yourself looking at pretty pebbles and other pretty stones with a view to making them into jewelry.
Here Is A List Of Delightful Handmade Jewelry ideas:
Convert that single earring you had into a locket
Add cute little bits and pieces to a chain bracelet to make your own charm bracelet.
Turn those bits of velvety cords into an intriguing necklace with a striking locket
Make that pair of feathers into earrings
Fill a hollow glass bracelet with glitter, spangles to create a special look
Turn that bit of hard twine into a finger ring by putting in beads
Braid bands for hair or hands using bits of wool and thread
String those unusual collection of beads into a necklace
Give a new look to old hair bands by sticking on glitter and cutesy stuff to it
Make interesting foot bracelets with broken chains and necklaces
Turn that ear stud into a dangling earring by adding some hanging beads
Turn that old belt buckle into a  great earrings
Stick a bit of shiny and translucent plastic bit into the ring whose stone had fallen off
Make bangles out of stiff neckpieces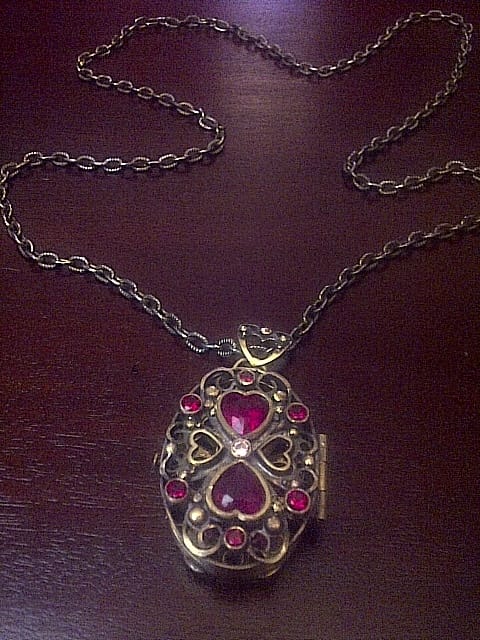 wonderlandjewellery.deviantart.com
Turn a big plain earring into a super locket  by tying strings and other bits to it
Turn that big shell into a pretty earring or locket
Even discarded pieces of a broken chandelier can be made into earrings, lockets etc
Turn leather cords into statement pieces for the neck
Make a simple but colorful neck piece by sticking spangles and other glittery stuff to the back of a glass locket
Make a small pouch from old denim cloth and wear it around the neck on a thick cord
Turn pennies and other coins to necklaces by getting holes on them and linking them up
Add a cool vibe to your bracelet by using old scarves to make hair bands
Make toe rings out of metal wire  by adding some rhinestones to them
Color bits of thermocol and insert these into ear hoops to change the look
Use bells etc hanging from key chains to make earrings and neck pieces
Convert a broken neck chain into dangling earrings
Twist together some chains and beads to make a new neck ornament
Coil a bit wire carefully interspersing with beads to make earrings
Glue on glitter to transform boring old bracelets
Join together two old bracelets to form a funky neckpiece
As you can see with a vivid imagination and some effort, unique jewelry can be all yours at very little cost!