Paintings can speak a thousand words. It is famously quoted that painting, are a mirror of the soul of the painter. Whatever the painter feels or goes through comes out in the form of his/her art and paintings. Painting is by nature, a luminous language in itself. Paul Cezanne quoted – "Don't be an art critic. Paint. There lies Salvation". Painting is a part of the painter's personality. And when it is almost time for the winters to set in, how can we not talk about winter paintings. After all, best paintings are the ones that portrays nature and then becomes worthier. And the serenity a painter feels while observing a robin singing as the snow falls, that is when he puts his heart in such Original Winter Paintings on Canvas and brings life to that moment.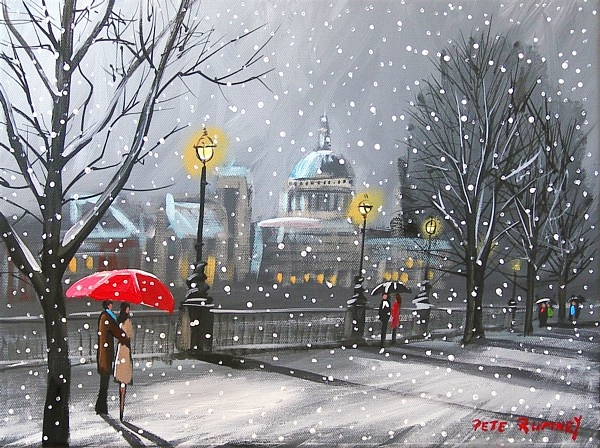 Original Winter Paintings on Canvas
Happy Penguins
Let's start off this list with a happy painting. And we can't think of anything happier than these smiley colorful penguins. A combination of collage and art techniques, it's a fun project for even young kids.
Amazing Textured Painting on Canvas
Priceless Tips for Painting on Canvas
40 Best Colorful Paintings Of Animals
20 Complete Abstract Paintings Of Women
Snowflake Winter
Snowflakes are an integral part of winter and we've been having fun with a Popsicle stick snowflake craft and a snowflake lacing card. But you should definitely give this cool snowflake art project which uses salt to create some lovely textures.
The night sky is always a beautiful sight, but it's particularly gorgeous when its winter and snowing which depicts one of the original winter paintings on Canvas. All you really need for this are paints in basic colors and a brush!
Catching Snowflakes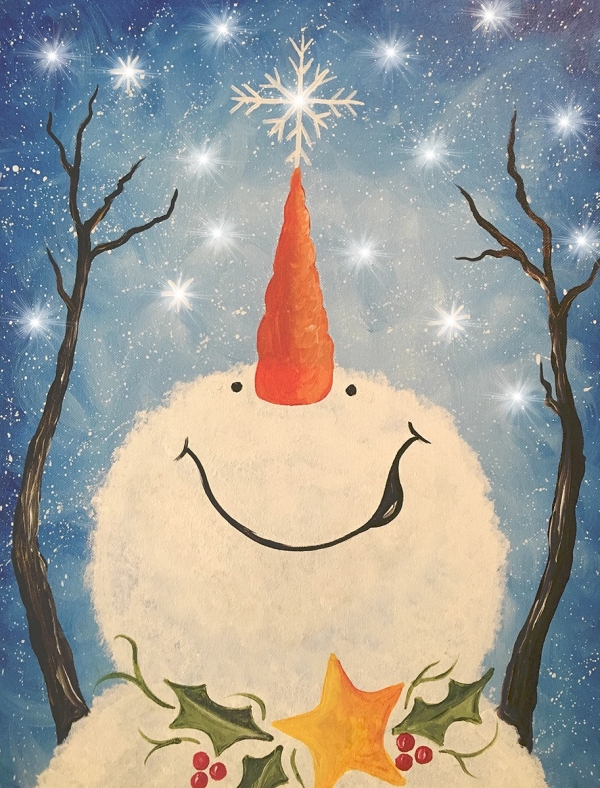 You know what's more fun than watching snow falling through the night sky? Catching them on your tongue! This in an adorable art project that represents a kid looking up with mouth wide open and catching a snowflake on her tongue!
Pom Pom Printed Snow Globe
Here is the perfect winter art project for your pre-schooler – a cardboard snow globe! The painting shows how you can create a cute little snow globe craft and develop your child's motor skills at the same time! Just basic craft supplies and you can do the painting.
Fold and Print Winter Reflections
Want to create art that looks like it was painted by a famous artist? Well then, this project is perfect for you.
Christmas Angels
If you're looking for something more refined, these Christmas angels are unique and the tutorial includes a useful template if you're not quite confident in your artistic abilities. They also use music sheets for the wings of the angels – you could use the music of your favorite Christmas tune to add a personal touch.
Mitten Art
The mittens are basically a tissue paper collage while the actual art happens in the background. But the end result is just so eye-catching and this art is one of the original winter paintings on Canvas.
Watercolor and Oil Pastel Resist Snowflake
Watercolors and oil pastels join hands to create stunning snowflake art. The end result looks like it took a long time to do, but the basic process is pretty simple. As kids continue painting, they'll be amazed at how their snowflake just pops.
Snowy Woods Art
This frame-worthy piece of art makes use of an eyedropper, a toothpick, tape, and of course, a paintbrush.
Aspen Tree and Birds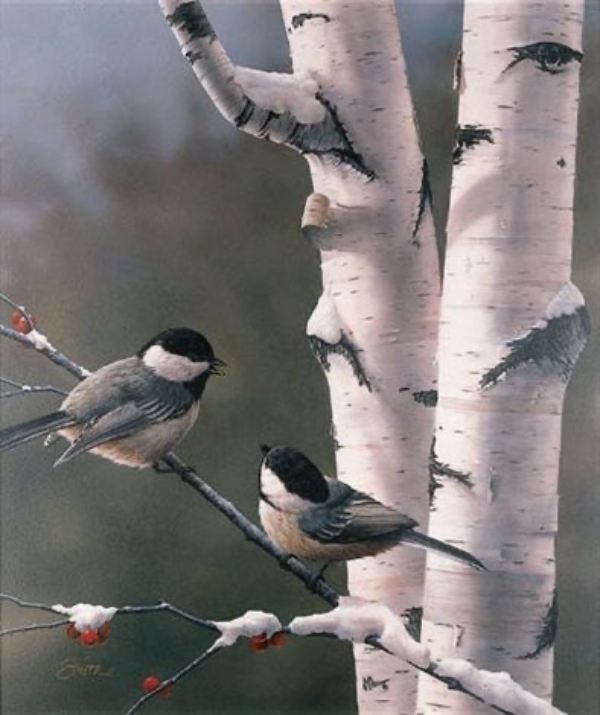 Image Source
There are so many ways you can do this delightful aspen tree and bird's project. Make the birds a solid color or a mix of colors. Paint on the beak or stick them. Draw eyes or stick googly eyes. The options are endless, making it great for all age groups!
Winter Village Shape
If your little one has just learned the names of shapes, she's sure to be excited to try out this shape art. Basic shapes come together to create a village, but it is the details that make it so interesting. Use buttons, cotton wool, or anything you want to make your village come to life.
Winter Tree Finger
It's amazing to see the art effect you can create with just a Q tip! This original winter paintings on Canvas show us how to use this humble object to create a lovely snowy effect on nothing but a black tree on a blue background. For younger kids, you can do the tree first and let them do their stuff with the Q tip.
Polar Bear
Alright, this is one art project you might want to take outside, even if it's cold! The kids are just going to love this process art which involves a lot of getting your hands dirty. But they are going to be even more excited after the final reveal of the bear!
Northern Lights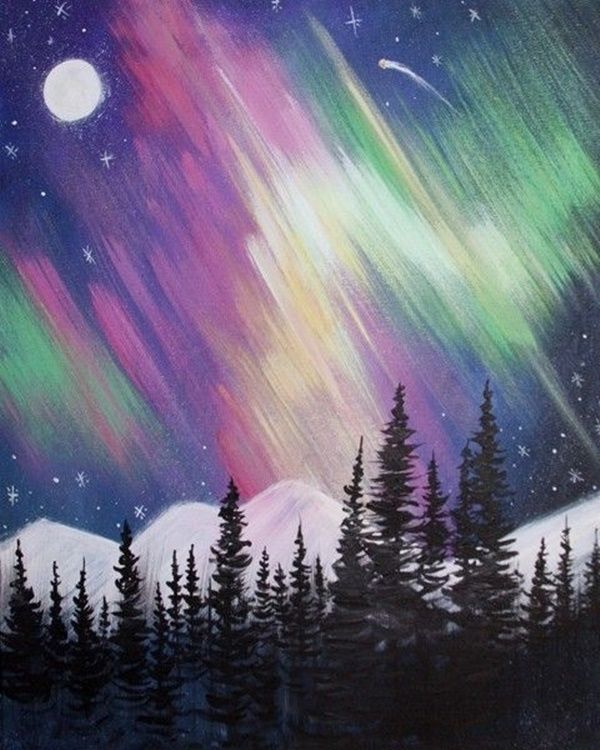 The Northern Lights, also known as Aurora Borealis, are a light display phenomenon, usually seen in places like Alaska, Greenland, Iceland, etc. The sight is too magnificent to put into words, but the artist has tried to put it into a picture! Check out this amazing art project that deserves a golden frame.
Winter Cityscapes
We've looked at how winter appears in the woods, now let's take a trip into the city! It has a simple but effective technique to recreate a city in winter. The painting of the sky and cutting out of the buildings is a good idea, but it is the addition of glitter that truly makes it frame-worthy.
Newspaper Winter Landscape
Recycled projects are always extra interesting, and this original winter paintings on Canvas makes use of two things – bubble wrap and newspaper! It is fun to paint with unusual things like bubble wrap, and it creates a wonderful snowy effect on the background.
Alpine Trees
The artist brings Alpine Trees to life in a beautiful winter art project. The use of different shades of green for the trees is a great idea and really makes the trees more real. The use of pre-painted paper for the ground is also genius.
Winter Cardinal
Just looking at this picture makes you feel all festive, doesn't it? The painting gives us an art project that has a good mix of colors and a realistic look – just look at all those branches crisscrossing each other!
Ornament with Blurry Lights
This one's pretty straight-forward, but it's brilliant for learning how to paint light, both in the foreground and the background. The step-by-step is really easy to follow, and there's also a version with a black background and colored lights if that's more your style.
Thatched House and Chickadees under the Snow
If you fancy something with a more subtle look, this forest paint by numbers boasts calm colors to add a touch of warmth to your walls. If you're based in North America, you might recognize the black-capped chickadees in the foreground but the cozy cabin nestled in the trees is a universal retreat.
You'll notice that the use of white paint in the picture is sparing, a great lesson in the effect that light has upo
n color. The forest stretching into the distance adds a wonderful depth to this painting, and the soft glow of the firelight from within the cabin will bring warmth to even the chilliest winter nights.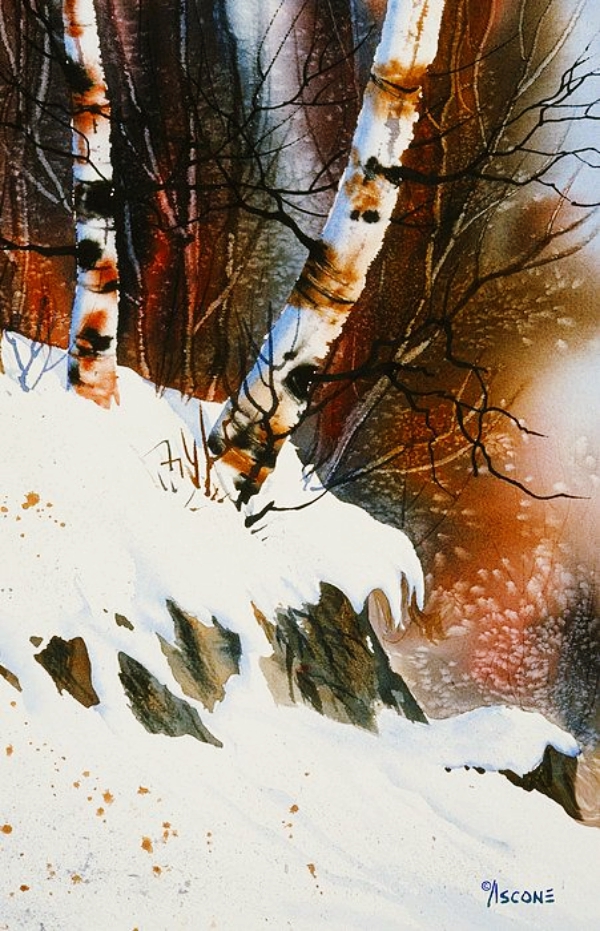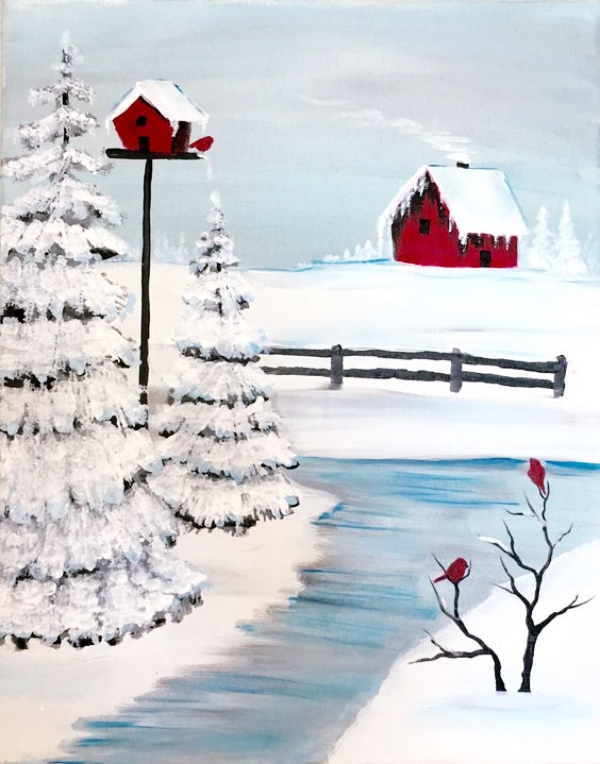 Snow Window
This original acrylic painting on an 11″ x 14″ canvas board shows the view of a window on a snowy day, mainly depicting the Christmas winter. It is hard to differentiate reality from imagination when looking at this painting.
The Winter Woodland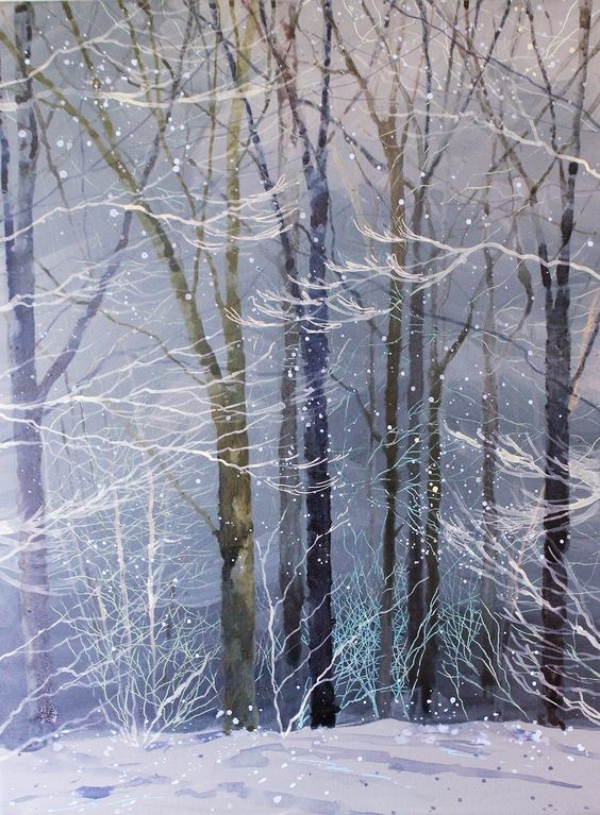 Painted on Canvas with acrylic paint, it shows a woody forest on a winter night showered with some white crystals of snow. The picture gives a calm and serene look.
Winter Trees
This Oil on Canvas Painting depicts a blue landscape artwork. The blue color base of the painting help relaxes your eyes. You can laterally spend your day staring at such a wonderful pastel painting that is capable of adding a 3D touch instantly.
Cardinal on Fence
The beauty of a Cardinal becomes more obvious in the white winter background. This painting shows a lonely Cardinal on a snow-covered fence.
Hypnotizing moon
This is a 24" X 34" acrylic painting on Canvas is simple yet mesmerizing. You can stare for hours at this blue-black-white color painting and yet get amazed by it.
The Hunters in the Snow
Pieter Bruegel the Elder created this masterpiece in 1565. This oil-on-wood painting depicts three Hunters returning to their village from a long expedition in the snow covered surrounding.
Winter Landscape with Skaters
Winter, ice and ice skaters are best companion of one another. Dutch artist Hendrick Avercamp drew these inseparable companions in an oil-on-oak painting in 1608.
Snowman
What is winter without a snowman? This canvas painting brings out the best of a snowman. This is my personal favorite as I was just mesmerized by this painting. I just couldn't decide – what is more beautiful, the snow or the adorable snowman.
The Road to Versailles at Louveciennes
This 1869 painting by artist Camille Pissarro portray the town of Louveciennes, a suburban of Paris.  Pissarro often painted his own house and studio, which were situated on the north side of the village on the road to Versailles. This painting is one of the few surviving art by Pissarro. Most of his works were destroyed in the Franco-Prussian War (1870 – 1871). Have a look at this rare masterpiece.
The West Wind
An Iconic Painting drew by Canadian Artist Tom Thomson in 1917. This painting is considered to be his last painting and believed to be unfinished during his sudden death. This painting is shows a growing pine tree at the center with winds direction directed towards west. Have a look at the unfinished art. A tree diverted towards west indicating west winds and arrival of freezing winter is indeed a perfect idea to paint down on canvas.
Vue de toits
Vue de toits (Effet de neige) is an oil painting by French impressionist Gustave Caillebotte executed in the winter of 1878 and 1879. Caillebotte's brother originally gifted the painting survived to Luxembourg Museum in 1894. Then it survived through the Great War and the World War II. Currently it is located in Musée d'Orsay. Look at this ageless beauty that makes it so easy to talk about art even when don't know anything about it.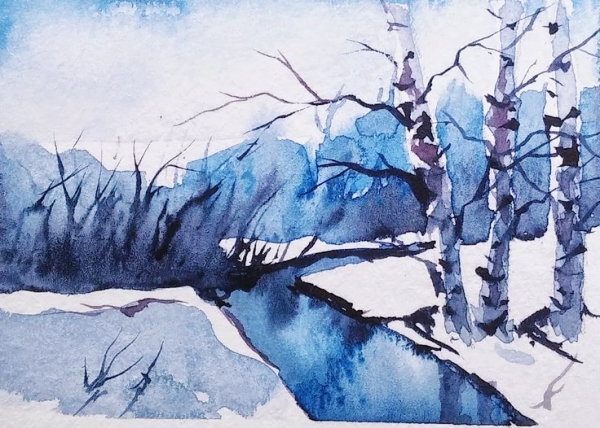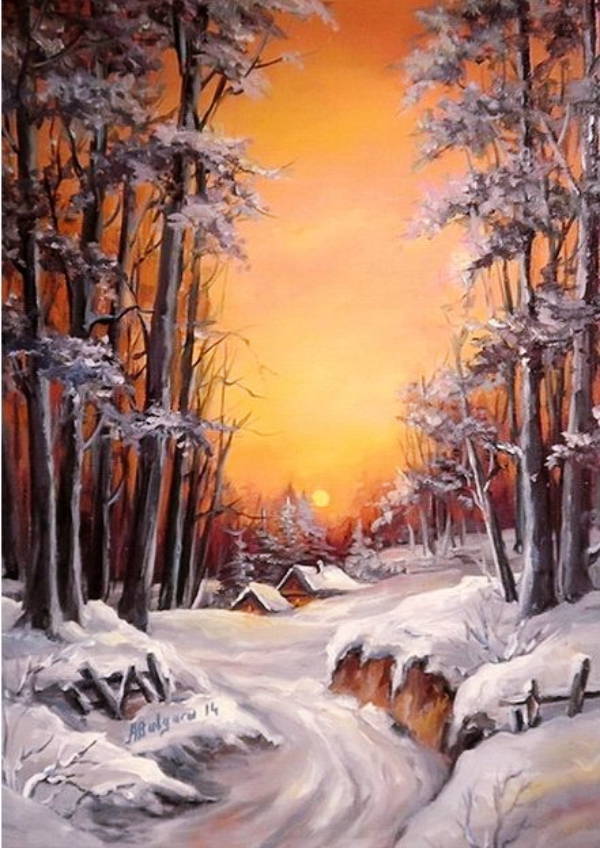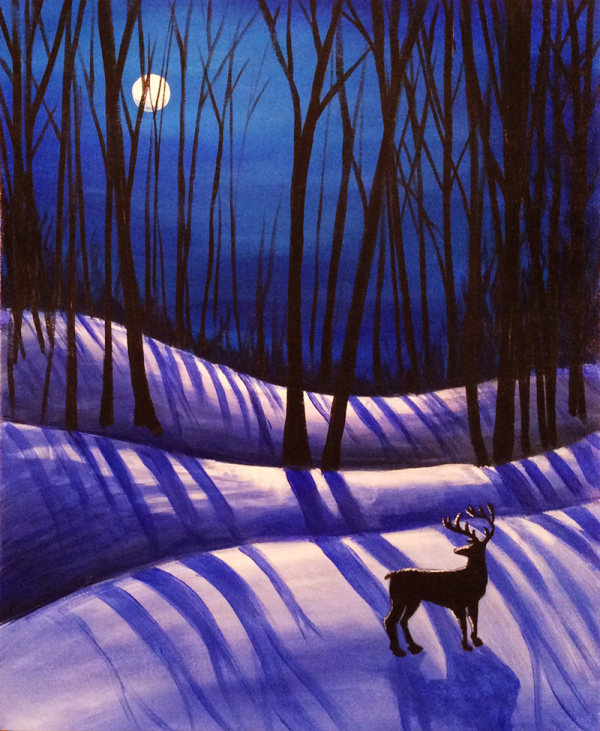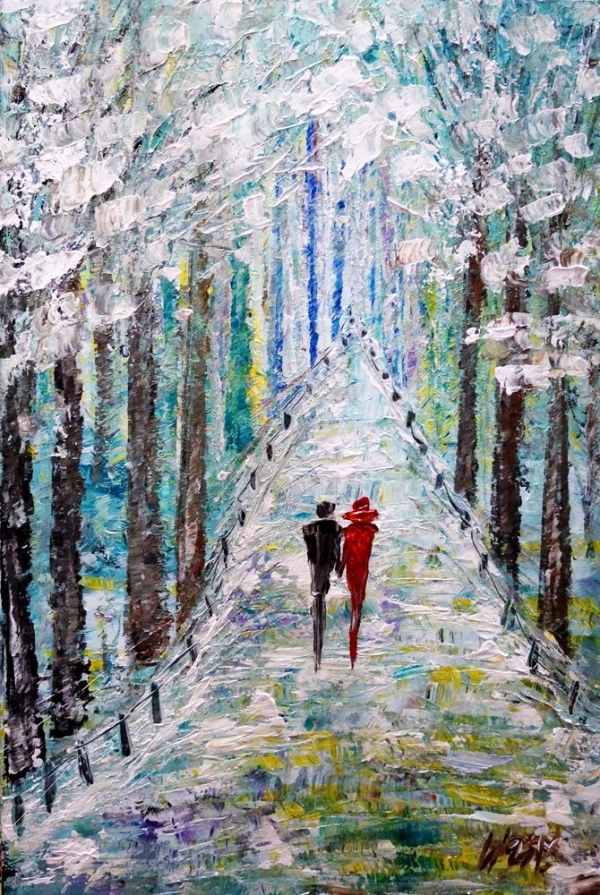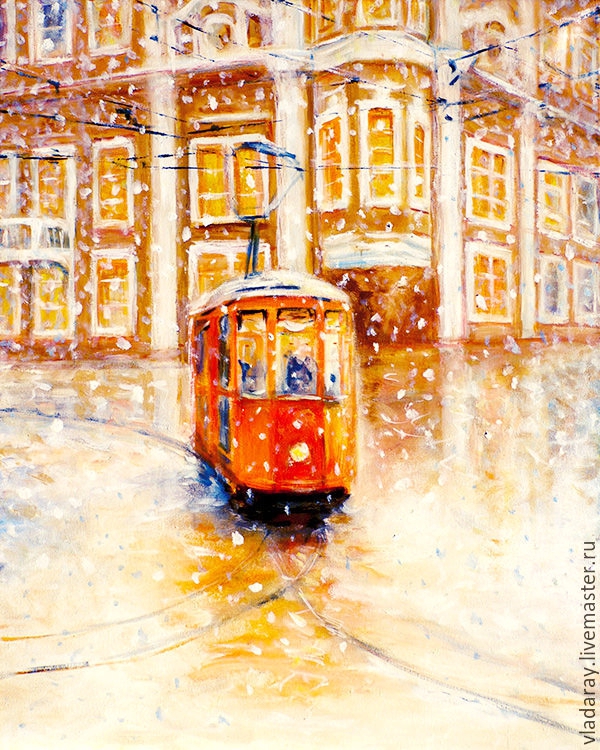 Hope these eye candies help you put your imaginations for winter in place. Observe how the painters have used their stroked at the right places to get the actual feel of each element – be it snow, the winter sky or the birds and animals who come out in the open during this sweater season!