Here you can play with colors as much as you like. Your canvas will be black and you can add waves of different colors to it. Add sparkling stars and it will be something worth looking at.
Lovely Sunset
When we say sunset a perfect vision comes to our mind of a half-submerged sun and birds flying back to their nest and the sky tinted with shades of red. Or better try something with shades of pink and purple. Hmm! It will be a beautiful painting. Why don't you try? In case, you would first decide to go through the tips and guidelines.
Yummy Fruits
Now, a painting of a fruit is fun to try. Remember when we were kids! Beautiful colors and diverse shapes. For instance take an avocado. How about cutting it in half and painting it? You can try it with peach, kiwi. Go ahead pick your fruit and add your creativity to it. The perfect acrylic inspirations for the beginners.
Wild Side Of Nature-Forest
Full of greenery and some beautiful landscapes that will catch the eye of every person. A path amidst the trees will be something to look at. You can paint any scene that you like. You can show random color trees in one painting.
Memories To Cherish
It will be so pleasant to catch a perfect memory of your life and paint it on canvas. You can also take some inspirations from an object that you might have looked upon once and would love to watch it again. Let's say the Eiffel tower. You can show the streets nearby or simply your view when you saw it in person.
Trees- It Seems To Be Simple But…
Painting a beautiful tree is a fine creativity. You might have crossed a tree that was fully bare or some other one full of fresh green leaves. To capture the little details of them is quite difficult. You might like to paint a cherry tree. Imagine how lovely will it look with cherry blossoms around the tree and some scattered around.
Full Moon- Peaceful And Pleasant
A romantic scenario it is, in this New Acrylic Painting Ideas to Try! Silvery light and a full moon in the sky. Add a blue river and sky full of stars. Show a tree side by and lovely swing on it. How about a lady dancing in the moonlight!
The Door To The Soul-Eyes
Oh my! Eyes are said to be what resembles the soul. And we have so many different colors in eyes that look alike but are so different. So while painting the eyes, take extra care of the lids and the color of the irises.
The Girl With An Umbrella!
Let your imagination run and catch a sight to sore eyes. You can paint a girl walking around in a rainy day with holding an umbrella. Show how peaceful she looks. Her relaxed expression might make you forget your own tensions. You can also vary the activity as per your mood.
Serene Waterfalls
How would you feel after working out there on a hot sunny day and then you come to home and see a beautiful and New Acrylic Painting Ideas to Try about waterfall? Mm… Makes me want to dive right into it! You can also paint streams if you like anything that gives your eyes something pleasant to see.
The Changing Seasons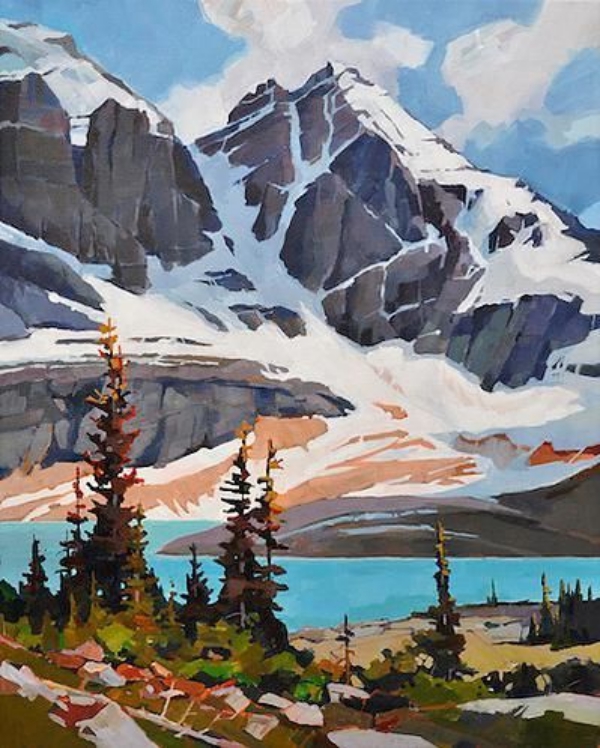 That New Acrylic Painting Ideas to Try is an interesting idea! You can paint as per your mood. Suppose you can paint a cold winter night in which you can see a house covered of snow or you can paint a delightful sunny day with shades of flowers scattering around. A rainy day with a beautiful umbrella can also be painted.
Dream Catcher
Nowadays, dream catchers are in the rage. You can create your own ideas and add feathers and beads and whatever you feel like. Here you can show your creativity and make these New Acrylic Painting Ideas to Try with varying designs.
It gives much delight to see a fine piece of New Acrylic Painting Ideas to Try. So envision yourself and create many such ideas. Although, I would like to advise you that don't forget your coveralls while painting. Acrylic paints are permanent, so you don't want a stain on your favorite shirt. Have fun with acrylic paintings!