Koi fish are one thing that has started gaining popularity in the tattoo world thought they are not considered actually mainstream. People from both genders seem to have an affinity for koi fish tattoo designs. Like with any other creature of nature, the tattoos with koi fish tattoo designs for men and koi fish tattoo designs for women are known to represent the qualities of the fish themselves. Since the koi are really spectacular and colorful to look at, there are many design choices available. Since the natural habitat of the Koi is water, many tattoos feature the water element in the design. Plus they can be made in different sizes which makes them easy to adapt for any part of the body. But due to the exquisite and colorful look of the koi, people like to go for bigger sized tattoos.
The history and background of Koi fish tattoos: They are part of the Chinese and Japanese culture. The fish is known to have originated from the past in China but now is recognized as being from Japan. This picturesque fish has been part of legends and stories in Chinese and Japanese cultures. Plus the Japanese also love to eat this fish which belongs to the Carp family.
These fish can be found in the wild but were a rather ordinary looking fish in a gray color.. But a farmer decided to breed it to be a bright orange hue and it remains one of the most sought after color as it is quite rare to come across. After the initial foray into colorful koi, they were being bred in other colors too. They are bred to win competitive prizes and these are quite expensive too.
What is more Koi are a hardy fish who can swim up the stream through water that is forceful and also through tough conditions. According the tales that are told, a Koi that can go up a waterfall with transform into a dragon!
Koi tattoo designs are limited only by your imagination. You can show them as part of a waterfall or swimming upstream among various other combinations.  Orange remains a popular color of choice with Koi designs. You can draw them Lotuses or other flowers. Or you can also do them in a cartoon like format. Plus there is the choice of colors and your design will also depend on the way the tattoo artist depicts it . The size would depend on where you get the tattoo
The significance of Koi tattoos: Since they are considered a good luck factor and have so many legends surrounding them, there are number of meanings for the Koi Fish tattoo. These include powerfulness, achievement, masculine power, a good portent, courageousness, perseverance and magical qualities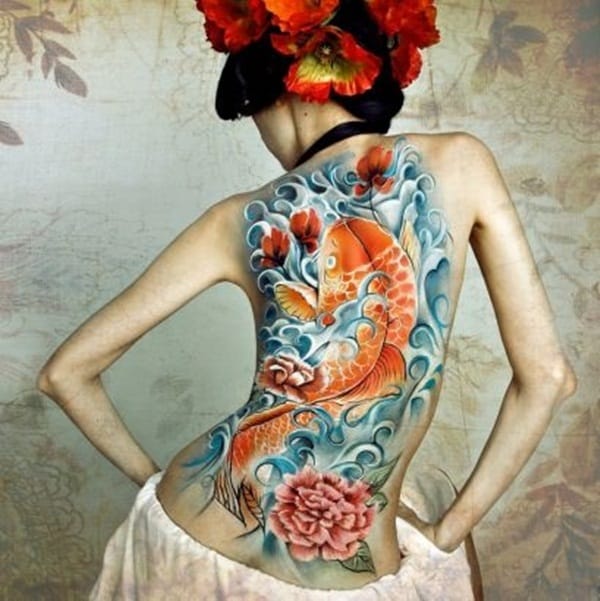 In the past the main attributes given to the koi fish is that of being positive and masculine as it is one fish that is not supposed to be scared of getting caught. It is easy and comfortable with human interaction. Since koi is also consumed, it is often on the chopping board. But the thing is unlike other fish that try to slip away , the koi fish stays put and bravely faces what comes next.


The strength of the fish to swim against the current on the yellow river is legendary. Since it is known to be brave and strong, people in professions and line of work that need these attributes like to get this tattoo. A koi fish tattoo meaning surviving tough times in life and it is often meant to show survival against odds. Some people take it to mean as a sign of achievement.
If you feel that the Koi fish means something special to you and you also happen to like the design then you should consider getting a koi fish tattoo. But do your homework and then only proceed
Koi tattoo meaning and Designs For Men and Women