You have a beautiful house and you are turning it into a home with your warmth and love. Who doesn't love to decorate the house? But don't you already get discouraged before even starting when you think of the big process of beautifying your home? I can totally relate! But what are we here for, if we can't tell you some cool secrets? Listen up – What better way can there be, than to jazz up a dull wall with a nice framed print or two? You don't want bare walls, right? You can find fun ways to hang prints. These Original Ways To Decorate With Framed Prints open the door to an entire new set of possibilities.
Ways To Decorate With Framed Prints
For the Globe Trotter
If you have a whole host of visual memories from places around the world, tell a story about all your travels right up the staircase and get really creative with how you hang the prints. How about a giant world map on which you attach your photos by location?
Many in One
Take a simple picture frame and turn it into one that can hold several pictures. Just remove the back of the frame and the glass. Staple one end of some copper wire to the back of the picture frame. Then staple the other end of the copper frame and keep going back and forth, till you have an interesting pattern. Now use clothespins to attach your pictures.
Entwined
Instead of copper wire, simply use twine from one end of the frame to another and once you have your network in place, attach the pictures you want to display. Original ways to decorate with framed prints has never been better.
All in a Line
If you prefer a simple but beautiful display, for a wall in your home, then first decide how many pictures you want to hang up. Measure and cut up small wooden blocks, one for each line of photos. Then put them up using Velcro strips, side by side till you have the whole wall covered. Your walls will look great with these original ways to decorate with framed prints.
Not Stumped
Do you have a nice tree branch in your garden? Well you can put to good use inside the house as well. Just hang up your favorite prints with some string and glue on this branch and fix it to the wall. You can paint the branch in any color you like.
Hanging Photos not Clothes
You just need some string or twine and a few clothespins. Nail the string to the wall and hang up the prints. Decorate it any way you like – use some wide ribbons or fabric to make huge bows and fix them to each end of the display.
A Back Frame
Instead of hanging your prints directly on the wall, get a memo board or chalkboard, and then go crazy attaching the pictures to this board in any pattern you like. You can try a host of different styles and use a frame of reclaimed wood to make it look rustic and weathered.
Wooden Pallets
Wooden pallets are pretty versatile and one of its uses is for hanging the prints that you want to keep looking at. Perfect for a party or just for your home! Use your own creative ideas as well.
Photo Clipboards
Do you get bored easily and want to keep changing your prints? Then have some wooden boards on which you have the pictures attached with metal clips. You can take them down anytime you want, and replace with new ones.
Colored Mats
If you have a set of black and white prints, add bursts of color with bold matting and you have some simple but original ways to decorate with framed prints.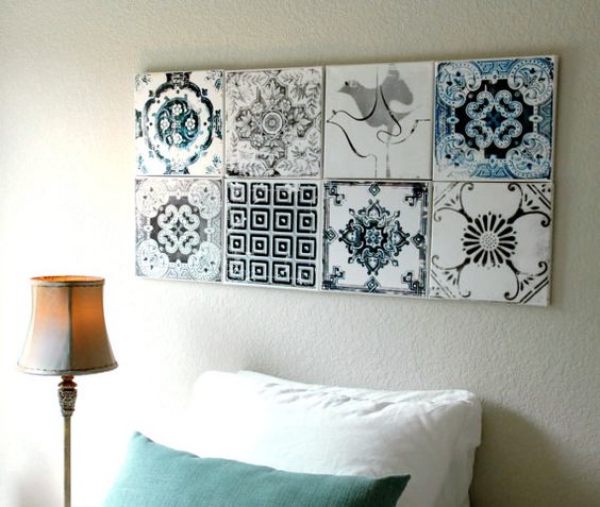 There is no limit to the ways you can hang pictures. Be as creative as you want and make it a wall to envy! You will surely make heads turn to each of these prints because everybody is just going to love it.
Save
Save
Save