British children love drawing cats on family portraits because they find them to be family members. Not only British children and not only children are fond of animals. Showing extreme adoration for pets, people do their best to care about them and create a cozy and stylish environment so that pets feel comfy and happy there.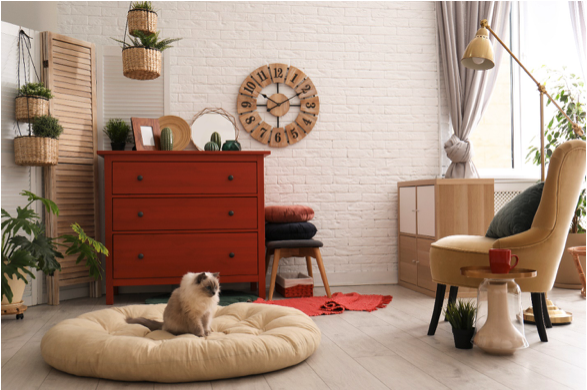 The modern market is overloaded with beautiful, unusual, and practical interior thingies for animals. In order to please their pets, some people are ready to spend huge sums of money and organize a miraculous "pet" interior in their apartments. Some celebrities indulge their pets to the extent that they even buy separate luxurious houses (!) for them.
A good example is Karl Lagerfeld's beloved cat Choupette. The cat lives in one of the Parisian apartments of Lagerfeld. He hired a chef, a security guard and several maids for the cat. The chef prepares four dishes for Choupette day-by-day. One of her favorite treats is shrimps. Choupette always dined next to her master. She even participated in Chanel shows. Can you imagine that? Many people dream of being Lagerfeld's cat and this is not a joke!
Ok, this article is not about luxurious apartments for animals. Here you will find some lifehack on how to create a simple but amazing interior for your pet without spending solid cash.
Animals at home are considered a lot of fun as well as a bucket of problems. In order to make the first thing prevail the second one, a pet keeper should analyze the key moments before buying a cat or a dog:
who will be responsible for caring about the pet;
who will keep an eye on the pet while the family travels on vacation;
what breed of a cat or a dog to choose according to the apartment size.
Finally, the most important criterion is how they should modernize the interior to make living with the pet as comfortable as possible. By the way, if you want to get professional info about the peculiarities of a pet's life indoors, click the link write my essay and place the order!
Preparing a Place for Living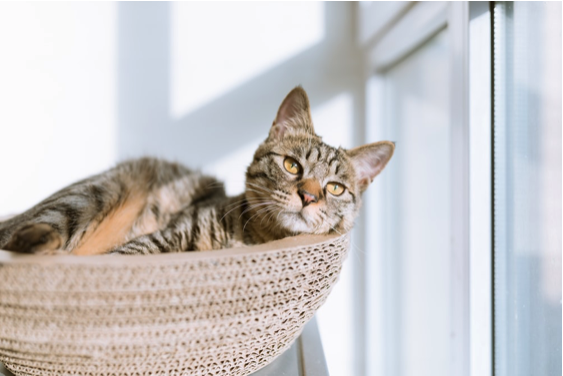 If an animal lives in a flat, they definitely need their own corner to feel there like a boss. Let's talk in what way they should organize such a comfy place for a cat and a dog.
A cat will get totally excited about an individual box. For instance, they may choose a stylish variant made of natural wood designed by Seungji Mun. It has a specific cushion comprised of antibacterial and waterproof material.
All cats like warmth. That is why your pet will take fancy to a heated "house." A good option is to buy Outdoor Kitty House Heated. Due to waterproof fabric, such house may be used both in a flat and summer house at the village. The house has a detachable design so they won't have a problem to clean it.
One more idea is to buy the latest innovational product called Cat Nap Cocoon. This box type has the shape of a cocoon made of felted fabric and a rocking chair with a niche.
If you are a lucky owner of a dog, as an idea, designers suggest buying a comfy couch-house. This way the lovely pet will be close to their owner but without mutual interference with each other. Everybody enjoys privacy!
If you desire to find a more creative approach concerning a dog's house, you will like super fashionable couch-eggshell designed by Vurv. In case you prefer functionality, your solution is a firm couch with a wooden or metal basis equipped with a leather stain-resistant cushion.
The Place for Pet's Exciting Hobbies
Sharpening claws is a cat's basic instinct and sacred right. Well, you may solve the problem just cutting off claws but there is no guarantee that a cat will get rid of this unpleasant habit. That is why it would be better to present a cat a separate place in the flat where they are free to enjoy the habit. Moreover, it will be done without sacrificing the furniture. Designers developed a console table equipped with a cat scratcher. As an alternative, the market produces a specific orthopedic couch with a scratching board designed in various colors.
One more pet's passion (both for cats and dogs) is considered messing around the apartment's surfaces. This time designers propose to fix a specific obstacle line with randomly located niches and minks on the wall. Additionally, you may attach shelves in the form of stairs. At eBay, they may find an amazing "bookshelf" for cats called CatCase created by Urban Car Design. This smart construction has a set of shelves covered by carpet for a pet to play and relax.
The best object for a pet to have a rest is a hammock. A great hammock may be purchased separately and fix it under a chair or table. You can also choose a classy coffee table with a built-in rattan hammock, for instance, the one designed by Koichi Futatsumata. There doesn't exist a cat in the world that would resist that! Have a cup of coffee while your pet is joyfully playing in a hammock underneath.
Personal Kitchen for Home Animals
For a pet to have a full belly and satisfied with life even when a pet's owner is away, mankind has developed smart feeders which distribute food and water by parts. Well, the feeder titled as The Bistro Smart Feeder recognizes a pet "by face" (that is a very convenient thing especially when you have several pets.) It measures a portion intended for a concrete pet (again, if they have two pets at home) so that the animal does not go hungry or overeat.
Moreover, the smart feeder synchronizes with a smartphone and a pet's owner may manage it remotely. Another smart thing for cats and dogs is called De Cat Palace. This is a dynamic multifunctional construction that has everything: a high-tech tray, cat scratcher, automatic ventilation system and even climate control. At the same time, the sensors monitor the behavior of a pet and momentarily send a message to the smartphone, if something goes wrong. It sounds like All Inclusive, right?
Have a Chat with your Pet
Willing to make the life of your pet more comfortable and pleasant? Buy a smart security-collar. Such a collar informs a dog's (or cat's) owner about a pet's health (temperature, pulse, activity.) in the way PetPace device does. The collar also tracks the location of the pet with the help of navigation services and special sensor-trackers that run on batteries. Your dog will feel safe and never get lost with such a thing! What else could you want?
Concerning the innovations for cats, "chatting" technology is even cooler than for dogs. So, if you desire to talk to your cat, you may use a tech translator to the cat "language" Meowlingual Cat Translator. This miraculous device is capable of recognizing the cat's "facial expressions." Moreover, the tool gives commentary concerning what the cat wants at the moment: tasty food, gentle strokes, funny games, or carefree sleep. There are around three hundred (!) cat "words" in the translator database. This is the most incredible tool in the world!
Would you like to have the best thing to amuse your cat? Ok, offer your pet to play with the tablet. No kidding here. The American developers have already created a series of virtual games for cats. For example, Tasty Treasures Hunt, Game for Cats, Cat Fishing, etc. Those games are based on a cat's instinct to hunt for moving objects (a fish, mouse, the point of light, and so on.) It brings real pleasure to observe how your cat is gaming.