A bride is accompanied by her Bridesmaids on her wedding day. A bridesmaid is typically a bride's best friend, sister, or young women. Being a bridesmaid is an honour and to keep the tradition, she has to deliver a speech on the D-Day of her best friend. If you are one of the bridesmaids and totally confused what to say, here are some of the Maid of Honour Speech Examples for a best friend-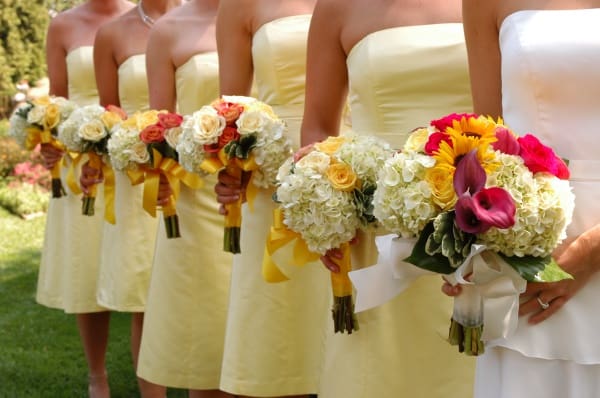 Maid of Honour Speech Examples for Best Friend
When I first met her(bride), I never realized that we are going to be BFFs and look, here we are. We have spent a lot of quality time together, creating several memories. But I know that it's not me who makes her complete, but it's (Groom's name) and as (bride's name) find her love, I would like to wish them a prosperous married life
I know (bride's name) since childhood. She is the most generous and the kindest person as far as I remember. And now, she had found her better half, the one she really deserves. And I know that they both would make a wonderful pair. Stay blessed guys.
No two perfect people can make a perfect pair. It's always the two imperfect persons who make the one complete & successful relationship. And I know (bride' name) will always support her husband in every possible way.
(Bride's name) is the most adorable and kindest person in my life and I know that these two will have a perfect relationship. Love you (bride's name), wish you a happy married life.
As some of you know, I am very protective of (bride's name). She is a very important person for me and I can do anything for her. Wish you all the happiness in the world. Happy married life girl!
l am quite protective for her, I always keep an eye on (groom's name) intentions and behaviour. All though I was a little afraid before, soon I realized that (groom's name) is a perfect man for her. And I am very happy that they both are now going to be together forever.
(Bride's name), you are looking like a queen in this pretty dress. I will miss you, my friend. Stay blessed and have a happy married life ahead.
Since childhood (bride's name) never believe in love. But I told her, the day she'll meet her true love, she will fall for him. And today here we are, celebrating their togetherness.
This newlywed couple are looking fabulous with a rare combination of beauty and brain. I wish and pray for them to be happy together in their lives.
Married life is full of arguments and disagreements, but to keep your marriage filled with love, admit it when you are wrong and keep quiet, when you are right. Don't be a naive girl, wish you a happy married life.
Today is the best day in my life as my best friend is getting married to her love. I am speechless, all I can say is stay blessed and keep smiling.
Thank you, everyone for being here. Let's have a toast for the beautiful bride and the dashing groom.
Let's pray and cheers for the newlyweds as they are starting a new adventure of their lives together.
I have always been there for her to support her, love her and care for her. But now it's you (groom) who has taken the place. I am jealous, but I am glad too. Wish you guys a lovely married life.
OMG! You(bride) are looking gorgeous and the groom is complimenting you. Together you look perfect. Let's cheers a toast for the newlywed couple and wish them a happy married life.
Hello everyone, I am [bride's] sister. I love my sister very much and she is worthy of all the love and pleasure in this world. Today, they both are looking beautiful and I pray to God, may their happiness and love stay with them as it is now.
I know I am always being the naive one, she is the one who always cleans my mess. But sadly she is getting married to this handsome man. Girl, I will miss you like anything. But I am happy for you, stay blessed and be happy.
We have shared many cheerful memories together since childhood. Having a sister like you is a blessing to me. I will miss you still I wish you all the happiness in the world with your partner.
Hello everyone, I am (bride's name) best friend and we know each other for several years. I am feeling a little sad as I am going to miss you, but on the other side, I am very happy as you have found your Mr Perfect.
Hi, everyone. I am (bride's) best friend. Like all other girls, we use to talk about our Prince Charming. We thought him to be handsome, kind, loving, thoughtful and generous. I am delighted that you find your Mr Perfect. Live a happy life.
Hope these Maid of Honour Speech Examples for best friend will help you in writing your own speech.