Old town Zhouzhuang China
If you are visiting China for the first time, the enormous array of things to do is really confusing. However many days you may have allocated for the visit, it will not be enough. With a vivid and vast past, alluring natural vistas and multicolored folk customs, China is an interesting country that has much to offer its visitors.
Given that a picture can venture more information than mere words, our photographers have come up with many superb photos. These go a long way to depict many facets of the country's important cities. It also captures their culture, population and landmarks.
The Chinese artists have always been enchanted by the mysteries of nature. This shows in their art. Paintings try to capture the magic that can be felt in the settings, Rather than merely rendering a mere picture the artists would try and capture the eternal and lasting beauty that nature has. Disciplined brushwork and arrangement of forms according to ancient customs of Chinese art are used by the artists to get this effect.
It is a known fact that the Chinese excelled at ornate penmanship – Calligraphy. Studying the process of writing the beautiful Chinese letters using a brush was part of their study. Given this sort of training using a brush to paint intricate pictures is part of the Chinese artists' repertoire. It is almost as natural as the way other people use pencils or pens. With the use of masterful and controlled strokes using a paintbrush, Chinese painters almost made the use of bright colors unnecessary.
Anhui: Hongcun Ancient Village
Anhui: Mount Huangshan
Fujian: Mount Wuyi
Fujian: Xiapu Mudflat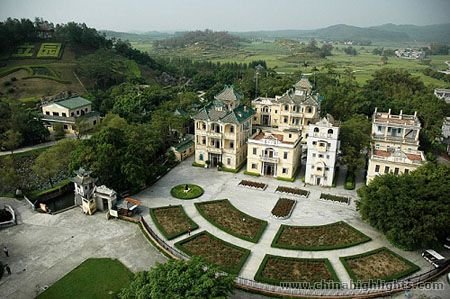 Guangdong: Fortress Towers, Kaiping
Guangxi: Yangshuo
Guizhou: Huangguoshu Waterfall
Hainan: Guanyin Statue
Hainan: Yalong Bay
Hebei: Chengde Mountain Resort/Rehe Palace
Heilongjiang: Saint Sophia Cathedral, Harbin
Henan: Longtan Valley
Hubei: One Incense Pillar, Enshi Canyon
Hunan: Fenghuang
Inner Mongolia: Singing Sand Bay
Jiangsu: Brahmā Palace
Jilin: Heaven Lake, Changbai Mountain
Liaoning: Benxi Water Cave
Liaoning: Golden Pebble Beach National Resort, Dalian
Shanxi: Hukou Waterfall
Sichuan: Hailuogou Glacier National Park
Sichuan: Jiuzhaigou
Tibet: Potala Palace
Xinjiang: Nalati Grassland
Zhejiang: Yunhe Rice Terrace